The Real Meaning Behind Black Sabbath's Iron Man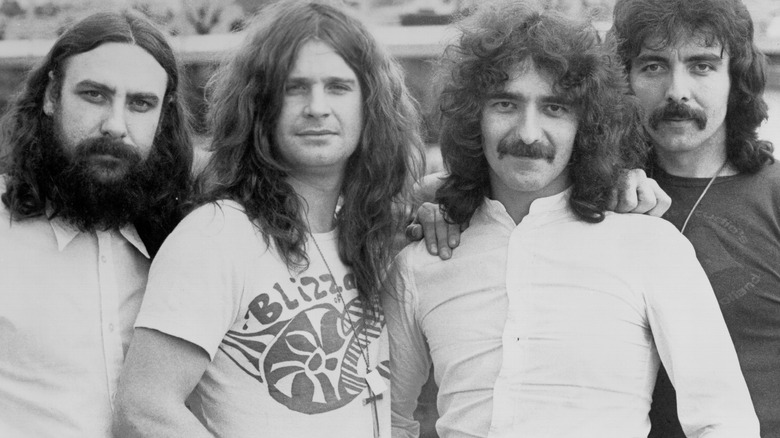 Michael Ochs Archives/Getty Images
The name "Iron Man" is perhaps immediately associated with the Marvel Comics and movies character. Iron Man got his own movie in 2008, kicking off the series that makes up the vast Marvel cinematic universe.
Iron Man made his first comic book appearance in 1963, and it's a common misconception that the 1970 Black Sabbath song "Iron Man," released as a single from their second album, "Paranoid," is based on the comic. Both song and comic book tell the science fiction-tinged tale of a metallic man interacting with the universe. However, in a 2019 interview with Louder Sound, Sabbath bassist and "Iron Man" lyricist Geezer Butler set the record straight, telling the interviewer, "My parents never let me read American comics when I was growing up. I knew about Batman and Superman, but that's about it ... So whenever someone's said to me over the years: 'Oh, didn't you write this about the superhero?', I'd just say: 'Sorry, never heard of him.'" 
The idea for the song actually came from the band's frontman Ozzy Osbourne, who per Butler was suggesting ideas for future Black Sabbath songs. "I can't exactly recall what Ozzy said, but it was something like: 'Why don't we do a song called Iron Man, or maybe Iron Bloke.' That got me thinking about a lump of metal, and then putting it all into a science-fiction context. It all flowed from there."
Iron Man is now everyone's song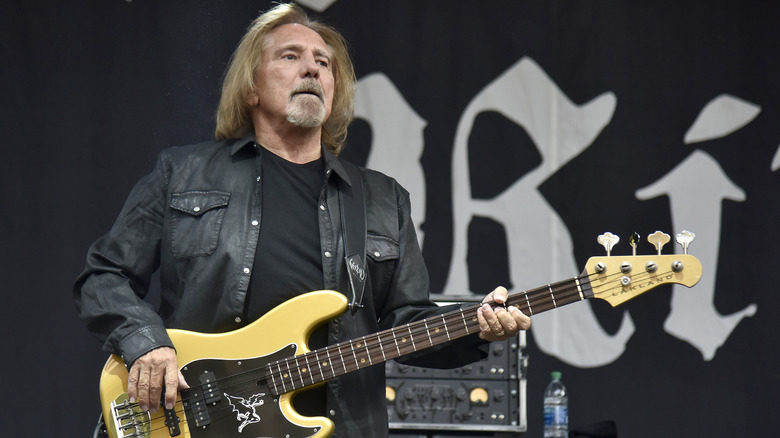 Tim Mosenfelder/Getty Images
Butler (shown above) was reading a lot of science fiction books at the time and was further inspired by then-current events such as the space race and increasing attention paid to pollution and other environmental concerns. He went on to tell Louder Sound about how he came to write the song's dark, futuristic lyrics: "I was fascinated by what might happen to a man who's suddenly transformed into a metal being. He still has a human brain, and wants to do the right thing, but eventually his own frustrations at the way humanity treats him drives this creature to taking extreme action. It's almost a cry for help."
Black Sabbath drummer Bill Ward said of the song's legacy, "In America, if you go to most sports events you'll hear it at some point. It's now a part of the culture of the country. People recognize it as soon as it starts up. It's very musical, but also so theatrical. I think its popularity now is such that, in a way, it no longer belongs to Ozzy, Geezer, Tony [Iommi] and me, it's now everyone's song." 
Iron Man (the movie) nearly didn't feature Iron Man (the song)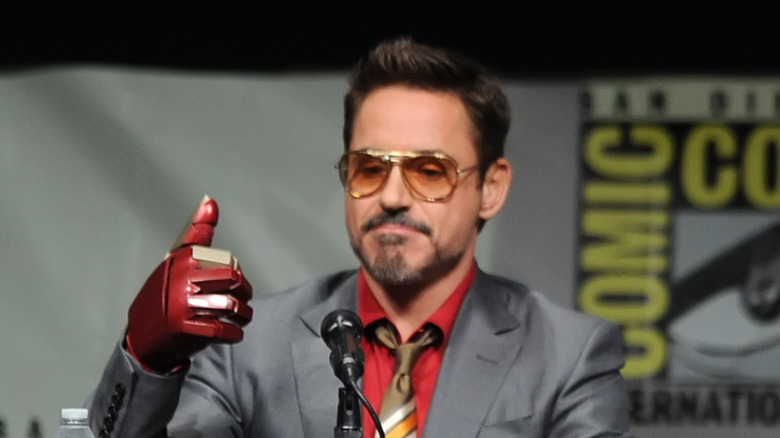 Kevin Winter/Getty Images
The song also received a boost when it was used in the 2008 movie "Iron Man," but its inclusion in the Marvel blockbuster very nearly didn't happen. As reported by Screen Rant, the book "The Story of Marvel Studios: The Making of the Marvel Cinematic Universe" tells the story of how the movie's associate producer, Jeremy Latcham, had to convince Marvel executives to shell out the money for the rights to the song. As Latcham recalled the conversation, "I said, 'Here's what I know — you guys pay me to tell you what I think is cool. I'm telling you that this piece [of music] is cool. I'm telling you that if you take the 'Iron Man' song out of this piece, it is not cool. It's a binary thing.'" Marvel finally agreed to pay Black Sabbath for the use of the song just one week before the studio used it in the "Iron Man" movie teaser that premiered at 2007's Comic-Con, instantly forging the connection between the Marvel character and movies and the song. 
In 2012's "The Avengers," Robert Downey Jr. appeared once again as Tony Stark/Iron Man and paid tribute to the song and the character's relationship by wearing Black Sabbath t-shirts in several scenes. In an interview with Metro, Downey said of his character, "I also like the fact that he can pull off wearing a Black Sabbath T-shirt for the better part of the film," and admitted he had walked off the set with one of the shirts and kept it.