The Tragic Murder Of Slim 400 Explained
Brandon Williams/Getty Images
As reported by the Los Angeles Times, rap musician Vincent Cohran, better known as Slim 400, was shot and killed in Inglewood on December 9, 2021, only hours after releasing a brand-new music video on social media. Slim 400 is survived by one daughter, Parris, and was 34 at the time that he died. The musician had also recently paid tribute to Young Dolph, another hip-hop artist killed in November 2021. Slim 400 and Young Dolph collaborated on the song "Shake Back," from 2019, per the LA Times.
Otherwise, some of Slim 400's best known music includes "Stand on It" featuring TEC, "Fake S***," and "She Want It" featuring Steelz, via All Music. Other rappers killed in 2021 include Drakeo the Ruler, stabbed at a music festival (via The Guardian), and Einár, shot dead in Stockholm (via Euronews). Here's what we know about the murder of Slim 400, just one of many recent high-profile killings in the hip-hop community.
The murder is under investigation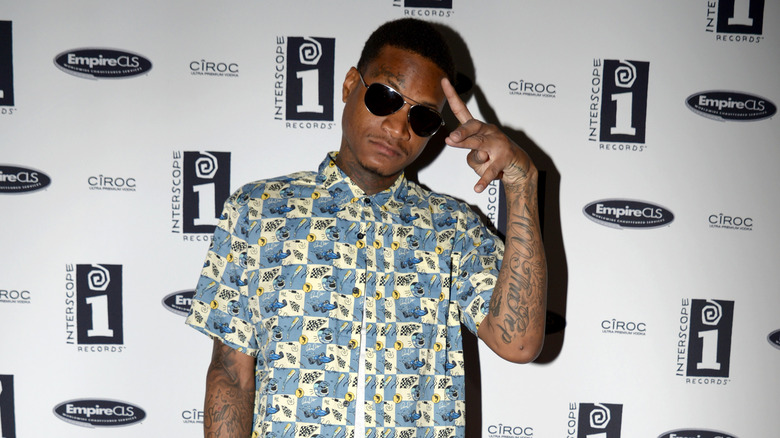 Brandon Williams/Getty Images
Per TMZ, Slim 400 was purportedly ambushed while sitting in his car and shot at multiple times, based on video evidence. Slim reportedly exits the car and interacts before gunshots can be seen in the security footage. Following that, the rapper charges toward the suspected killer. Patrolling officers heard those shots and found Slim 400 lying injured in that same driveway. Emergency medical attention was given to the musician, who later died at Harbor-UCLA Medical Center, via the Los Angeles Times.
Otherwise, very little is known about the suspects involved in the case, according to The Wrap. "This incident is under investigation as our homicide detectives are actively gathering evidence and seeking witnesses to this crime," the Inglewood Police Department said in a statement (via The Wrap). Slim 400 miraculously survived one previous shooting attempt, in 2019, when he was shot nine times, in Compton, California.