The Tragic Murder Of XXXTentacion Explained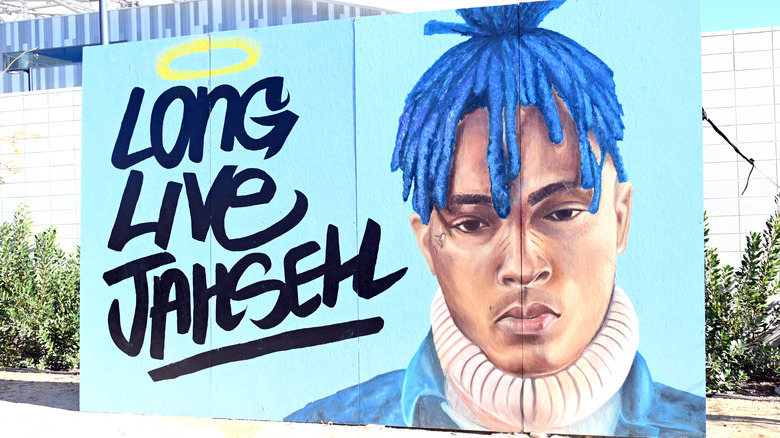 Scott Dudelson/Getty Images
On June 18, 2018, rapper XXXTentacion's life was cut short at the age of 20 (via BBC). Born Jahseh Dwayne Ricardo Onfroy to Jamaican parents, his brief life was nothing short of controversial, Hip Hop Scriptures reports. From an early age, Onfroy — a Florida native — had a penchant for violence and often got into legal trouble (per All Music). After a stint in juvenile detention, he decided to pursue music. Onfroy began releasing music on SoundCloud, and by 2017, his song "Look at Me!" had made it onto the Billboard charts. However, even as his fame and popularity grew, the young rapper continued his life of crime.
Vulture reports that Onfroy was charged with robbery and later allegedly attacked his then-girlfriend several times, amongst other things. In fact, he had been awaiting trial for domestic violence at the time of his untimely death. According to the Sun-Sentinel, on the day of his murder, Onfroy had been shopping for a motorcycle in Deerfield Beach, Florida. When he left the store, he was approached by two armed men in a dark SUV who proceeded to shoot him in broad daylight while Onfroy sat in his BMW.
If you or someone you know is dealing with domestic abuse, you can call the National Domestic Violence Hotline at 1−800−799−7233. You can also find more information, resources, and support at their website.
The motive for his murder was robbery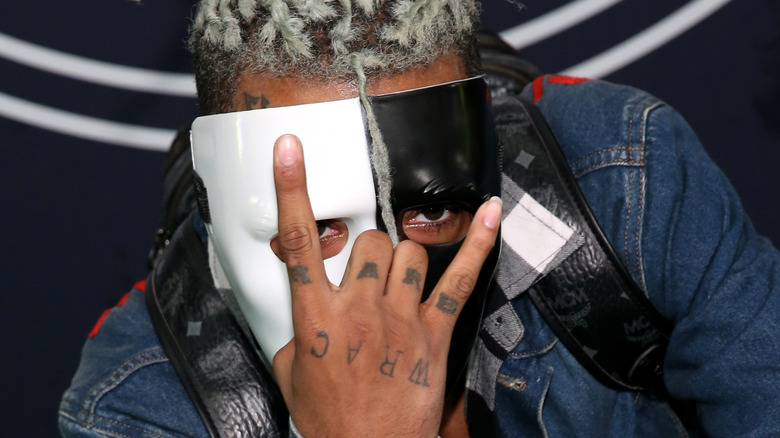 Bennett Raglin/Getty Images
According to The U.S. Sun, 20-year-old Jahseh Onfroy was pronounced dead at a nearby hospital. Only hours before, he had withdrawn $50,000 from a local Bank of America, CNN reported. Surveillance showed that Onfroy's assailants had reached into his car to take a Louis Vuitton bag full of money when the murder occurred. Ultimately, the gunmen made off with Onfroy's cash and other personal belongings in a Dodge Journey. Shortly after, the vehicle was involved in a hit-and-run accident. It was then discovered that the car had been rented, and it led them to a name: Dedrick Williams. Less than two months after Onfroy's murder, police had four suspects in custody, including Williams, Michael Boatwright, Robert Allen, and Trayvon Newsome (via the Sun-Sentinel).
investigators later found cell phone video and photos of the suspects dancing with cash. Moreover, Williams was captured on video entering the motorcycle store at the same time Onfroy had to purchase a black mask. A .22-caliber round that matched casings found at the crime scene and hundreds of dollars worth of new clothes were also found in Williams' home. All four suspects were charged with first-degree murder and armed robbery. As of 2021, a trial date has not been set. E! Online reports that even in death, Onfroy has continued to sell millions of records. Seven months after his murder, his girlfriend gave birth to his only child, Gekyume Onfroy (per the BBC).
Fans deeply mourned XXXTentacion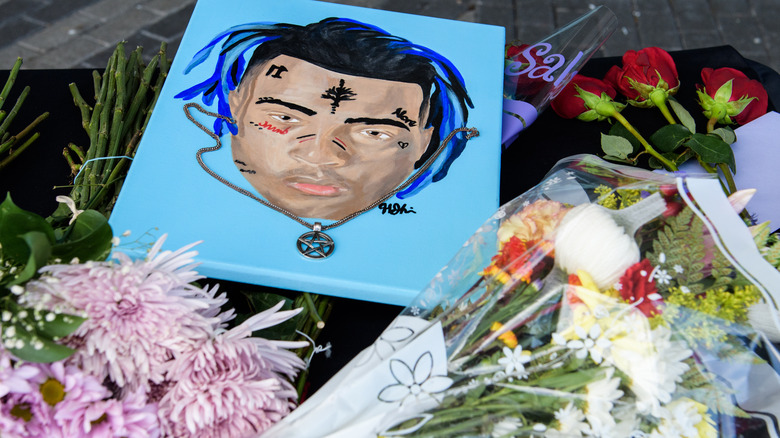 Jason Koerner/Getty Images
Days after his murder, Vulture writes that a public memorial was held for Jahseh Onfroy at the Florida Panther's stadium. USA Today reports that thousands of mourners attended the open-casket event, which was organized by his loved ones. Per The New York Times, this included fans and fellow rappers Lil Yachty and Lil Uzi Vert, amongst others. Guests were able to view Onfroy's body while his music and image were projected on screens. Some stated that they were in shock, while others expressed their grief. Fan Kelsey Manns noted (via USA Today), "He let his fans know that we weren't alone, so we're here for him and his family."
E! Online states that Onfroy had a private funeral a day after his memorial. The service was attended by his family and celebrities like Erykah Badu. According to Find a Grave, he was buried at the Gardens of Boca Raton Memorial Park in Florida. In 2020, two years after his untimely death, fans continued to lament his brief life (per The Guardian). One of them, Adison, revealed that he had yet to recover from the loss. He went on to explain that Onfroy's musical and emotional "evolution" had inspired him. Moreover, he added, "It's such a tragedy, what happened to him." In May 2022, Hulu released a documentary about Onfroy's life and rise to fame titled "Look At Me: XXXTentacion," CNN reports.