The Country Singer Who Reunited The Eagles In The '90s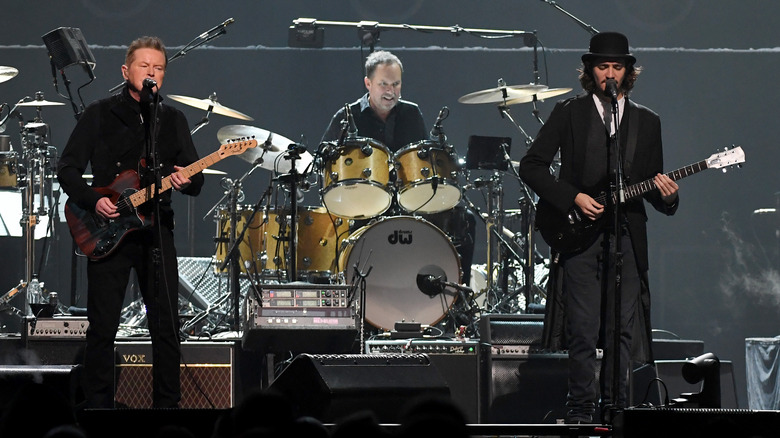 Ethan Miller/Getty Images
By the time The Eagles broke up in 1980, the country-rock band was worn down by drugs, alcohol, and the endless pressure of being one of the most successful acts of the 1970s, according to Ultimate Classic Rock. Calls for reunions, however, begin as soon as any band as popular as The Eagles decide to call it quits. When The Eagles announced they were done, it seemed to be for good. What, then, could entice the group to reunite in the early '90s? It all came down to the entreaties of one country singer that loved the band.
Responsible for a string of top 10 singles, including "Hotel California," "Desperado," and many others, The Eagles finally imploded over interpersonal tension at a benefit for Alan Cranston, a senator from California. The next morning, The Eagles bassist Timothy B. Schmit called guitarist Glenn Frey. The Eagles, Frey said, were over. "We always vowed to quit when we were still on top," Frey later recalled, per Ultimate Classic Rock, and that's exactly what they did. In 1993, however, an Eagles tribute record from popular country musicians was in the works, and one particular artist involved in the project had an unusual request.
Travis Tritt loved the band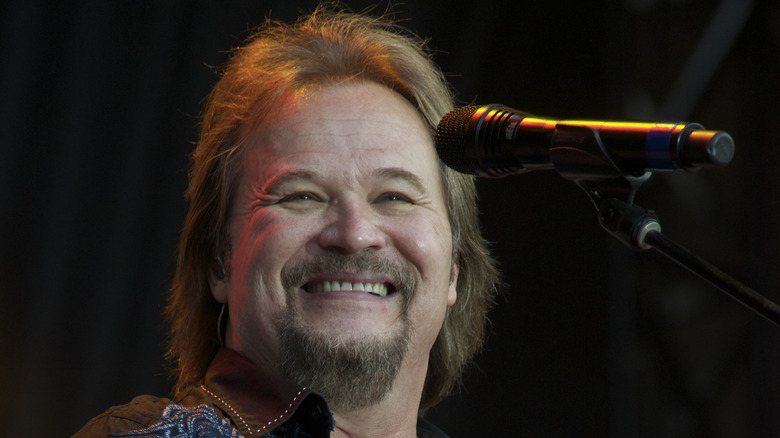 mark reinstein/Shutterstock
Per All Music, the country music-themed Eagles tribute "Common Thread: The Songs of the Eagles," released in 1994, featured a number of well-known country stars from the era, including Alan Jackson, Vince Gill, Trisha Yearwood, and many others. The lead-off single from the well-received album was a Travis Tritt rendition of The Eagles hit "Take it Easy." When a music video for the song was requested from Tritt (pictured above), he had one condition: only if the original members of The Eagles also made an appearance.
Despite numerous instances in the preceding years when ex-Eagles insisted they would reunite only "when hell freezes over," they did get together with Tritt for that video shoot, and they had such a good time while they were at it that reunion talk came shortly after. Also in '94, the band recorded a reunion special for MTV called, appropriately enough, "When Hell Freezes Over," and released an album. Since then, several different Eagles lineups have continued touring to this very day, and it's all thanks to Travis Tritt, per Taste of Country.