This Is How Aretha Franklin Once Saved The Grammy Awards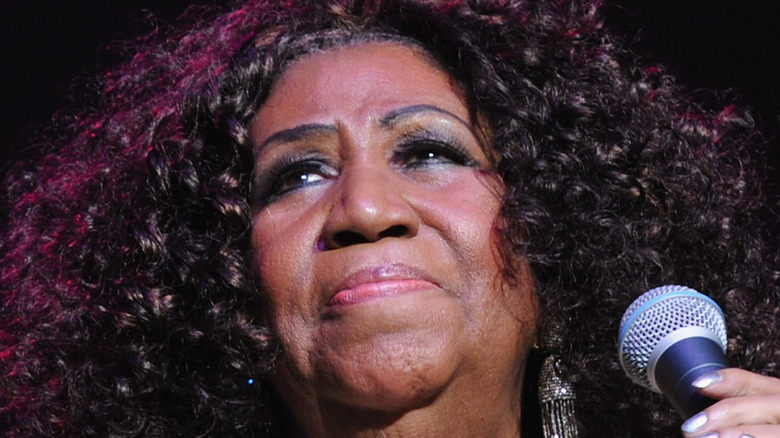 Rick Diamond/Getty Images
One might think Aretha Franklin, the Queen of Soul, got her nickname because she was a great soulful singer. She was most definitely that, but she was so much more besides. Franklin was a musical genius whose abilities stretched across genres. From blues and pop to gospel and jazz, she could sing it all. Diehard Franklin fans know this. After all, she didn't receive 44 Grammy nominations and win 18 awards (via CNN) because she could sing soul songs well. And it wasn't just her vast repertoire, either. Franklin was grounded in gospel growing up in her father's Detroit church, and turned in emotional performances time and again (via Biography). She most definitely earned the distinguished title Queen of Soul over her long and varied career, but no one, or at least very few, knew the truly expansive depths of Franklin's talents until the night of February 25, 1998.
On that night, at the 40th Grammy Awards ceremony at Radio City Music Hall in New York City, Franklin was to give a Blues Brothers-themed performance with Dan Aykroyd, John Goodman, and Jim Belusi, the brother of the original Blues Brother, John Belushi. Suddenly, with the show already underway, the headliner that night, Franklin's friend, the opera star Luciano Pavarotti, fell ill (via Los Angeles Times). Pavarotti was scheduled to sing the aria "Nessun Dorma" from Puccini's opera "Turandot." Pavarotti's performance of the piece early in his career had made him an international superstar.  
Aretha delivers stunning Grammys opera performance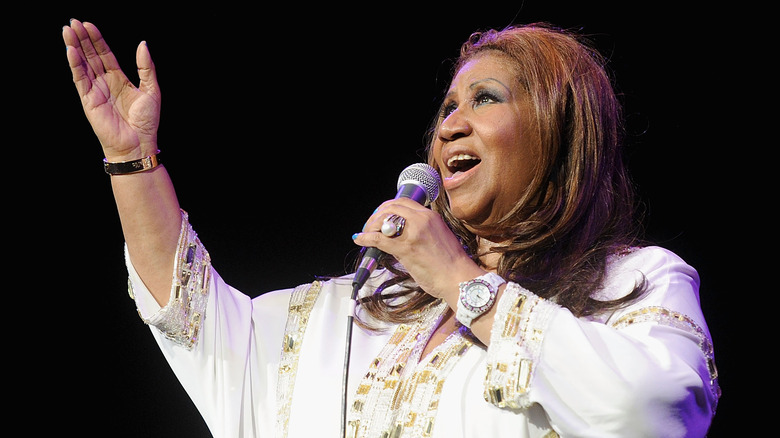 Jamie Mccarthy/Getty Images
The Grammys' longtime executive producer, Ken Ehrlich, remembered that Franklin had sung the aria two nights before at an event honoring Pavarotti. When he asked her to perform it again that night, she agreed. With little time, she listened to a cassette of Pavarotti's performance of the number and met with Pavarotti's conductor, according to Billboard. Without ever seeing the staging of the number, with a full orchestra and a 30-person chorus, she proceeded to deliver one of the most stunning performances in the history of the Grammy Awards, and one of her most famous ever.
Ehrlich has often credited Franklin's performance that night with not only saving the show, but as one of the highlights of his career with the awards ceremony. Ehrlich said in an interview with Billboard that no one — not him, not the audience, not the other performers that night — was prepared for Franklin's astonishing abilities. "Everybody knew that she was incomparable," he said. But no one could have anticipated that she could sing an aria in Pavarotti's place. "Aretha's performance was such a moment. I don't want to say it dwarfed the rest of the show, but it was epic. When the news broke, it was all anyone was talking about in a pre-blogging world," Ehrlich added (via Billboard). And they weren't the only ones surprised by the number. Franklin herself was amazed by the fans' response and told Ehrlich the next day that she would never forget the performance.