Tragic Details Found In Andy Irons' Autopsy Report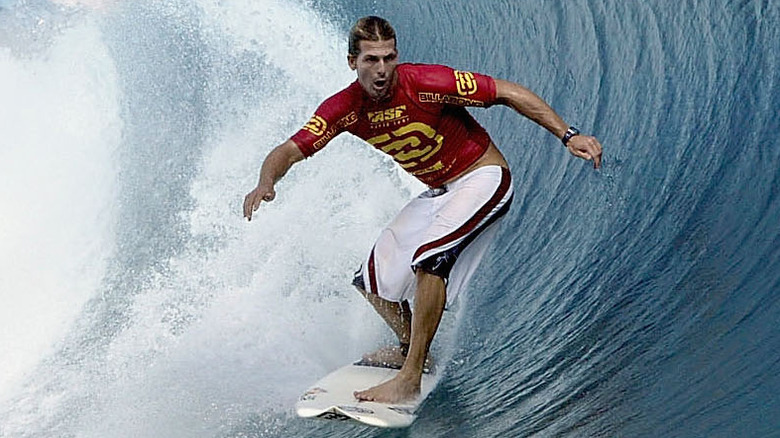 Pierre Tostee/Getty Images
Born on July 24, 1978, Andy Irons was a beloved professional surfer who died too soon (via Players Bio). According to SurferToday, Irons began to surf when he was only 8 years old. Surfing, however, was in his blood. His California-bred father, Phil, had won a surf competition that garnered him a trip to Hawaii. He never returned home and thus, Irons and his brother Bruce (who is also a surfer) were raised in Kauai, Hawaii. Irons and his brother honed their skills in Hanalei Bay, and in 1995, Billabong reports that he won a National Amateur title. In 1996, the then 17-year-old won the Pipeline Pro competition. This win ultimately launched Irons' career.
Per The Guardian, he joined the Association of Surfing Professionals (ASP) Tour shortly after. Irons' successes continued, and between 2002 and 2004, he won three world championships. This of course brought him fame and fortune, two things Irons' had never experienced before. Moreover, he had a rivalry with fellow professional surfer Kelly Slater, something that Bear Surfboards says was encouraged by the media.
Per Surf Holidays, the rivalry began in 2003 when both surfers competed for the ASP World Tour title. It only intensified when Slater beat Irons at the 2005 Billabong Pro Jeffreys Bay final. A documentary about their rivalry, "A fly in the Champagne," was released in 2009. Despite his massive success as a professional surfboarder, Irons was struggling internally. Unbeknownst to the public, he had been diagnosed with bipolar disorder at the age of 18 (via InsideHook).
Andy Irons' drug addiction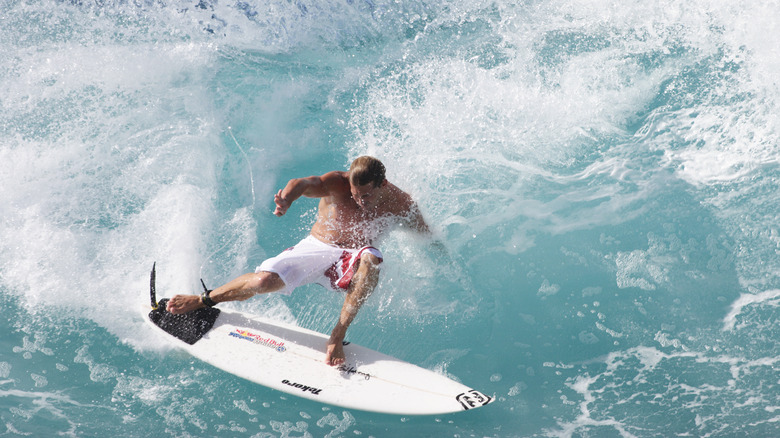 Mana Photo/Shutterstock
According to Billabong, Irons struggled with his newfound notoriety. His grueling travel and competition schedule didn't help and it eventually took a toll on the talented surfer. InsideHook writes that his bipolar disorder only made things worse. Irons was said to have suffered from "manic highs and depressive lows" as his career continued to skyrocket. Per Teton Gravity Research, his mental illness only fueled his "intense competitive nature," as Irons was said to have emotional outbursts during competitions. Nonetheless, some believe that surfing ultimately helped Irons deal with the fact that he had bipolar disorder.
However, he was also heavily using drugs. In 1999, on his 21st birthday celebration in Indonesia, Irons snorted morphine and drank a copious amount of whiskey (per The Inertia). He flatlined for eight minutes before being resuscitated at the ICU. Though he was on the brink of death, his drug use only escalated after that. SurferToday reports that Irons became addicted to opioids and other drugs.
In addition, he would often surf after going on drug and alcohol binges into the morning. Though he was taking up to 20 pills a day, he was still leading a "functional and athletic life." It's believed that Irons won the 2007 Rip Curl Pro Search championship in Chile while he was high on cocaine and pills. His brother Bruce later said that Andy was "f***ed up for that whole event" (via Fox Sports Australia). Eventually, the drugs and his bipolar took a toll as Irons decided to drop out of the 2008 tour.
Andy Irons' death at the age of 32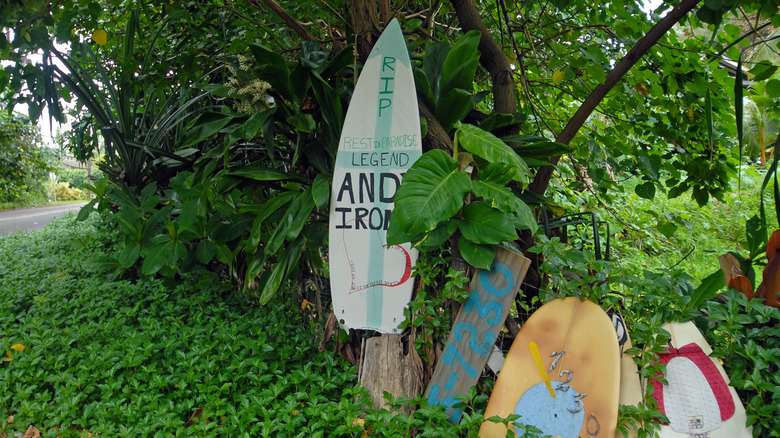 nyker/Shutterstock
InsideHook reports that Irons also did not participate in the 2009 season. By 2010, he was ready to make a comeback. Regrettably, it never happened. In November of that year, Irons made his way to Puerto Rico to participate in a competition (via Players Bio). Per SurferToday, he unexpectedly pulled out, citing illness. Irons then decided to head back home to Hawaii to his wife Lyndie, who was heavily pregnant with the couple's first child. Because he was too sick to board his flight to Hawaii, Irons had a layover in Texas. People writes that when Irons failed to answer Lyndie's calls or texts, she contacted hotel staff. 
They found the 32-year-old dead in his hotel room at Dallas-Fort Worth International Airport. Shortly after, Billabong, who sponsored Irons, released a statement that his death had been caused by Dengue Fever (per The Inertia). However, Irons' autopsy report (via Autopsy Files) later confirmed that a heart attack and a cocktail of drugs had killed Irons. Methadone, meth, and cocaine were all found in his system, along with multiple medications for his bipolar disorder.
Although it's unknown exactly why Billabong inaccurately reported his death, it's believed it was because the public was unaware of Irons' drug addictions. The 2018 documentary "Andy Irons: Kissed by God" explores his life, career, and his addictions. (The trailer is posted on YouTube.)
If you or anyone you know is struggling with addiction issues, help is available. Visit the Substance Abuse and Mental Health Services Administration website or contact SAMHSA's National Helpline at 1-800-662-HELP (4357).