Disturbing Details Found In Dimebag Darrell's Autopsy Report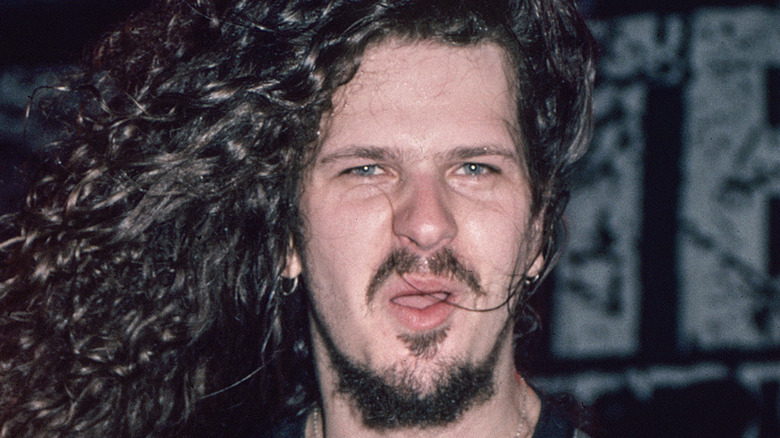 Lisa Lake/Getty Images
Formed in 1981 by brothers Darrell and Vinnie Paul Abbott, Pantera started out as a glam metal band in their home state of Texas, releasing several albums that didn't make much of an impact in their increasingly saturated scene. By the early '90s, however, the band had completely transformed thanks to the arrival of frontman Phil Anselmo (who replaced original singer Terry Glaze) and a switch to a more aggressive "groove metal" sound. With an uncompromisingly heavy sound and dark, personal lyrics to match, Pantera didn't do much except become one of the most influential and successful metal bands of the 1990s ... until conflicts between Anselmo and his bandmates ultimately tore the group apart.
With bassist Rex Brown joining Anselmo in his side project Down, "Dimebag" Darrell and Vinnie Paul formed Damageplan, releasing their debut album, "New Found Power," in 2004. Sadly, it would turn out to be the band's only album; on December 8, 2004, while Damageplan was just starting a show at the Alrosa Villa in Columbus, Ohio, a lone gunman walked onstage and shot Darrell in the head, killing three others before he was shot dead by a police officer. Darrell was only 38 years old and had left behind a legacy as a talented and innovative guitarist who was just beginning to establish himself outside of the band that first made him famous.
Dimebag Darrell died of multiple gunshots to the head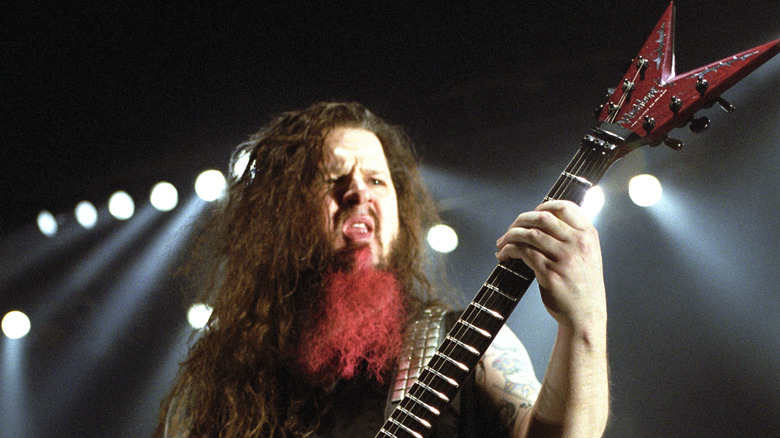 TDC Photography/Shutterstock
On February 15, 2005, two months after Dimebag Darrell's murder, his autopsy report was released, confirming that the guitarist died of multiple gunshot wounds to the head. According to the copy of the report on Autopsy Files, Darrell's fatal injuries occurred after he was "allegedly shot by another person," that individual being Nathan Gale, a 25-year-old former Marine who purportedly blamed Darrell for the breakup of Pantera. As the late Vinnie Paul explained in an interview (via Loudwire), there was also speculation that Gale's apparent mental illness (and his belief that Damageplan had stolen his lyrics) might have fueled his rampage at the Alrosa Villa.
All in all, Darrell's autopsy revealed that he had sustained four gunshot wounds, including one to the right cheek, one to the back of the head, one to the left ear, and one to the right hand. The first three wounds seemed to be the ones that did the most damage; the shot to the cheek exited behind Darrell's right ear and the shot to the left ear exited through his left posterior scalp. It appears that the bullet to the back of the musician's head remained lodged, given how this was the only one that did not have exit wound information.
The autopsy also revealed that Darrell was in fairly good health at the time of his death. It was noted that he had a "plastic airway" in the mid-mouth area as evidence of medical therapy, but other than that, he wasn't suffering from any serious medical conditions. Interestingly, the report misidentified Pantera/Damageplan drummer Vinnie Paul as Darrell's "father," instead of brother in the "Next of Kin" section. (Darrell and Vinnie were both outlived by their father, songwriter/producer Jerry Abbott.)
The man who shot Dimebag Darrell was described as 'crazy,' but harmless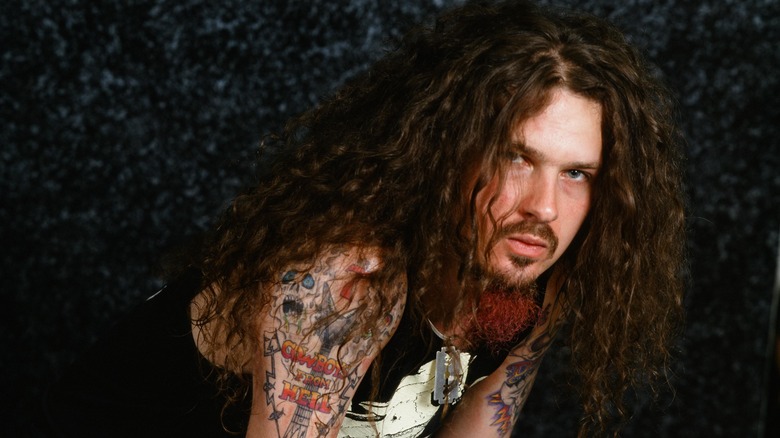 Gutchie Kojima/shinko Music/Getty Images
While Dimebag Darrell's autopsy revealed a lot of details about his murder, the gunman's real motive has remained a mystery in the years since the guitarist's death. However, there were a few signs that he was acting more than a little off in the lead-up to the horrific crime. According to Rolling Stone, Nathan Gale had braved the chilly weather outside the Alrosa Villa, standing outside and talking to other concertgoers while Damageplan's opening acts played their sets. After Gale told one fan that he was outside because he doesn't "want to see no [sic] s***ty local bands," he turned down the fan's suggestion to go inside so he can keep warm. Instead, he insisted on specifically waiting for Damageplan to go on.
Rick Cautela, manager of the Alrosa Villa, told Rolling Stone that Gale was acting strange, but otherwise seemed harmless. "He was just a crazy fan trying to talk to members of the band," he explained, also noting that the young man didn't have a ticket. "One of my guys who helps to set up the bands eventually told him to leave."
As Damageplan opened their set with the title track from "New Found Power," Gale reportedly snuck inside the club by jumping a fence and entering through a side door. He quickly made his way to the left side of the stage, then pulled out his Beretta handgun and opened fire on Darrell.