The Tragic Murder Of Dimebag Darrell Explained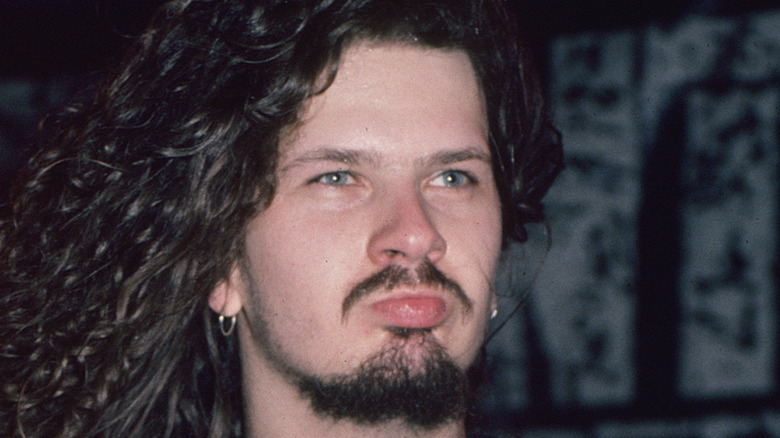 Lisa Lake/Getty Images
According to All Music, Dimebag Darrell is known for being a founding member of the metal band Pantera and for his horrifying death. Born in 1966 as Darrell Lance Abbott, the Texas native had music in his blood. His father, Jerry Abbott, was a country music producer and songwriter. Per Last.fm, the apple didn't fall far from the tree as Darrell began playing guitar when he was a teenager. By 1981, Darrell and his brother, drummer Vinnie Paul, created Pantera. They would eventually add bassist Rex Brown and singer Phil Anselmo to the mix. The band released their hit album "Cowboys from Hell" in 1990 (per IMDb).
The album made Pantera a household name and key to a new subgenre called "groove metal." Rolling Stone writes that they would go on to sell more than 7 million records during their 18-year run. However, by 2003, Pantera had split due to a "rift" between the brothers and Anselmo (via ABC). Paul later stated that Anselmo, "had gone off and done his own thing" (per Loudwire). As a result, Far Out Magazine reports that Darrell and Paul quickly formed their own band, Damageplan.
Dimebag Darrell was murdered by a crazed fan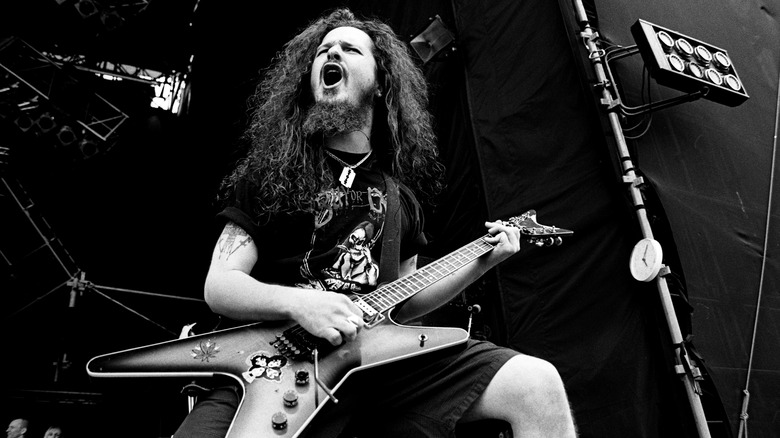 Martyn Goodacre/Getty Images
Per Far Out Magazine, Damageplan was a passion project for both Darrell and Paul. Though their new band was nowhere near as successful as Pantera, they were glad to be out of the "toxic environment" they were formerly in with Anselmo. In February 2004, Damageplan released their debut album "New Found Power" and decided to hit the road. Loudwire writes Damageplan was two shows away from their tour's end when the unthinkable happened. On December 8, the band was playing at the Alrosa Villa club in Columbus, Ohio. That's when Nathan Gale, a former Marine, charged through the stage while Damageplan was playing. 
Gale shot Darrell in the back of the head multiple times with a 9mm Beretta handgun, killing him instantly. According to Rolling Stone, Gale proceeded to shoot and kill three other people, including a fan, the band's head of security, and a roadie. Minutes later, an officer arrived at the scene and shot 25-year-old Gale dead.
Though the true reason for his rampage is unknown, some believe he blamed Darrell for Pantera's demise. Others believe Gale's severe mental illness is to blame (via a different article from Loudwire). It's reported that he believed Pantera "was stealing his thoughts." One thing is clear; he was obsessed with both heavy metal and Pantera. Ultimate Classic Rock reports that the Alrosa Villa club was demolished in 2021 to make way for affordable housing.