The Tragic Murder Of Dimebag Darrell Explained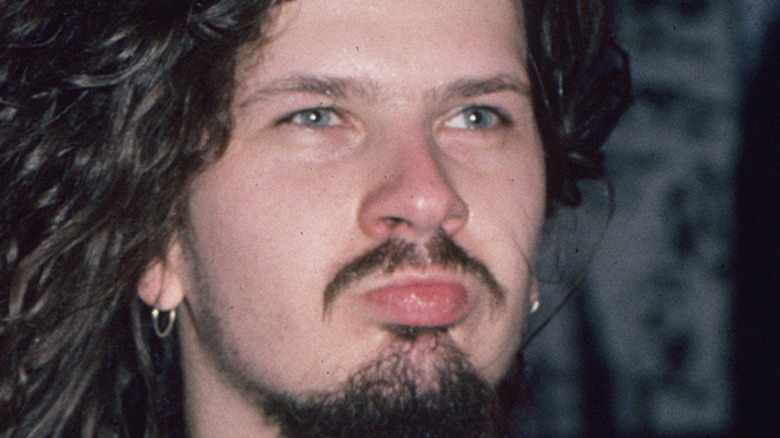 Lisa Lake/Getty Images
According to All Music, Dimebag Darrell is known for being a founding member of the metal band Pantera and for his horrifying death. Born in 1966 as Darrell Lance Abbott, the Texas native had music in his blood. His father, Jerry Abbott, was a country music producer and songwriter. Per Last.fm, the apple didn't fall far from the tree, as Darrell began playing guitar when he was a teenager. By 1981, Darrell and his brother, drummer Vinnie Paul, created Pantera. They would eventually add bassist Rex Brown and singer Phil Anselmo to the mix. The band released their hit album "Cowboys from Hell" in 1990 (per IMDb).
The album made Pantera a household name and key to a new subgenre called "groove metal." Their subsequent albums "Vulgar Display of Power" and "Far Beyond Driven" were released with much success (via All Music). Rolling Stone writes that they would go on to sell more than 7 million records during their 18-year run. IMDb notes that as of August 2017, the band had sold more than 60 million records.
However, by 2003, Pantera had split due to a conflict between the brothers and Anselmo (via ABC). The band, per IMDb, had been on hiatus since 2001. Paul later stated that Anselmo "had gone off and done his own thing and it really felt like we were not respected at all" (per Loudwire). Ultimately, Paul stated that Anselmo's actions led to the end of Pantera. As a result, Far Out Magazine reports, Darrell and Paul quickly formed their own band, Damageplan.
Dimebag Darrell was murdered by a crazed fan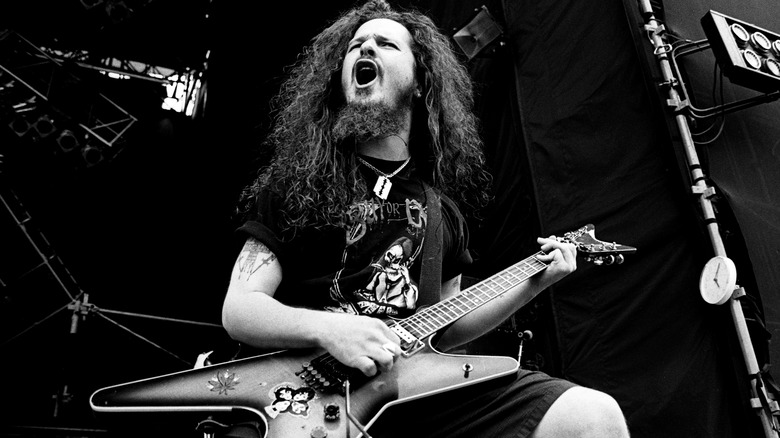 Martyn Goodacre/Getty Images
Per Far Out Magazine, Damageplan was a passion project for both Darrell and Paul. Though their new band was nowhere near as successful as Pantera, they were glad to be out of the negative atmosphere they were formerly in with Anselmo. In February 2004, Damageplan released their debut album, "New Found Power," and decided to hit the road. Loudwire writes Damageplan was two shows away from their tour's end when the unthinkable happened.
On December 8, the band was playing at the Alrosa Villa club in Columbus, Ohio. That's when Nathan Gale, a former Marine, charged through the stage while Damageplan was playing. Gale shot Darrell in the back of the head multiple times with a 9mm Beretta handgun, killing him instantly. According to Rolling Stone, Gale proceeded to shoot and kill three other people, including Nathan Bray, a fan, the band's head of security, Jeff "Mayhem" Thompson, and a roadie, Erin A. Halk.
Billboard reports that Bray climbed on stage to give Darrell CPR and then attempted to help Thompson, who was shot twice. Bray was then killed when he was shot in the chest. Halk was also a former marine and is believed to have been shot when he attempted to stop Gale. Minutes later, an officer arrived at the scene and shot 25-year-old Gale dead. Per Loudwire, the last words Darrell said to his brother were "Van Halen." Paul stated that this was their "code word" that they told each other at each show as a reminder to have a good time.
Why did Nathan Gale kill Dimebag Darrell?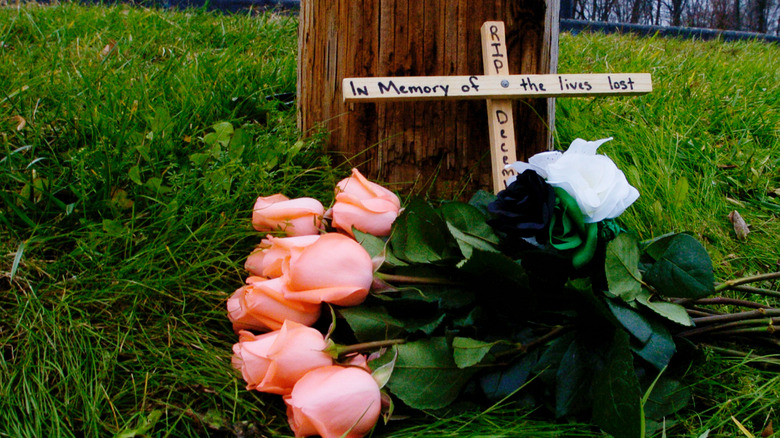 Mike Simons/Getty Images
Though the true reason for Gale's deadly rampage is unknown, one thing is clear: He was obsessed with both heavy metal and Pantera (via Loudwire). Per another article from Loudwire, some believe he blamed Darrell for Pantera's demise. Others believe Gale's severe mental illness is to blame. It's reported that he believed Pantera was stealing his thoughts. Gale's mother, Mary Clark, told NBC News that her son was convinced that the band had stolen lyrics he had written. One of Gale's friends said he felt the band was stealing his identity.
Clark went on to explain that Gale was a paranoid schizophrenic. Ultimately, this was the reason he had been discharged from the military. Moreover, Clark admitted that she had bought the 9mm gun used in the shooting as a gift prior to Gale's diagnosis. She went on to say that she understood why the police officer had to shoot and kill Gale and said that "You'll never know how many lives he saved" (per NBC News).
According to ABC, Gale had also intended to kill Paul. However, he managed to flee the stage unharmed and into the safety of his tour bus. Shortly after the shooting, Paul released a statement that read, "Dime gave it all every day to each and every one of us and our lives have forever been hollowed without him ..." (per NME). Ultimate Classic Rock reports that the Alrosa Villa club was demolished in 2021 to make way for affordable housing. USA Today reports that Vinnie Paul died in June 2018 at the age of 54.