This Is How The Minnesota Twins Got Their Name
James Kirkikis/Shutterstock
The Minnesota Twins have played baseball in their state for over 60 years. They thrilled fans with World Series wins in both 1987 and 1991. Hall of Famer Kirby Puckett lit up the diamond with his exuberant smile, along with making them gasp in amazement at plays like the one he made in Game 6 of the '91 series, per the Baseball Hall of Fame. These Twins squads helped keep them drawing fans even in a football- and hockey-crazed state.
Over the years, Minnesota residents have seen the likes of Cooperstown locks Puckett, Harmon Killebrew, Tony Oliva, Rod Carew, and Bert Blyleven, per Bleacher Report. They also cheered the play of Justin Morneau, Joe Mauer, and Johan Santana. They also saw them move from an indoor stadium to an outdoor one. But the team's greatest feat may have been to unite two rival cities in the same state. That is part of how the team name came about. 
A tribute to both Minneapolis and St. Paul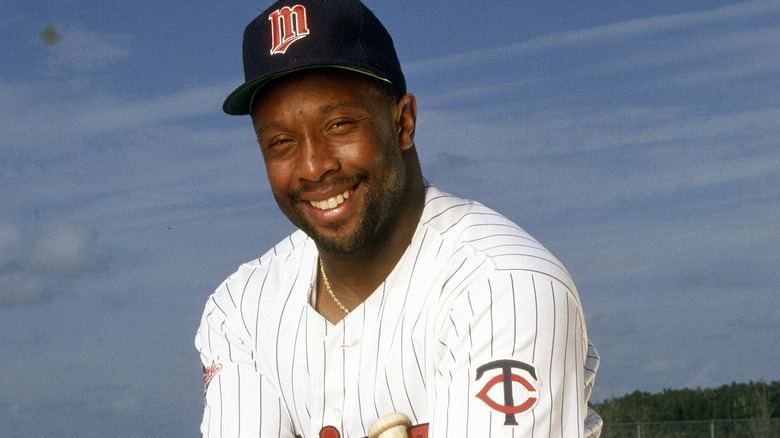 Focus On Sport/Getty Images
It all started when Major League Baseball gave Washington Senators owner Calvin Griffith permission to relocate the team to Minnesota in 1960, per MLB. Griffith initially had the idea of having the team name include "Twin Cities," and he even had a cap with "TC" on it made. This was because he wanted to acknowledge both Minneapolis and St. Paul, who had a long-standing baseball rivalry that went back to 1902. His intention was to call them the Twin Cities Twins. 
That is when MLB and marketing both stepped in. They indicated that fans outside the area would have trouble figuring out what Twin City Twins meant. Also, it would have been a nightmare for the people making the uniforms. So Griffith listened to their wishes and settled on the Minnesota Twins, which was still a nod to the twin cities. It was also the first time a baseball team would be named after the state rather than the city that it was based in — though New York Yankees fans might argue with that. The TC logo was able to stay on the cap, though.