What Bette Davis' On-Set Behavior Was Really Like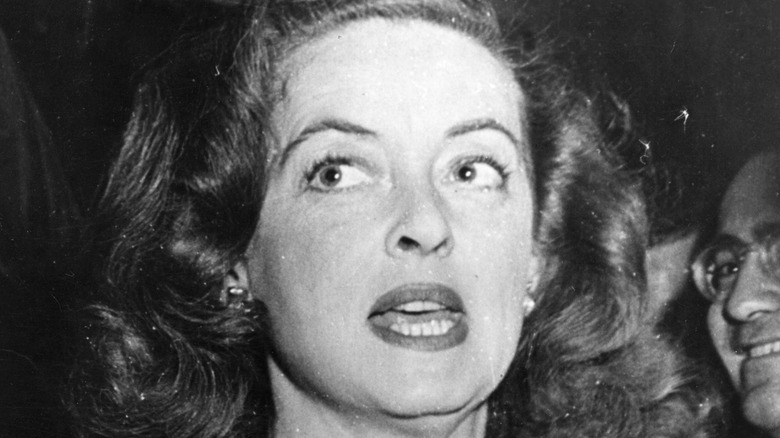 Keystone/Getty Images
Bette Davis is one of the most iconic and admired classic Old Hollywood actresses of all time. Named the second-greatest female film legend of all time by the American Film Institute, David had a long career as a movie star. She was well known for portraying outspoken, complicated, often unlikable characters. She was nominated for an impressive 11 Academy Awards for Best Actress in a Leading Role, per the IMBb, beginning with her breakout role as the cruel, manipulative Mildred in "Of Human Bondage" in 1934 at the age of 27, and ending with her stunning turn as faded, possibly murderous vaudeville star Baby Jane Hudson in "What Ever Happened To Baby Jane?" at the age of 54. (She won twice.) 
Although she once supposedly quipped (also per the IMBb), "Why am I so good at playing b—–s? I think it's because I'm not a b—h," Davis had a reputation for being difficult and even mercurial. The New York Times review of the 2007 David biography "Dark Victory: The Life of Bette Davis" begins by calling her "a real piece of work" and references quotes from fellow actress Barbara Stanwyck, who described Davis' "creative ruthlessness." Another, unnamed colleague apparently said that Davis needed to be "the entire band and all the instruments" while on set, "including the bazooka." The book goes on to reference studio records that report Davis caused several films to run over schedule and budget due to her storming off sets, faking illnesses, and having physical and emotional problems. 
Bette Davis got in fights on and off her film sets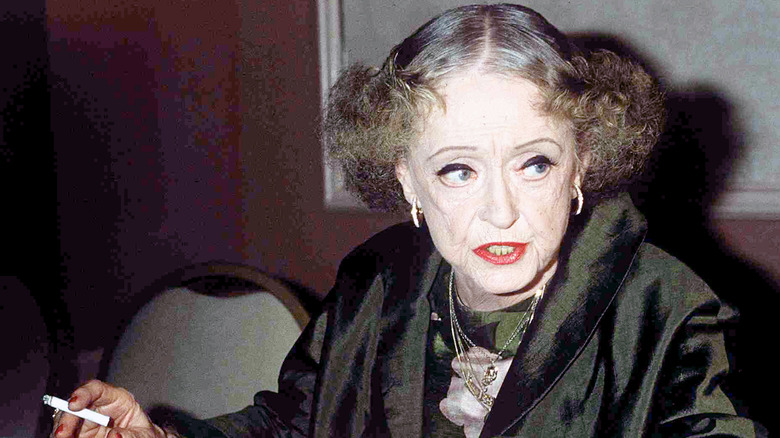 Kypros/Getty Images
The New York Times book review of "Dark Victory: The Life of Bette Davis" notes that Davis left Warner Bros. studio, where she made her most well-known movies, in 1949, with author Ed Sikov calling her at that point "free to be truly impossible." In 2001, producer William Frye wrote an article for Vanity Fair, provocatively titled "The Devil In Miss Davis," describing his experiences working with Davis. He recalled making the one-hour TV special "Split Second" with her in 1958, which from the very first day of filming was a series of challenges and arguments. Davis called Frye at five in the morning, an hour before she was due on set, and told him he'd have to get someone else to play her starring role, as she was sick. It turned out that she'd had a fight the night before with her husband, Gary Merrill, that had turned physical, resulting in her falling in their gravel driveway and scraping up one side of her face. 
Frye convinced Davis to make "Split Second" anyway, promising to shoot around her face until it was healed, but at one point Davis still held up filming and made reshoots necessary when she insisted on filming a key scene with her back to the camera. Frye claims that when he confronted Davis about the scene later, she screamed at him, "I was acting before you were even thought of!"