This Is How Far Mick Jagger Got In School
Featureflash Photo Agency/Shutterstock
There's no question that Mick Jagger is one of rock 'n' roll's most iconic and influential figures. Legendary Guns N' Roses guitarist Slash once ranked him as one of the two greatest frontmen of all time, the other being James Brown (via Rock And Roll Garage). However, he almost wasn't a frontman at all.
Born Michael Phillip Jagger on July 26, 1943, he is the son of a teacher and a homemaker. Jagger prospered in school as a boy and showed promise in a professional sense. It seemed that his life was more or less laid out for him even before being accepted to the London School of Economics in 1960 (per Biography).
However, at that point in time, Mick was already in musical cahoots with guitarist Keith Richards and bassist/childhood friend Dick Taylor. The three grew up in Dartford, England, and had decided to form a band. Shortly thereafter, Mick Jagger left the London School of Economics to commit himself fully to the Rolling Stones and everything they would become (via Biography).
The early days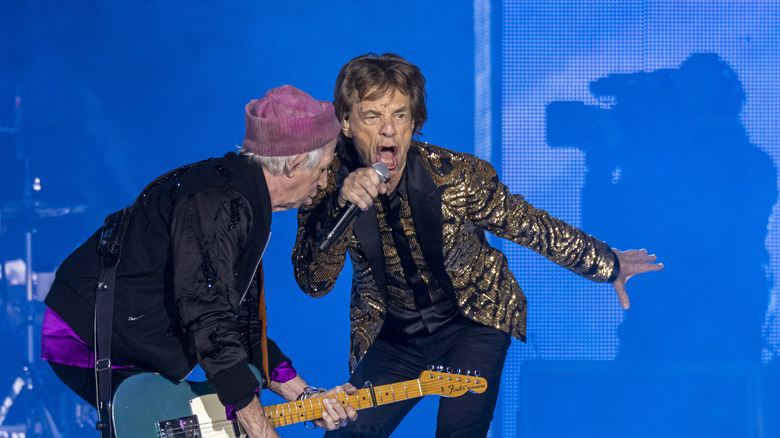 Scott Legato/Getty Images
As a teenager, Mick Jagger attended Wentworth Primary School in Dartford alongside Keith Richards. He would eventually move on to the Dartford Grammar School for a time until he was accepted into the London School of Economics (per Trade School).
During his stint as an economics major, Jagger's academic performance defaulted at a C average. Despite a seemingly inherent momentum for scholastic excellence and a curriculum that consisted of just a few business courses, his sights were set on making music with his bandmates. He ultimately started skipping classes in true rock 'n' roll fashion until his untimely departure from the realm of education.
"My father was furious with me," the frontman shared. "But I really didn't like being at college. It wasn't like it was Oxford, and it had been the most wonderful time of my life. It was really a dull, boring course I was stuck on" (via Rule Forty Two).
The rest, as we say, is rock 'n' roll history.