This Is How The San Diego Padres Got Their Name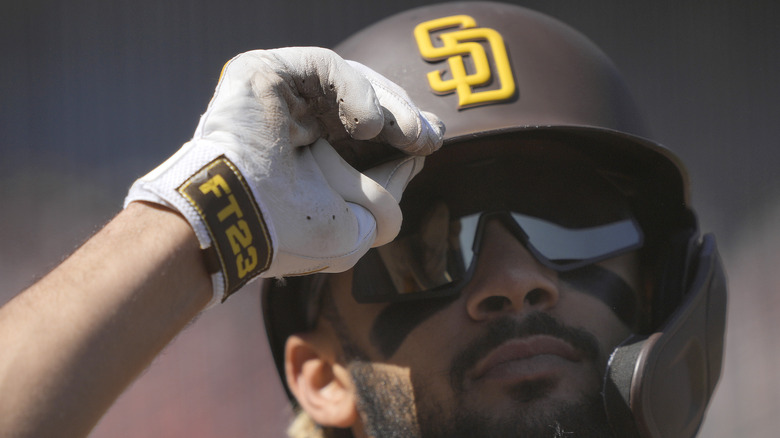 Thearon W. Henderson/Getty Images
Competing in the National League West division of Major League Baseball, the San Diego Padres are a team with a history stretching back further than their MLB franchise designation in 1969, per Sports Team History. There's been a baseball team called the Padres in San Diego since the 1930s, in fact, when the Hollywood Stars pulled up stakes and moved down south. The story of how the team got its new name reflects the long and varied history of the organization.
In that era, the San Diego Padres (then the Hollywood Stars) competed in the Pacific Coast League (PCL). Higher rent was due in their LA stadium which they shared with the Los Angeles Angels, also a PCL team. San Diego welcomed the organization with a brand-new waterfront stadium, per the official MLB website. The name Hollywood Stars made sense for the team in Los Angeles. Now that they were in San Diego, though, they needed a moniker appropriate for their new home.
The history of the city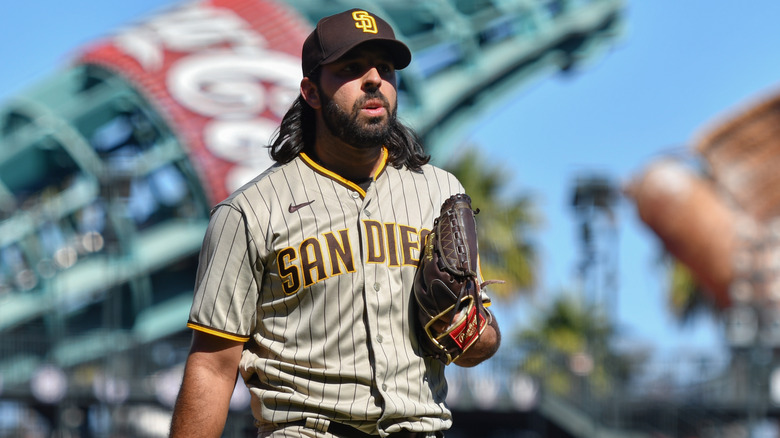 Brandon Vallance/Getty Images
Per MLB, the first Spanish missions that would one day become the state of California were founded in the 1760s by two Franciscan friars — Father Junípero Serra and Don Caspar de Portolá. Friar means father, just like padre means father in Spanish. The name San Diego Padres was chosen to honor this history of Spanish colonization in California. To this day, Padres fans still sometimes call the team "the Friars," and their mascot is "The Swinging Friar." Over the years, this Spanish history has also shown up in several logo designs.
Once the team settled into their new home in San Diego, finally becoming an MLB franchise in the late 1960s, they met with mixed success, according to Sports Team History. They've won the pennant twice, in '84 and '98, but have never won a World Series title. The team has also had only 14 winning seasons in its entire history. Appropriately for a team named after California history, though, the San Diego Padres are only one of two baseball organizations founded in the Golden State still playing there today — the other being the Los Angeles Angels of Anaheim. The Dodgers, Giants, and A's all relocated to the state from elsewhere.