What Desi Arnaz's On-Set Behavior Was Really Like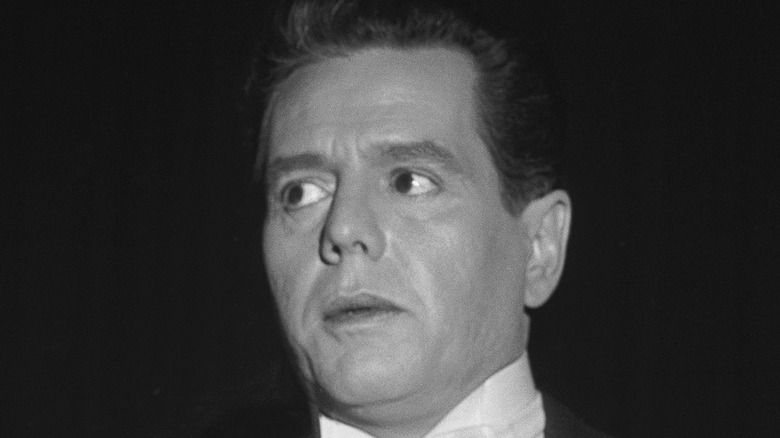 Michael Ochs Archives/Getty Images
"Being the Ricardos," starring Nicole Kidman and Javier Bardem in the role of Lucille Ball and Desi Arnaz, respectively, is available now on Amazon Prime, per IMDb. The movie tells the true story of the relationship between Ball and Arnaz from "I Love Lucy," one of the most popular TV sitcoms of the '50s, and seen by many as an innovator of the form, per PBS. Through Ball's zany comedic style and Arnaz playing the straight man, the show lampooned married life, then and now. Even though it was not immediately successful with critics, audiences loved the series.
It's now known, though, that Arnaz and Ball had a rocky real-life marriage, marred by alcoholism and infidelity, per Showbiz CheatSheet. The couple even experienced two miscarriages, according to Closer Weekly. They finally divorced in 1960 after two decades together, with Ball claiming "cruelty" and "mental suffering" at the hands of Arnaz, per The Sun. A closer look at Desi Arnaz's on-set behavior supports these reports of marital unhappiness.
He was distant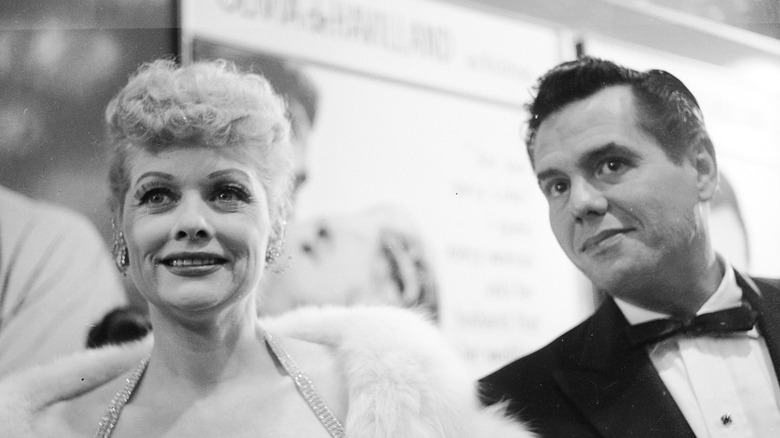 Michael Ochs Archives/Getty Images
As well as starring together in "I Love Lucy," Ball and Arnaz also formed a production company called Desilu. Parlaying the success of "I Love Lucy" into another series called "The Lucy Show," and despite the fact Ball and Arnaz were no longer married, Arnaz served as executive producer on the program, as Showbiz CheatSheet reports. Ball had even remarried. In this period, the on-set behavior of Desi Arnaz reflects how difficult it must have been to work with — not to mention remain married to — the actor and musician.
Via Showbiz CheatSheet, Arnaz was highly distracted and checked out during the production of "The Lucy Show." According to Ball's co-star in the series, Arnaz seemed to be constantly seething and ready to explode, although in truth, his on-set responsibilities were kept minimal, possibly because of this behavior. Often hungover and struggling with alcoholism, Arnaz would even sometimes fall asleep on the set. Nevertheless, Ball — remaining friends with her ex — acted as apologist for Arnaz. By 1962, though, she bought out Arnaz's share of Desilu, where the couple had also produced such shows as "The Lucy-Desi Comedy Hour," and even "Star Trek," per History. Desi Arnaz died in 1986 from lung cancer, via Showbiz CheatSheet, and Lucille Ball died in 1989 from a ruptured abdominal aorta, per StyleCaster.
If you or anyone you know is struggling with addiction issues, help is available. Visit the Substance Abuse and Mental Health Services Administration website or contact SAMHSA's National Helpline at 1-800-662-HELP (4357).