This Is How The Colorado Rockies Got Their Name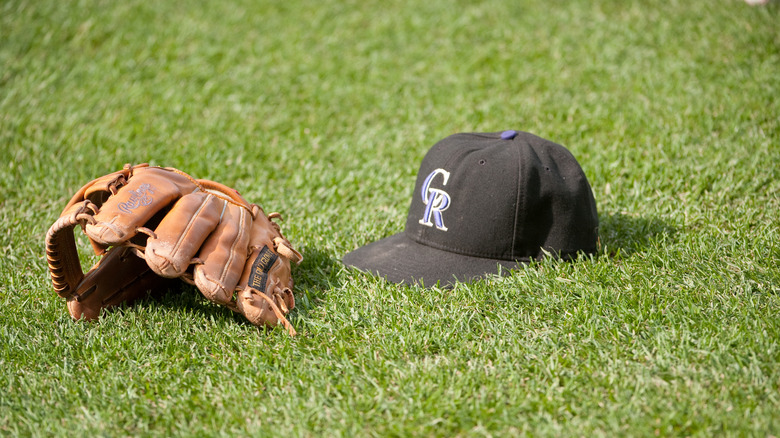 Jeff Smith - Perspectives/Shutterstock
Per the official MLB website, there were several baseball teams in Denver, Colorado, before the city was granted an expansion major league team in the early 1990s. None were in the major leagues, though, and names associated with those organizations include Colts, Trojans, and Mountaineers, among many others. When it finally came time to name the area's first Major League Baseball team, owners naturally drew from the most prominent nearby natural feature, the storied Rocky Mountains — or so one might assume.
Interestingly, there are many more references to the Rocky Mountains associated with the Colorado Rockies, beyond just what's obvious in the name of the team. The purple in the team colors was chosen after "purple mountain majesty," from the song "America the Beautiful," a direct reference to the mountain range. Even their mascot, "Dinger," came about in honor of fossils uncovered while building Coors Field where the Rockies now play, a nod toward the geologic history of the area. The complete history of how the Colorado Rockies got their name, though, includes another Denver athletic organization, playing a different sport entirely.
An unsuccessful hockey team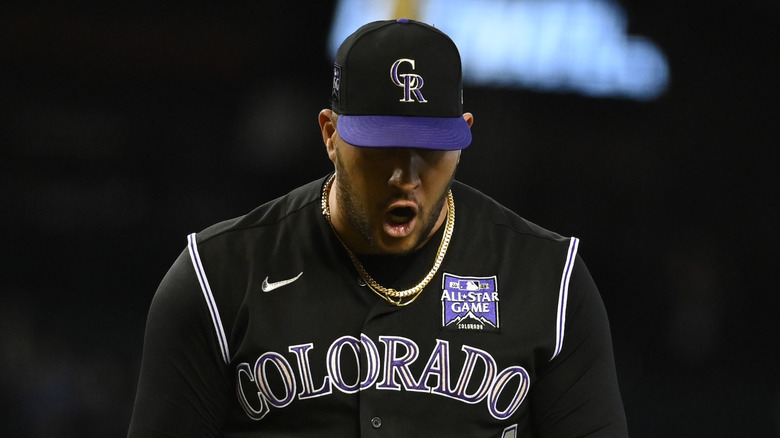 Norm Hall/Getty Images
According to Team Name Origin, former Rockies principal owner and manager John Antonucci said at the unveiling of the team name, "We feel very strongly that Colorado Rockies might be one of the strongest names in all of professional sports." According to MLB, he added, "The Colorado Rockies are internationally recognized as the prominent feature of our state. Our goal is to build a franchise as strong and enduring as the Rocky Mountains themselves."
Fans weren't so pleased with the choice, however, perhaps because they remembered another Denver-based team, also called the Rockies, this time playing hockey in the National Hockey League (NHL) from 1976 through 1982, per Team Name Origin. Those Rockies left Denver, becoming the New Jersey Devils. Colorado Rockies founding partners were no doubt aware of this recent sports team history of their city but chose the name anyway. According to MLB, though, the Rockies have never won a World Series title, so maybe there was something to the concerns of those early fans after all.