Disturbing Details Found In Junior Seau's Autopsy Report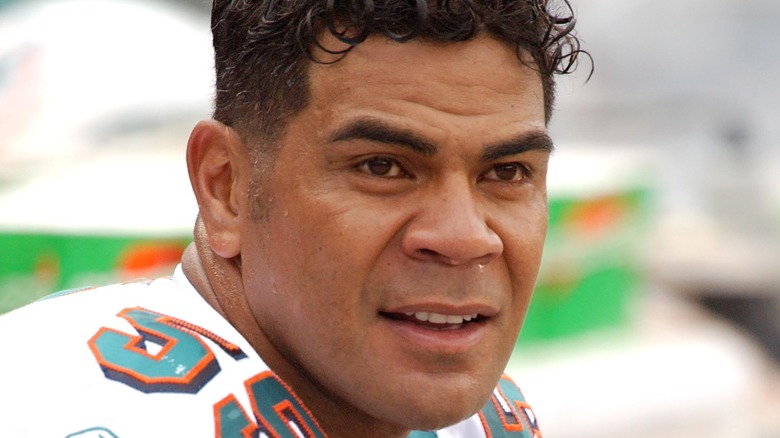 Mitchell Layton/Getty Images
Born as Tiaina Baul Seau Jr. in 1969 (via Britannica), The Week writes that Junior Seau is considered one of the best NFL Players of the 1990s. After graduating from the University of Southern California, Seau was drafted by the San Diego Chargers. The linebacker would later go on to play for the Miami Dolphins and the New England Patriots (per Sportscasting). After a 20-year career, he retired in 2009. Though he has been described as "jovial" with an "extraordinary character," Heavy reports that cracks began to appear in Seau's life. In 2010, he was accused of domestic abuse and drove off a cliff in Carlsbad, California (via Boston).
Though he survived with little injury, this seemed to mark the beginning of the end for Seau. According to The New York Times, on May 2, 2012, Seau's girlfriend found his lifeless body in his Oceanside, California home. The father of four had shot himself in the chest. There was no suicide note, and his girlfriend stated that nothing seemed amiss that day. He did, however, text his family to let them know he loved them, although they did not think to consider this a warning sign.
If you or anyone you know is having suicidal thoughts, please call the National Suicide Prevention Lifeline​ at​ 1-800-273-TALK (8255)​.
Junior Seau had CTE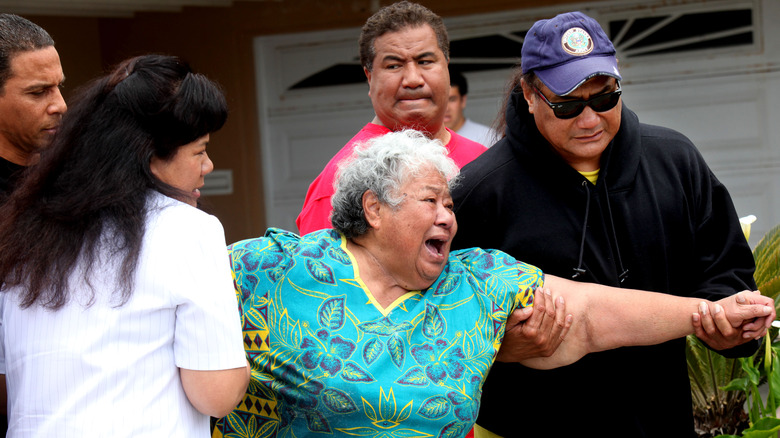 Sandy Huffaker/Getty Images
Junior Seau was only 43 at the time of his death (via The New York Times). Per his autopsy report (via Autopsy Files), his death was ruled a suicide from a "penetrating gunshot wound of the chest." No illegal drugs or alcohol were found in Seau's system. However, it did appear he took two prescription drugs, Zolpidem and Naprozen. Heartbreakingly, it's noted that his son, Tyler Seau, had to identify his body at one point. His autopsy showed no signs of brain trauma. Per Sportscasting, Seau had never even been diagnosed with a concussion during his career in the NFL.
The Guardian reports that shortly before Seau's death, two former NFL players, Ray Easterling and Dave Duerson, had committed suicide. Duerson, like Seau, had shot himself in the chest (via The Week). Moreover, he had left a note stating he wanted his brain to be donated for the study of football injuries. This ultimately prompted Seau's family to send his brain to the National Institute of Health for further testing.
According to Heavy, it was uncovered that Seau had been suffering from CTE or chronic traumatic encephalopathy. This condition is caused by "repeated head trauma" from sports, including football. It can ultimately lead to both behavioral and neurological issues (per the Concussion Legacy Foundation). NPR writes that Seau's family filed a wrongful death suit against the NFL. In 2018, the family settled for an undisclosed amount.
If you or anyone you know is having suicidal thoughts, please call the National Suicide Prevention Lifeline​ at​ 1-800-273-TALK (8255)​.