Here's How The Eagles Came Up With The Title Of Life In The Fast Lane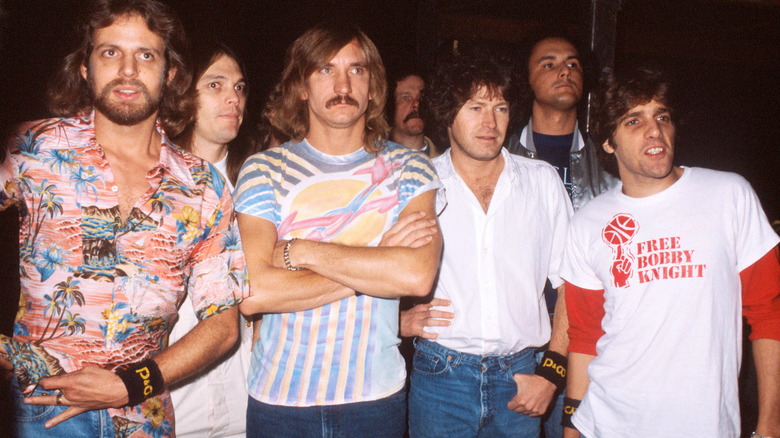 Michael Putland/Getty Images
The Eagles' 1976 hit, "Life in the Fast Lane," told a parable of rock-star excess through the story of a couple living fast and (potentially) dying young, according to Genius. Even though it's a cautionary tale, Eagles lyricist Glenn Frey was actually living that "fast" lifestyle at the time of the song's recording, he said in an interview with Rolling Stone. "I could hardly listen to that song when we were recording it because I was getting high a lot at the time and the song made me ill," he claimed. "We were trying to paint a picture that cocaine wasn't that great. It turns on you. It messed up my back muscles, it messed up my nerves, it messed up my stomach, and it makes you paranoid."
The title, in fact, came from a wild experience Frey had with a drug dealer — though it didn't directly involve drugs. It involved a fast car and the freeway.
"Everything all the time"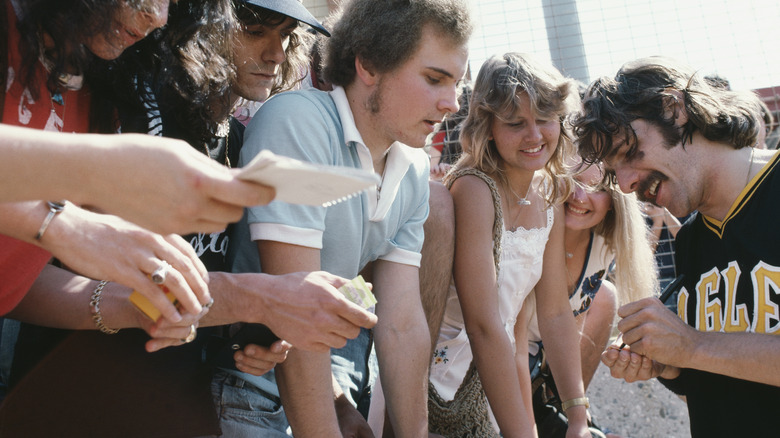 Michael Ochs Archives/Getty Images
In the documentary "The History of the Eagles," Frey talks about the fateful car ride in a Corvette that was driven by a drug dealer (via Genius). They were on the way to a poker game, Frey said. "The next thing I know we're doing 90," he recounted. "Holding! Big Time! I say, 'Hey, man!' He grins and goes, 'Life in the fast lane!' I thought, 'Now there's a song title.'"
Like with the similar "Hotel California" — the songs are tracks one and three on the album "Hotel California" — the song works as a metaphor for late '70s decadence. The band itself arguably fell apart due to that decadence — the next decade would see Eagles members busted in drug arrests and banned from hotels for demolishing rooms (via The Nugget). Frey himself had to get his nose reconstructed due to his heavy cocaine use, according to Express. As the band sang, "they didn't see the stop sign, took a turn for the worse."