The Truth About James Taylor's Relationship With Carole King
Jack Kay/Getty Images
Two of the biggest names in the history of popular music, particularly when it comes to songs from the 1960s and 1970s, are those of Carole King and James Taylor. As Rolling Stone notes, King was selling songs to other artists while still a high school student, and over the decades, her tunes have been performed by artists ranging from The Monkees to Kylie Minogue, and everything in between. And that's to say nothing of her own prolific recording career, which includes one of the seminal albums of her era, 1971's "Tapestry."
One of King's longtime collaborators and songwriter partners was James Taylor, who is himself an icon of the music of his era. As CNN notes, Taylor and King both recorded their own versions of a song King had written, and in Taylor's case, 1971's "You've Got a Friend" may yet go down in history as his signature hit.
Despite their decades-long friendship and musical collaboration, there was nothing more to King and Taylor's relationship. Despite how music fans may collectively remember their relationship, they were never married and never even dated.
Carole King and James Taylor married other people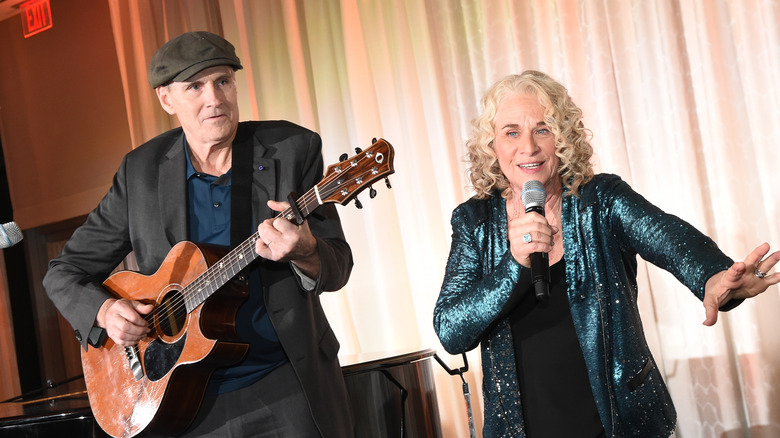 Rick Diamond/Getty Images
Both James Taylor and Carole King have, at various points in their careers, been talked about for their personal lives in addition to their professional achievements. In Taylor's case, for much of his early career, he was married to fellow musician Carly Simon, as Parade notes, in addition to subsequent marriages. Similarly, according to a companion Parade report, King has had multiple marriages and relationships as well.
However, none of those relationships or marriages have been between Taylor and King. Indeed, she describes an early meeting in 1969 during which the two jammed together on their instruments. She said that even though they barely knew each other, the energy in the room was like that of two old friends who had known each other for years. "It was like we were puppies rolling around; the music was just rolling in and around each other. His guitar and my piano just rolled around. And we just felt like we knew each other and had played together forever," she said.
Similarly, Taylor has also been clear that their relationship is strictly about music and friendship. "[Carole] and I probably just have the same musical DNA," Taylor said, via TV Insider.