How Did Coolio Get His Nickname?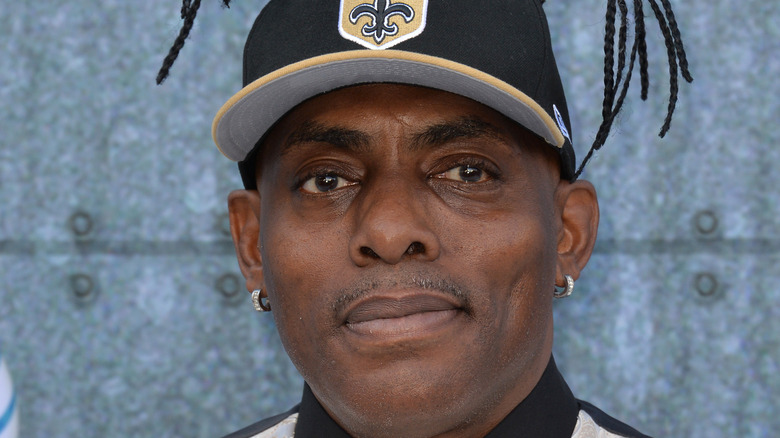 Featureflash Photo Agency/Shutterstock
You may not be familiar with the name Artis Leon Ivey Jr., but you're almost certainly familiar with his stage name. That's because Ivey is a hip-hop/rap star, and since the beginning, with few exceptions, rappers have performed under stage names. The song the Compton rapper is best known for is also one of the seminal rap songs of the 1990s: 1995's "Gangsta's Paradise." 
The song was the title track to the soundtrack of the popular movie, "Dangerous Minds," and was spoofed by Weird Al Yankovic ("Amish Paradise"). And indeed, Weird Al's spoof led to some bad blood between the two men, as Ivey claimed that he had not given permission for his song to be parodied.
If you haven't guessed it by now, Artis Ivey has performed for several decades under the stage name "Coolio." And unlike his colleague and fellow West Coast Rapper Snoop Dogg, who is also from Compton, Coolio was an adult man before the nickname that he would eventually take as a performer came to be.
The name 'Coolio' was originally intended as an insult
Raymond Boyd/Getty Images
There are as many origin stories for rappers' names as there are rappers. For example, Snoop Dogg, as previously mentioned, came upon the name because, as a young boy, he was a big fan of "Peanuts" cartoons, as Classic Hip Hop Magazine reports.
As for Artis Leon Ivey, Jr, there are at least three origin stories of his stage name, although all share the same basic structure, and all posit that the name "Coolio" was originally intended as an insult (albeit likely a mild one), but the performer just ran with it. According to The Mirror, he performed a song by Julio Iglesias in a singing competition and got the name "Coolio Iglesias" for his efforts. A version of the story provided by Digital Spy claims that he got the nickname in college, but the publication doesn't provide any context. Meanwhile, Alt Pop Repeat claims that Ivey was caught listening to a José Feliciano song, and his friends mockingly nicknamed him "Coolio Iglesias."
Whatever the reason, Ivey claimed the insult as his own, and it certainly appears to have worked out well for his career.