The Truth About The 2022 Winter Olympics Mascot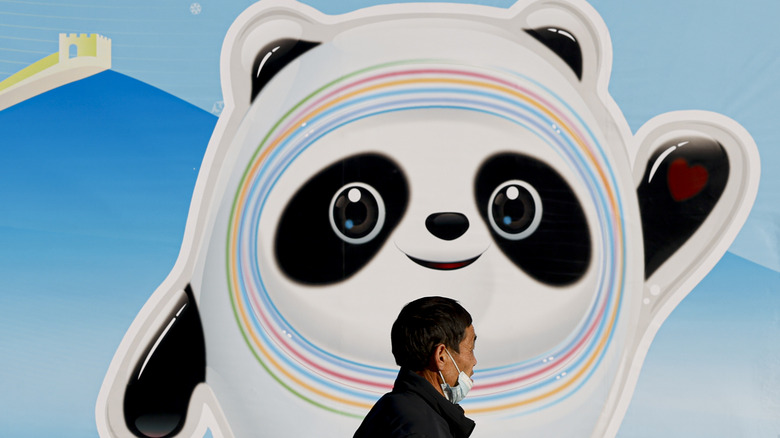 Fred Lee/Getty Images
A month from now the opening day of the 2022 Winter Olympics in Beijing will launch a two-week-long global sporting event. The second most populous city in China won the bid to host the Olympics back in 2015 (via Reuters). It will be the second time the city is hosting an Olympic event — the first took place in 2008.
One major component of sports is having a mascot, whether for a local high school football game, or for college and professional teams. The Olympics are no different. Since the 1932 Olympics, mascots have been part of the Olympics culture. But the Olympic committee didn't present an official one until the Munich Games in 1972. In the official debut year, the first ever mascot was a colorful dachshund called Waldi (via Olympic Studies Center). Now, 50 years later, the Olympics mascot for the 2022 Winter Games is called Bing Dwen Dwen.
Meet the Beijing Olympics mascot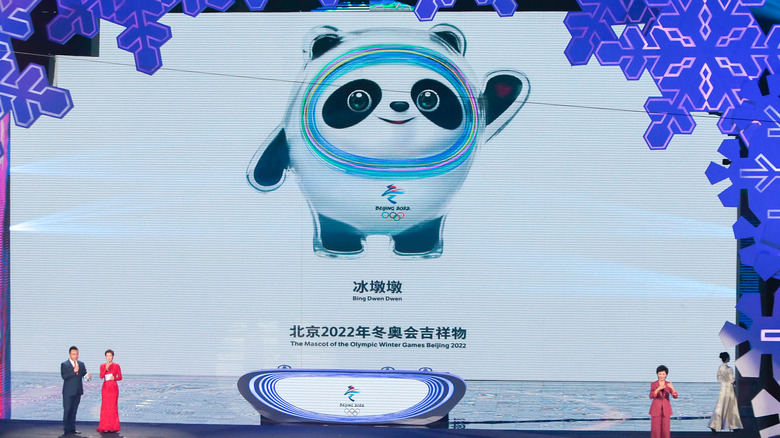 Xinyu Cui/Getty Images
The purpose of a mascot at the Olympic games is to advertise the games and celebrate a theme. It is also responsible for representing the culture and history of the country that is hosting, says Olympics. These mascots have typically been animals or popular characters that appeal to wide audiences. But on rare occasions, there have also been mascots that represent a human as well.
This year, it's back to tradition with Bing Dwen Dwen, who is a panda. The animal is a type of bear that is native to China, so it's an appropriate choice to represent where it's being held. It was unveiled in 2019 (via "Today") and chosen out of thousands of submissions, per Olympics.
The name of the 2022 Winter Olympic mascot is in Mandarin, which is the most widely spoken dialect in China (via Chinese Language Institute). It means ice and robust and lively, per Olympics. The idea behind its name means that it is pure and strong, and a representative of children. The appearance of the mascot takes after what most pandas look like. But it is fully covered in ice. Its ice-covered body is meant to demonstrate all the snow and ice-related games that are scheduled to be played in Beijing.
Bing Dwen Dwen also sports a colorful halo around its face that apparently symbolizes the evolution of technology for the games, along with a heart in its left paw to signify China's welcome mat for all participating countries and their athletes.