Why Lucille Ball And Desi Arnaz Lied On Their Marriage Certificate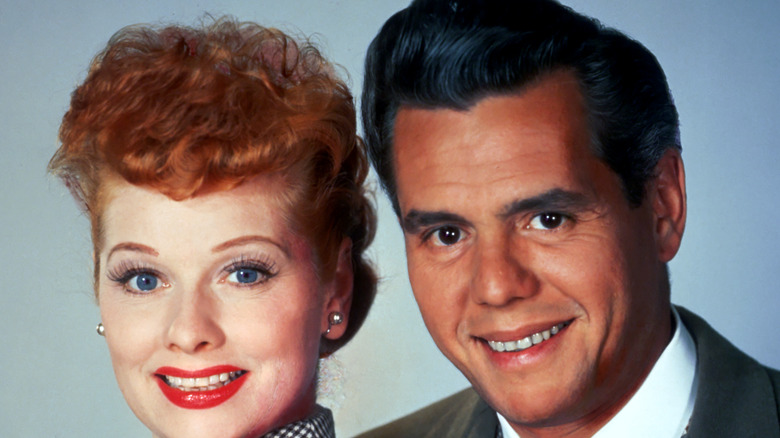 Michael Ochs Archives/Getty Images
Known for playing Lucy and Ricky Ricardo on "I Love Lucy," Lucille Ball and Desi Arnaz were married both on and off-screen (via HITC). Biography reports that the couple met on the set of "Too Many Girls," an RKO musical. While Arnaz was a Cuban band player, Ball was an actress who was on her way to the top. The attraction was instant and mutual. According to People, their co-stars also noticed the sparks between the two. Many believed it wouldn't last and they made bets about the relationship's longevity, as it seemed that they were an unlikely pair.
Per Showbiz Cheatsheet, both Ball and Arnaz were in other relationships when they started seeing each other. Ball's friends noted that she was "eager" to please him, despite being known as an "independent lady" (via Country Living). Arnaz, however, was a womanizer, and in one instance Ball openly reprimanded him for running off with another girl. The Daily Telegraph writes that Arnaz boldly suggested marriage as a solution to the couple's woes.
Lucille Ball was older than Desi Arnaz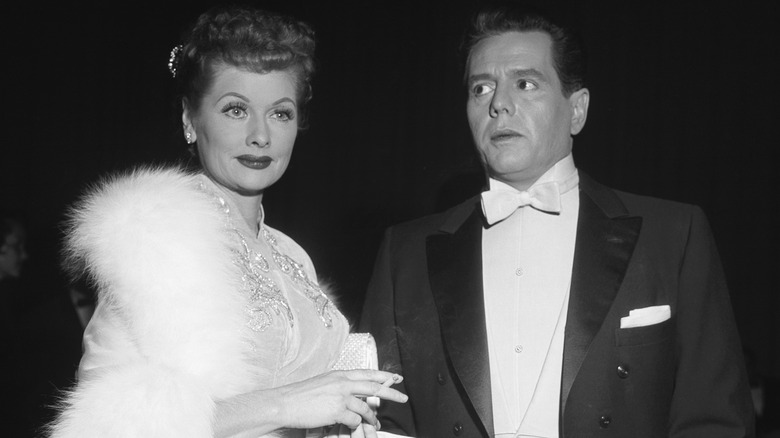 Michael Ochs Archives/Getty Images
According to 9Honey, Lucille Ball and Desi Arnaz eloped in 1940, 6 months after they had first met. Ball was 29 and Arnaz was 23 (via Good Housekeeping). As it was considered "taboo"for an older woman to marry a younger man, Showbiz Cheatsheet reports that the pair wrote that they were both born in 1914 to "avoid a scandal." In reality, Ball was born in 1911 while Arnaz was born in 1917. She later told People that she didn't have much faith in the marriage and only gave it "six weeks." Ball would come close to ending the marriage in 1944 due to Arnaz's alcoholism and infidelity. The couple ultimately reconciled.
As fate would have it, they would stay together until their divorce in 1960 (per Country Living). In their 20 years of marriage, Ball and Arnaz would go on to be the first interracial couple on television with their show "I Love Lucy." The pair created Desilu, an independent production company that was, in a word, revolutionary. They would also have two children, Lucie and Desi Arnaz Jr. (via HITC). Even through their demise and subsequent new marriages, Ball and Arnaz would remain lifelong friends until Arnaz's death in 1986.