The New Siegfried And Roy Tiger Attack Theories Explained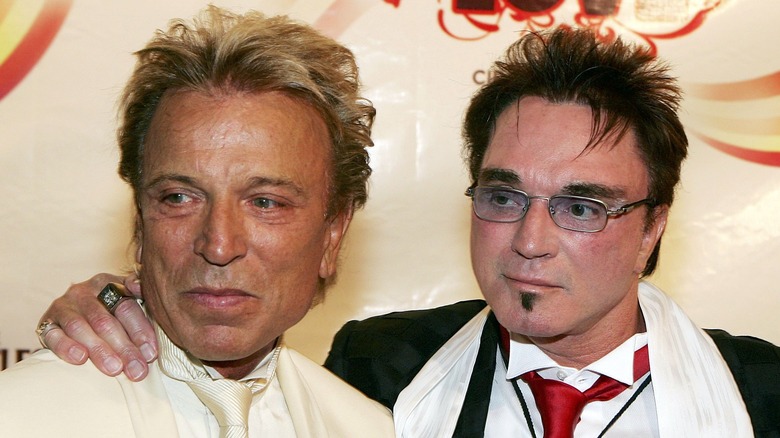 Ethan Miller/Getty Images
For decades, two of the biggest names in Las Vegas, and in the world of professional stage magic more broadly, were those of Siegfried Fischbacher and Roy Horn, who performed professionally as "Siegfried and Roy." The duo could be counted on, night after night, to sell out their theater on the Vegas Strip, as fans took in their act, which always included large animals, in particular big cats, such as lions and tigers. Unfortunately for the duo, that reliance on animals for their act would result in one of the most gruesome incidents to ever take place before a live audience. As The Hollywood Reporter notes, one of the show's tigers, named Mantecore, attacked Horn and dragged him off-stage. Stagehands were eventually able to get the animal to release Horn, but he'd suffered life-threatening and career-ending damage to his spinal column.
In the decades since the attack, Siegfried and Roy have maintained that Roy had a medical issue on stage before the attack and passed out, and that the animal was simply trying to protect him, as he told Las Vegas Weekly. However, a new podcast speculates that the attack may have been attempted murder, possibly an anti-LGBTQ hate crime.
Did someone in the audience signal Mantecore?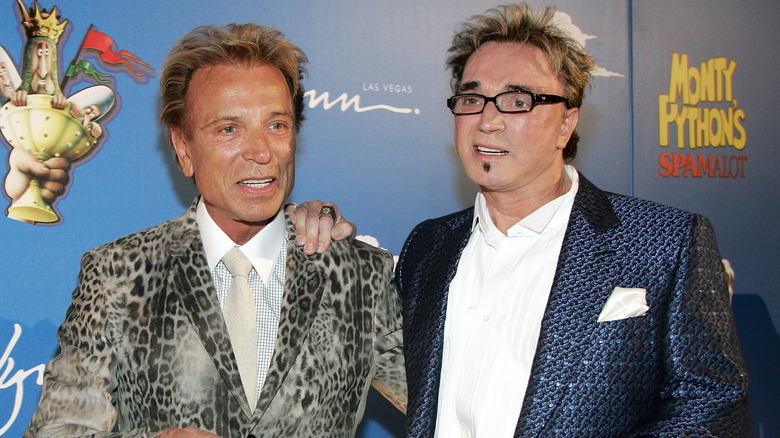 Ethan Miller/Getty Images
Almost immediately after the attack that nearly ended Roy's life, investigators from multiple agencies descended onto the Las Vegas Strip, according to The New York Post. Steven Leckart, the executive producer and host of the Apple TV+ podcast "Wild Things: Siegfried & Roy," said that in addition to the local police, the United States Department of Agriculture and even Homeland Security all came calling.
As it turns out, allegedly something was amiss in the audience that night: an impossibly tall woman with an impossibly tall beehive haircut. Indeed, even businessman Steve Wynn, who owned the Mirage, the casino where Siegfried and Roy performed, took notice of the spectator. "The theory was that this woman smuggled a scent in her hairdo. After all, who will check a woman's hair for a small spray bottle? The thinking was that there was a pheromone or exotic animal urine that was used to distract the tiger," Leckhart said. And, he claims, there's precedent for a cat being distracted by scents that come off of women. Supposedly another animal in Siegfried and Roy's menagerie, Mantecore's brother Jahan, once got "extremely excited" by Demi Moore's perfume.
Why would anyone want Siegfried and Roy ruined?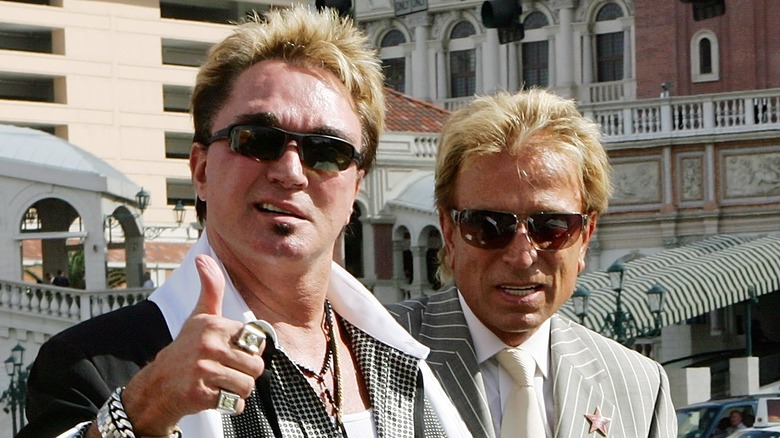 Ethan Miller/Getty Images
Even if someone in the audience, or some other bad actor (perhaps backstage) somehow signaled or incited Mantecore to attack Roy, there's still the matter of why? What possible reason could anyone have for attempting to murder Roy or, at the very least, bring ruin to their show?
As it turns out, one possibility is homophobia, as Leckhart tells The New York Post. Supposedly, the Mirage received an email warning that investigators should be looking for indications that the event "might be the work of a terrorist aiming at a high profile GAY [sic] target."
Other possibilities floated by Leckhart included possible hostility from animal rights activists as Siegfried and Roy, and other entertainers who employ live animals in their acts, are often criticized by animal lovers. Similarly, perhaps someone was interested not in taking down Siegfried and Roy specifically, but Las Vegas broadly, perhaps in some act motivated by revenge. All of these theories remain just that, theories, as none have ever been confirmed.