Here's How Many Kids Sidney Poitier Had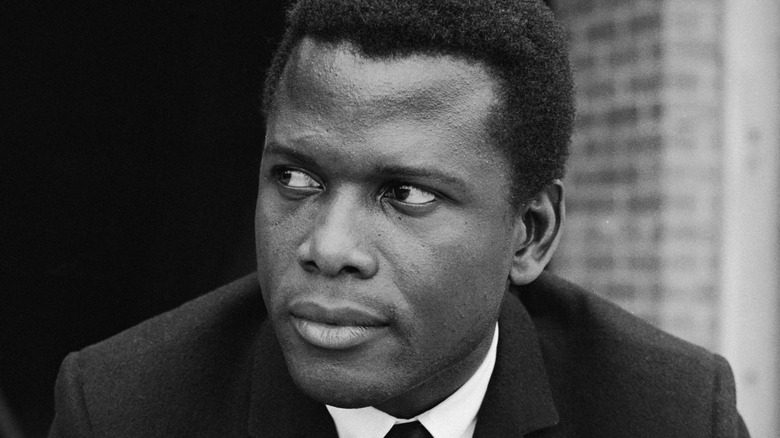 The Graham Stark Photographic Library/Getty Images
Sidney Poitier, an actor who helped transcend racial barriers during a time when racism was rampant across the country, died on the evening of January 6, per CNN. He was 94. People remember him for his legendary roles in movies like "In The Heat of the Night," "Lilies of the Field," and "Guess Who's Coming to Dinner" via IMDb. Those roles had him opposite people like Spencer Tracy and Katharine Hepburn, and Poitier was more than their equal. His steely gaze and unflinching attitude only helped add to his grace and gravitas. Here was a man who could freeze a person in his tracks with a glare, and then put them at ease with a warm smile afterward. 
When it comes to remembering Poitier, though, it is important to note that he was far more than someone who graced people's televisions or appeared on movie theater screens. He was also a man who lived a long life with two marriages. Family was very important to him. Poitier left not only a tremendous legacy as an actor, but he also brought six children into the world — all daughters. They are making their mark on the world as well.
Sidney Poitier and his daughters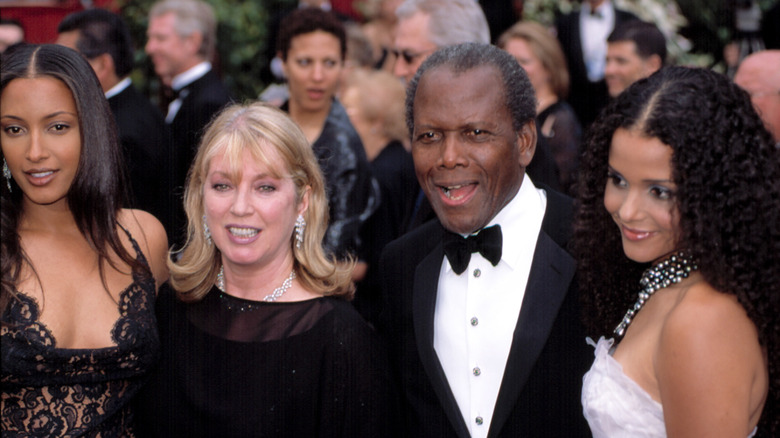 Everett Collection/Shutterstock
Sidney Poitier had four of his children with his first wife and two with his second. Per The U.S. Sun, two of Sidney Poitier's daughters decided to follow in the footsteps of their father, taking up residence in front of a camera. Sydney Tamiia Poitier, who was the youngest, and Pamela Poitier both became actors. Pamela also has a career as a teacher. Another daughter, Anika Poitier, decided that she liked the view through the camera lens better and is a director/filmmaker.
There was some tragedy toward the end of Sidney Poitier's life. One of his daughters, Gina Poitier-Gouraige, who had pursued a fashion career and was working at a designer boutique that she opened up, died in 2018, per Amo Mama. Sherri Poitier decided to become a cook and Beverly Poitier-Henderson designs jewelry for her own company, Poitier-Henderson Jewelry (via Amo Mama). 
Poitier's legacy included eight grandkids and three great-grandchildren. His was a full life with love from his entire family and a litany of memorials left on social media and websites. He was a man who will not be forgotten anytime soon.