What You Should Know About Olympic Hockey Player Abby Roque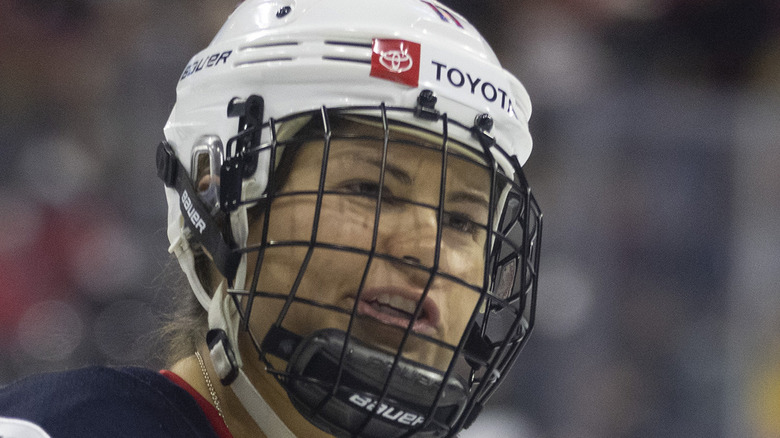 Mitchell Leff/Getty Images
Men's and women's ice hockey is always one of the most hotly anticipated events in the Winter Olympics. In the 2022 games, scheduled to begin February 4 in Beijing, China, fans of the University of Wisconsin Badgers have extra reason to watch. Making her premiere on the U.S. women's Olympic Hockey team will be Wisconsin alumna Abby Roque — pronounced like "rock," per the Team USA website. As Badger fans know well, Roque (pictured above) helped her team win the NCAA National Championship back in 2019, according to NBC Olympics.
Hockey is in Roque's blood. Born in Michigan, Roque's played since she was young on a backyard rink built by her father, Jim Roque, an NHL scout for the Toronto Maple Leafs, according to Team USA. While in school, she was also a top-three finalist for the 2020 Patty Kazmaier Award, one of the most prestigious accolades in all of women's collegiate hockey. Followers of women's game have high expectations when the team returns to Olympic competition for the 2022 Winter Games.
She holds dual U.S. and Canadian citizenship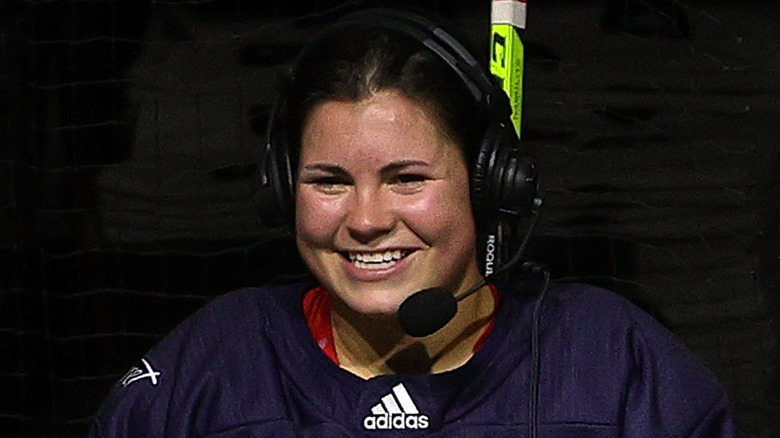 Stacy Revere/Getty Images
With the help of Abby Roque, the U.S. women's hockey team may win gold for the first since their first Olympics competition, in the '98 Winter Games, held in Nagano, per the Team USA website. The women have medaled in all six of their Olympic appearances, but stood at the top of the podium only once, and they're eager to return. Roque's collegiate record gives fans and teammates reason to hope; she played 155 games as a Badger, scoring 56 goals for a total of 170 points. As NBC Olympics reports, nearly half those goals came during Roque's senior year.
Any success women's hockey has in store in the 2022 games will be particularly meaningful for the BIPOC community (Black, Indigenous, People of Color, per CBS News). Roque, 24 years old, belongs to the Wahnapitae First Nation, whose ancestral lands include parts of the modern-day Ontario province, explaining why the young athlete holds dual U.S. and Canadian citizenship. Regardless of the outcome for U.S. women's Olympic hockey, Roque already enjoys the distinction of being the first Native American female hockey player in the Winter Olympics, and the first BIPOC player to ever join the roster. This honor is not lost on Roque, as she told Team USA, "There's not many indigenous players playing, especially in the United States, so a big piece for me is to try to show that you can do it ... You want to make hockey more diverse."