Whatever Happened To Figure Skater Oksana Baiul?
Featureflash Photo Agency/Shutterstock
Many remember Ukrainian figure skater Oksana Baiul as the slight 16-year-old clad in a white costume. Swirling gracefully during her signature "Swan Lake" short program in the 1994 Winter Olympics, she won the gold medal. She also edged out American favorite Nancy Kerrigan to become the youngest woman to win the medal since 1928's Sonja Henie (via Kids Britannica). (Tara Lipinski became the youngest gold medalist four years later, at the age of 15, according to Biography.)
Besides her skating ability, Baiul became known for her can-do spirit. When she was 4, her grandfather gave her skates to help her lose weight. Her natural ability later attracted the attention of coach Stanislav Korytek, according to Kids Britannica. But highs and lows seemed to follow the skater. Her parents separated shortly after she was born. Her father disappeared entirely when she was 2 and her mother died in 1991 from cancer. That same year, Oksana finished 12th in the Soviet Championships. Her coach took her in until he left for Canada. Korytek then urged Galina Zmievskaya, the coach of Olympic medalist Viktor Petrenko, to care for her.
"Oksana had nobody," Zmievskaya said to The New York Times. "I felt chills when I heard this story. She would become not like another daughter. She would become a daughter." Under Zmievskaya's training, Baiul earned a silver medal at the 1993 European championships, a gold metal at the world championships, and her Olympic medal, per Kids Britannica. After her victory at the Lillehammer Olympics, Baiul moved to the United States to become a professional skater. That effort would prove fraught with disappointment and renewal.
Hardship and the road to recovery
Simon M Bruty/Getty Images
After buying a house in Connecticut, Baiul developed an alcohol addiction. In 1997, the ice skater had a car accident and was cited for a DUI. The charge was later dropped after she finished probation and an alcohol education program. Baiul told The New York Times in 1998 that she experienced "a lot of pain inside" and "pressure." In May 1998, Champions on Ice fired her after concerns about her excessive drinking. Baiul entered rehab and told the Times that "Life for me is more important than alcohol."
She published two books: her autobiography, titled "Oksana, My Own Story," and "Secrets of Skating." She also created a clothing line for skaters in 2002, and skated in ice shows, including the 2007 musical "Cold as Ice." She later veered toward TV work, appearing as a judge on "Master of Champions" and the 13th season of "The Apprentice" (from Biography).
Baiul married her manager, Carlo Farina, and together they had a daughter, Sophia, in 2015, reported Wealthy Persons. They live in Las Vegas where they hope to create skating shows, including a revival of the "Champions on Ice Tour," to which Farina has acquired the rights, reported the podcast "Vegas Revealed." "The goal and the hope is because this is home and this is our family's town ... we do it as a sort of residency style show," Farina said to the publication. "A permanent anchor for one of the resort casinos."
If you or anyone you know is struggling with addiction issues, help is available. Visit the Substance Abuse and Mental Health Services Administration website or contact SAMHSA's National Helpline at 1-800-662-HELP (4357)
Oksana Baiul remains connected to her native country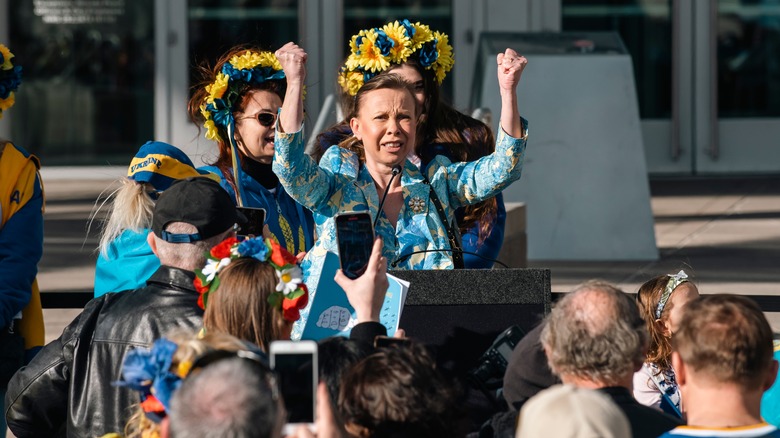 John Dvorak/Shutterstock
In February 2014, Baiul released a statement on her website sharing her disappointment regarding an interview with "Entertainment Tonight." At the time, Ukraine was in the midst of a revolution. According to the Open Society Foundation, citizens were peacefully protesting then-president Viktor Yanukovych. However, the protests quickly became violent and the country faced civil unrest. Baiul intended to appear on "Entertainment Tonight" to openly discuss the crisis in Ukraine (via Bleacher Report). Instead, the program prohibited her from doing so and asked what she believed to be irrelevant questions.
In her letter, she wrote, "I pray for and support the valiant people of Ukraine and wish for ultimate peace and happiness" (per Oksana Baiul). This is a sentiment Baiul continues to hold to this day. In March 2022, Fox5 Vegas reports that she organized and spoke at a rally in support of Ukraine. This came days after Russia invaded the country. Baiul stated that she still had family in Ukraine and that she hoped the rally could give the people a "voice."
In an interview on Fox's "Varney & Co." the Olympian described her attempts to help fellow athletes and Ukrainian citizens escape the war. Baiul explained that "We're just thinking of how we can create a platform here in the United States to help the athletes to come here and work." Per The Moscow Times, Baiul, who is a native of Dnipro, recently announced that she and her husband were moving to Louisiana in order to create the program.