The Tragic Death Of Nat King Cole Explained
Michael Ochs Archives/Getty Images
Jazz singer Nat King Cole was best known for songs like "The Christmas Song" and "Ramblin' Rose" (via Billboard). He became a popular crooner in the 1950s, and made history when he became the first Black man to host a regular TV variety show. In 1956, "The Nat King Cole Show" was the first of its kind for a known Black performer. Once a week, Americans tuned in to watch as Cole and other musicians performed on television (via Indiana Public Media). His show only lasted for one season, but in one year Cole had filmed some 53 episodes, per IMDb, paving the way for other Black television hosts.
Born on March 17, 1919 in Montgomery, Alabama, Cole's first introduction to music was in the church. His family relocated to Chicago when he was very young, and both of his parents were active church members. As a toddler, he learned to play the piano (via Biography). By 12 he was singing, too, says Britannica. In a few short years, Cole dropped out of school at 15 years old to focus solely on pursuing a career in music. Cole would form a few jazz music groups before creating the King Cole Trio. For most of the '30s and '40s he was a third of this musical act. But despite success, Cole wanted to pursue a solo musical career.
A thriving career halted by a terminal illness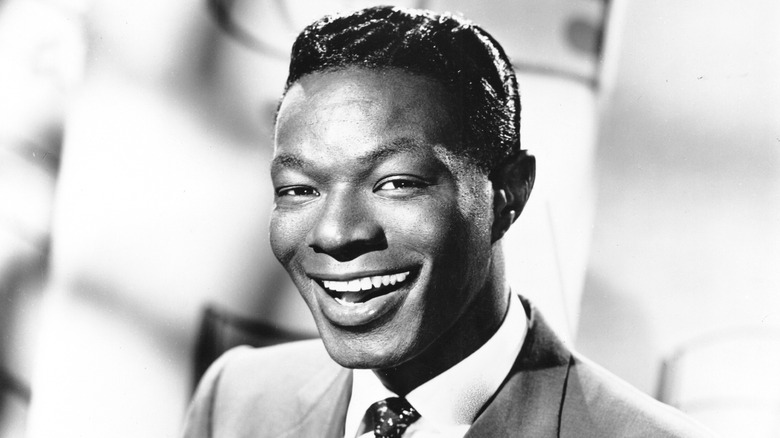 Michael Ochs Archives/Getty Images
At the start of the '50s, Nat King Cole was a solo jazz performer (via Biography). He churned out song after song, including classics like "Unforgettable" and "Mona Lisa." At that point of his career, he was a highly recognized singer. By the start of the 1960s, Cole was only getting more popular. His hit song "Ramblin' Rose" jump-started a slight decline that crept up at the end of the '50s. That song, along with "Those Lazy-Hazy-Crazy Days of Summer," earned him two top 10 hits on the Billboard charts. But while the start of the '60s seemed very promising for Cole, he faced with some tragic news. In December of 1964, Cole had a health crisis that forced him to cancel a show (via Los Angeles Times). The cancellation would turn out to be the permanent end of his career.
That year Cole released his memorable song "L-O-V-E," but at the close of 1964, the beloved entertainer also learned that he had lung cancer. The diagnosis would cut Cole's life very short, because he died not long after the discovery. On February 15, 1965, Cole died at the age of 45. He was survived by his wife, Maria, and five children; three biological and two adopted. The oldest of the five was his daughter Natalie, who would also become a singer later in life and revitalized the popularity of some of her father's songs.
Nat King Cole's sudden death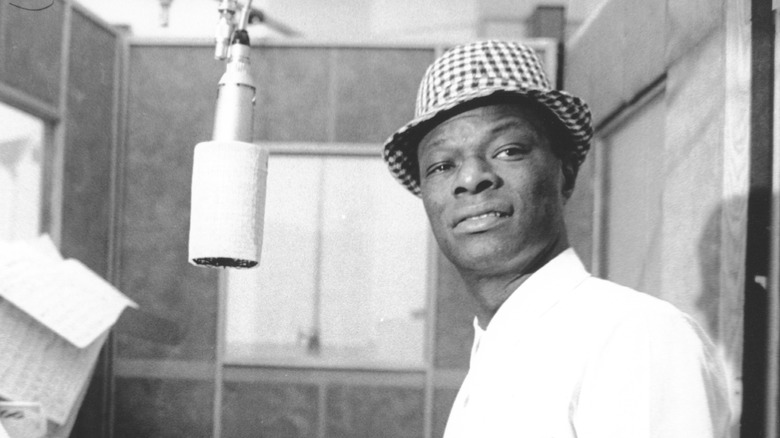 Michael Ochs Archives/Getty Images
Before his tragic death, Cole underwent cancer surgery, which resulted in the removal of one of his lungs, per Los Angeles Times. Unfortunately, the cancer had spread.
According to the Los Angeles Times, Cole was aware of his impending death. He even left the hospital to see his children one last time in a brief car ride home with his wife. Facing death himself, Cole was also dealing with grief. His father died just two weeks before he did. A decade earlier, Cole's mother died, also of cancer.
His final days were pretty grim. He barely had visitors, as they were apparently barred from his hospital room. Only one person other than Cole's wife would get to visit Cole before he died, and that was comedian Jack Benny.
Cole died in his sleep at St. John's Hospital in Santa Monica, California. Benny would give the eulogy at Cole's funeral service a few days later, per the Desert Sun, posted at the California Digital Newspaper Collection.