Who Really Inspired Tom Waits' Jersey Girl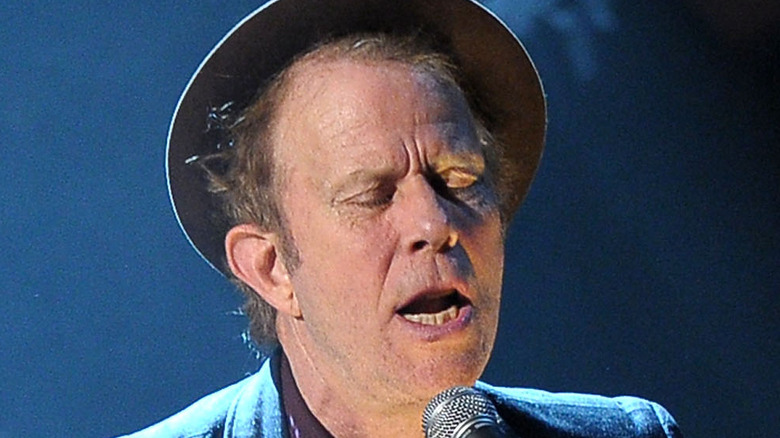 Michael Loccisano/Getty Images
When one thinks about singer/songwriters who write romantic love songs, Tom Waits' name is likely far down on the list. As told by Britannica, Waits' lyrics are modeled off the Beat Generation poets and writers such as Jack Kerouac and Charles Bukowski. Any romance in his music is more focused on the urban working and middle-class locations he decides to set his songs in, all told in his unique singing voice, which hip-hop producer RZA said (via Rolling Stone) had, "the smoothness of Barry White, but the raspiness of a mountain lion."
So yeah, Waits is far from classic love crooners like Tony Bennett or Frank Sinatra or ballad rock singers like Joe Cocker or Roy Orbison. Still, Waits has written a fair number of love songs in his own style. In his tunes about the beaten and downtrodden, many include the hope that love and happiness are found by the characters. Songs such as "I hope I don't fall in love with you" and "San Diego Serenade" illustrates this desire to find or keep love. Of all of Waits' love songs, his most known is "Jersey Girl." According to All Music, the song appeared on Waits' 1980 album, "Heartattack and Vine" and draws comparisons to the R&B group, The Drifters. The song also was influenced by Simon & Garfunkel's "The Boxer."
Tom Waits wrote the song for his future wife, Kathleen Brennan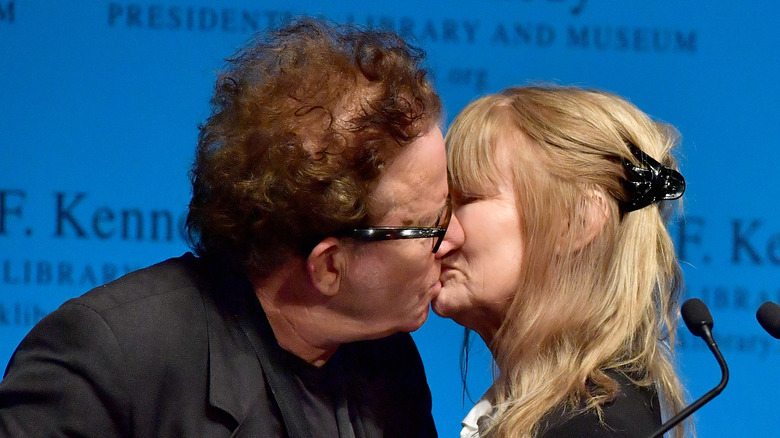 Paul Marotta/Getty Images
While artists like The Drifters and Simon & Garfunkel had their influence on the song, Tom Waits had someone specific in mind when he wrote his love ballad. According to All Music, Waits wrote the song for his girlfriend, Kathleen Brennan. At the time, Brennan, a native of Illinois, was living in New Jersey, as told by Purple Clover. The same year he released the song and album, Brennan and Waits got married.
A year prior, Waits might not have been able to write such a ballad. According to Song Facts, prior to meeting Brennan, Waits was getting over the end of a turbulent relationship with fellow singer/songwriter, Rickie Lee Jones. Despite their split, director Francis Ford Coppola asked the two to work on the music for his film, "One From The Heart." Jones declined while Waits accepted the offer. On the film set, he met Brennan who was working on the film as a script supervisor. The pair were married within the year. Wait said Brennan, "saved him" when she came into his life. Around the same time, Waits had left his label, Asylum Records. The "Heartattack and Vine" album marked a shift in Waits' music as much as it did his personal life.
Bruce Springsteen helped push the song to the Mainstream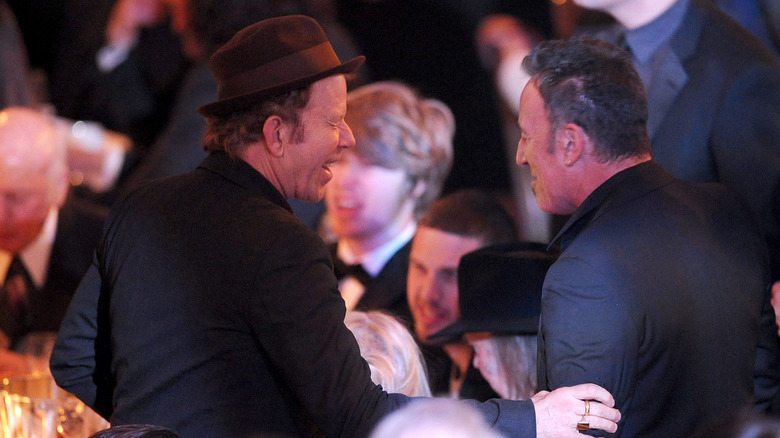 Michael Loccisano/Getty Images
Ironically, it was with the help of another New Jersey resident that the song became more well-known. According to All Music, New Jersey's own Bruce Springsteen made "Jersey Girl" a standard at his live shows to the point that in 1981, he released a live version of the song as a B-side to his single, "Cover Me." Springsteen said he connected with the song and found the character similar to the characters in Springsteen's own songs, "Sandy" and "Rosalita," Song Facts reported. That same year, Tom Waits joined "The Boss" on stage to perform the song in Los Angeles. Waits joked in 1987 to Bill Flanagan during an interview, "Bruce Springsteen? Well, I've done all I can for him. He's on his own now."
This was not the only time one of Waits' songs gained more notoriety and/or success as a cover for another artist. According to Britannica, the Eagles covered Waits' "Ol' 55" and Rod Stewart covered Waits' song "Downtown Train" and found success in both instances. Despite his talents, Waits is far from seen as a commercial artist. His best-selling albums, "Small Changes" in 1976 and "Heartattack and Vine" in 1980 both failed to break into the American Top 40 charts. Still, Waits found critical success throughout his career. In 2011, he was inducted into the Rock & Roll Hall of Fame. Today, he and Brennan live in Los Angeles and have three children.