Who Is U2's Sweetest Thing Really About?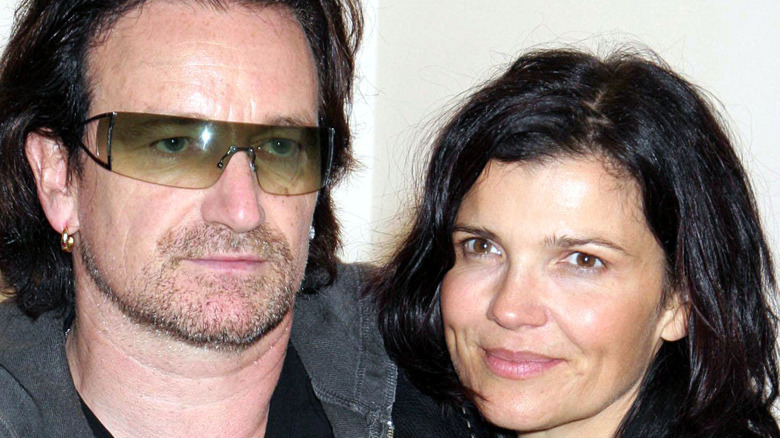 Everett Collection/Shutterstock
U2 frontman Bono is known for his spiritual lyrics, emotionally vulnerable singing style, and ability to weave socio-political themes into just about any song. Regardless of whether you're a U2 fan, the sheer longevity of the band's 46-year career is impressive on its own. However, there's another 46-year-long relationship in Bono's life that is just as important; the one he shares with his wife Ali Hewson (née Stewart).
In an interview with The Telegraph, Hewson admitted that Bono was her "first real boyfriend." The two met as teens at Mount Temple Comprehensive School, a secondary school in Dublin, Ireland. "It was 1976 that we got together, the same year the band formed. I saw their first gig, in our school gym." A story cute enough to inspire an entire YA franchise.
After four decades together, and four children, the couple — who will be celebrating their 40th anniversary this year — has broken many rock-star relationship stereotypes, according to Hollywood Life. But this doesn't mean that there weren't difficult times that the pair had to learn to navigate.
Saying sorry with a song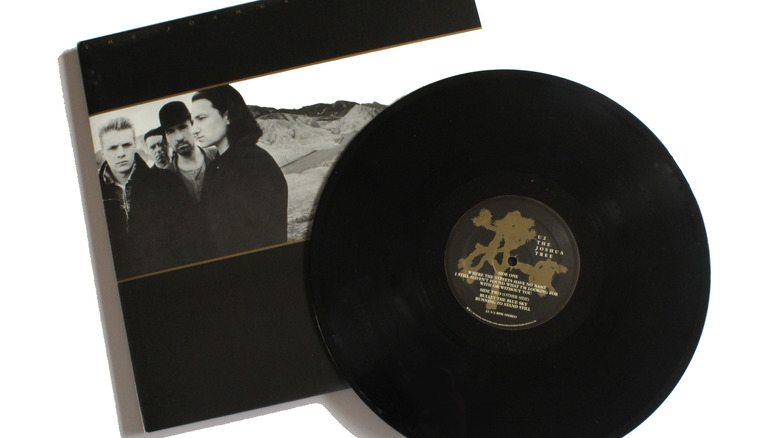 Blueee77/Shutterstock
In 1986, U2 began to record their fifth studio album, "The Joshua Tree," which would go on to reach No. 1 on the Billboard charts and be regarded as one of their greatest works (via Forbes). According to various interviews compiled by Rolling Stone, recording "The Joshua Tree" was an exhausting experience that was very taxing for the band, crew, and their families.
"I hardly saw my wife, Ali, for a year," Bono told Rolling Stone, "1986 was an incredibly bad year for me. It's almost impossible to be married and be in a band on the road." Bono's dogmatic dedication to getting the album done meant that he had to miss out on a lot of his duties as a husband — including celebrating his wife's birthday.
Feeling lousy about being away from his wife for so long, Bono penned "Sweetest Thing" as a way to apologize and make up for all the time he missed. Despite working on the song during "The Joshua Tree" sessions, the band agreed it wasn't quite ready for the album, so it was bumped from the tracklist.
Bono's happily ever after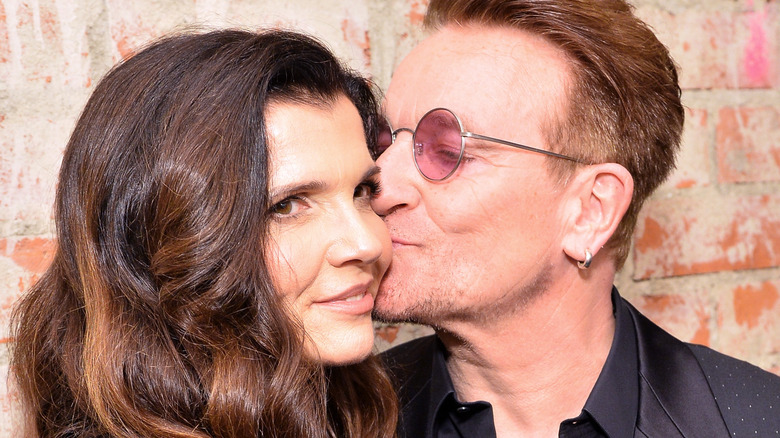 Stefanie Keenan/Getty Images
Eventually, the song did get released as the B-side to the "Where the Streets Have No Name" single in September 1988. However, the band still felt it could've been produced in a better way. 10 years later, "The Sweetest Thing" was dusted off, polished up, and released as its own single. This new and improved version of the song climbed into the Top 20 charts across the globe.
Ali, a successful activist and businesswoman in her own right, even agreed to be in the accompanying music video under the condition that all the proceeds from the single went to the Chernobyl Children's project, according to Rolling Stone. Her generous offer proves that she really is the sweetest thing.
Like all great love stories, this one has a happy ending where the guy gets the girl and a mega-hit. Considering the two are going strong to this very day, it seems the gesture worked and all was forgiven.