Who Is The Song The Girl From Ipanema Really About?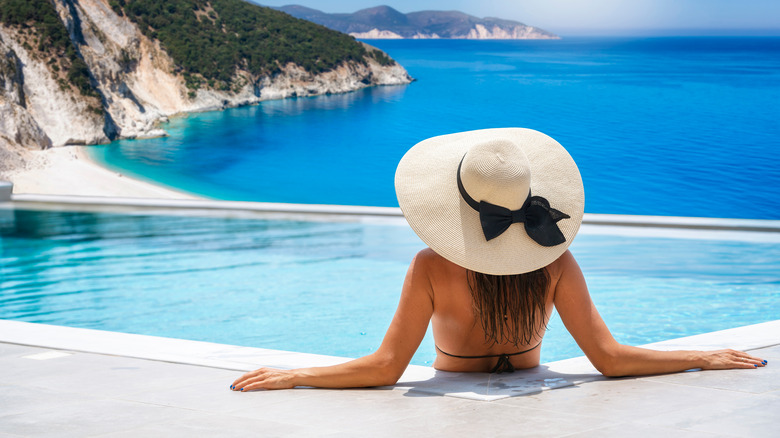 Sven Hansche/Shutterstock
Back in the early 1960s, a new form of music was beginning to exert its influence on popular music. As Australia's ABC reports, jazz and samba musicians would gather on the warm sunny beaches of Brazil in the late 1950s to experiment, and the sound that eventually emerged from those beaches came to be known as "bossa nova," combining elements of American jazz and traditional Brazilian music.
One of the biggest songs to come out of the bossa nova genre was "The Girl From Ipanema" (or "Garota de Ipanema" in the original Portuguese), which catapulted to international acclaim with Brazillian singer Astrud Gilberto's recording of the tune. Back in 1962, as Culture Trip reports, Antônio Carlos Jobim and Vinicius de Moraes would spend their days in a bar overlooking Ipanema Beach, watching beautiful and alluring women walk by. Both men began crushing on one particular woman, and they scribbled together "Menina due Passa," or "The Girl Who Passes By," which would later be reworked into the tune we know today.
However, the song wasn't about a generic and non-specific archetype or caricature of the women who frequented that beach. Rather, it was about a real person who was a teenager at the time.
Helo Pinheiro is 'the girl from ipanema'
These days, the idea of adult men catcalling teenage girls is at once gross and possibly illegal. However, things were different in Brazil in the 1960s, as Helo Pinheiro, who was 17 years old at the time, would tell The Guardian. She would oft hear catcalls coming from the bars that lined Ipanema Beach when she walked along the shores. "When they saw me, they would whistle and shout out, 'Hey beautiful girl! Come over here,'" she said. Once "The Girl From Ipanema" got big, she didn't know that it was about her until the songwriters told her, and even then, she didn't believe them. "I told them, 'I don't believe you. You are crazy,'" she said.
For being the inspiration behind one of the most important songs in the history of popular music, Pinheiro herself was prohibited from using the song to her advantage. In 2001, she tried to open a boutique under the name "Garota de Ipanema," only to wind up being sued by the songwriters' families. "I cried so much, I suffered so much," she said of the situation.
Similarly, in 2016, Pinheiro told The Today Show that what she got from the song is intangible. "It gave me fame. Fame is the principal thing," she said.