What You Need To Know About Olympic Freestyle Skier Hannah Soar
Hannah Soar is an athlete who had an early start in the sport of freestyle skiing. She hails from Somers, Connecticut but spent weekends with her family in Killington, Vermont, the location of the biggest ski resort in the eastern part of the United States. At 18 months old, she had already experienced skiing with the help of her parents (via Courant). Soar became part of a freestyle skiing team when she was just 8 years old and was competing in championships by the age of 12, per U.S. Ski and Snowboard.
Soar moved to Vermont to attend Killington Mountain School — a school that not only focuses on academics but also on sports. Student athletes are given the opportunity to broaden their horizons in and out of the classroom, as well as train in various sports, such as skiing, snowboarding, and cycling (via Killington Mountain School). Soar qualified for the national team during her junior year, and at 17 years old, when she was in her senior year of high school, she participated in the World Cup. Her success can also be attributed to the fact that she came from a family of skiers who supported her along the way.
Hanna Soar's achievements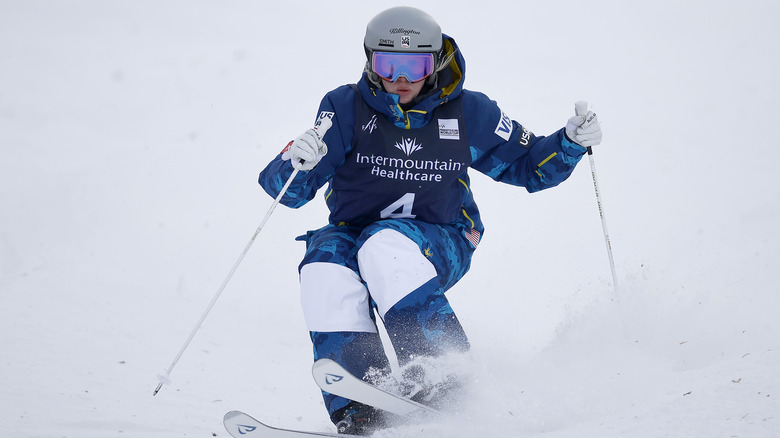 Tom Pennington/Getty Images
Hannah Soar has been part of the U.S. Ski & Snowboard Team since 2016, and she achieved her first podium in 2019, wherein she ranked third in Dual Moguls. That was followed by a second-place ranking at an event in Utah, and she finished at the fifth place in the World Cup rankings, per Vermont Sports. In addition to freestyle skiing, Soar also enjoys other activities, such as soccer, golf, and hiking.
As an athlete, Soar gives back to the community by being active in Vermont Adaptive Ski & Sports, an organization that offers sports programs to those who have emotional, developmental, physical, or cognitive disabilities. Soar has dedicated her life to skiing, and she enjoys every minute of it. Her coach, Matt Gnoza, said this about Soar, "One of my biggest concerns with Hannah is that she skis too much" (via Courant). Despite making a name for herself in the skiing world by placing in competitions, she said it's not what drives her; rather, it's her love of the sport. "I tell a lot of people, I'm a skier first, then I'm a competitor."