How Many Times Has Axl Rose Been Arrested?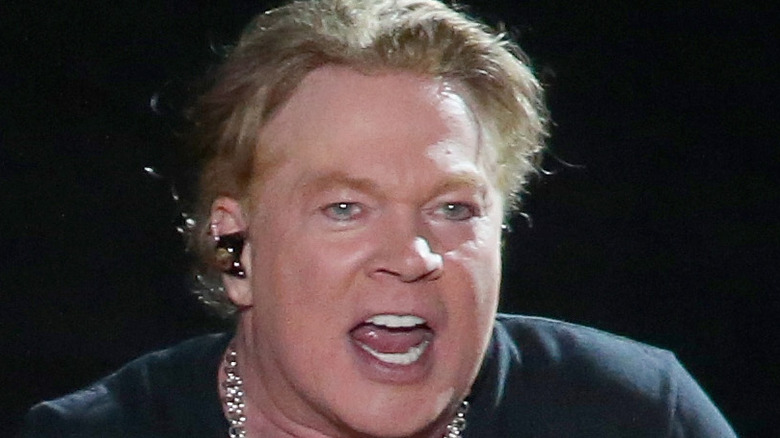 Gary Miller/Getty Images
For as long as it's existed, rock 'n roll has been associated with counterculture and outlawry. From its origins in the 1950s, when the new form of music caused panic among those who believed themselves to be the guardians of the nation's morality, through the drug-fueled psychedelic days of the 1960s, the Satanic Panic of the 1980s, and beyond, rock has largely been on the fringes of polite society.
Many of the men and women who have performed rock music over the years have been literal outlaws, not just figurative ones. Mötley Crüe frontman Vince Neil, for example, spent some time in the clink following a fatal DUI crash, as The Las Vegas Review-Journal notes. Similarly, Chuck Berry was sentenced to three years in prison for transporting a minor across state lines, according to Discogs.
Guns 'n Roses frontman Axl Rose has been no stranger to handcuffs himself, having racked up an impressive list of arrests and stints in the slammer for a variety of crimes over the decades.
Axl rose has been arrested dozens of times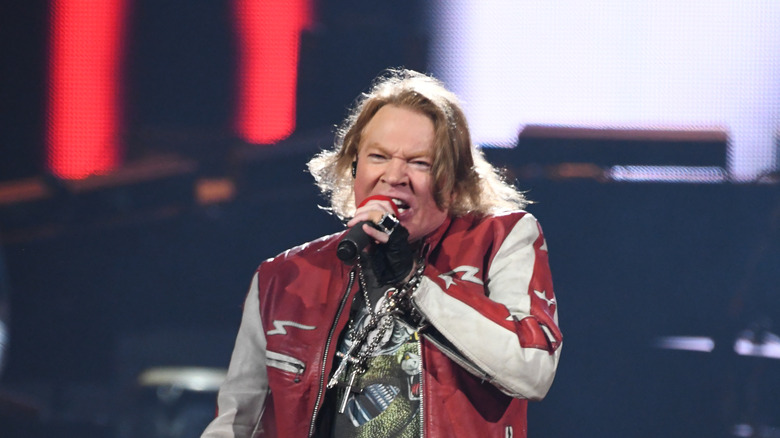 John Atashian/Getty Images
Back in the 1970s, W. Axl Rose was a hellraising teenager in Lafayette, Indiana, and he frequently found himself on the wrong side of the law. As he told Rolling Stone, he was arrested "at least 20 times," and a friend confirmed that Rose had a fondness for destroying things.
Becoming an adult didn't temper Rose's proclivity for getting into trouble. Between 1985 and 2006 he was arrested at least six more times, although criminal charges didn't stick. In 1985, according to Ultimate Guitar, Rose was arrested for statutory rape following an incident with a 15-year-old girl. Those charges were later dropped. In 1987, Rose racked up assault charges for biting a security guard during a show, as Vulture reported. There would be more assaults as well: a neighbor in 1990, per The L.A. Times; a security guard in 2006, per The Today Show; an airport screener in 1988, according to MTV News.
Perhaps the most memorable of Rose's legal woes occurred in St. Louis one night in 1992. As Ultimate Classic Rock reports, Guns 'n Roses was performing at a suburban venue when Rose got upset with a fan taking pictures and the venue's security failing to intervene. Enraged, Rose refused to keep singing, and the rest of the band soon walked off the stage. A riot ensued, and Rose was charged with inciting it. He was later ordered to pay $50,000 to local community organizations as punishment.