Here's Who Inherited Selena's Money After She Died
L. Busacca/Getty Images
The world lost a legend when the Tejano singer Selena was killed in 1995. Selena Quintanilla Pérez was considered one of the first crossover pop stars of her generation. She became famous through her Spanish-language songs, according to Biography, and her popularization of Tejano music.
Her career began after her father formed a band with Selena as the lead singer and her siblings playing instruments when they were still young children. The band was called Selena Y Los Dinos. It took a while before the group found success. First, the siblings played street corners, quinceñeras, and state fairs around Corpus Christi, Texas. Even though Selena didn't grow up speaking Spanish — at first, she learned the Spanish lyrics phonetically, but eventually became fluent — people around Texas and the Tejano-loving cities grew to love Selena Y Los Dinos. Soon, they were selling out concerts.
Selena, though, was the group's breakout star. With her father Abraham as manager (and brother A.B. as producer), she signed a record deal with EMI and eventually released some songs in English. She also won a Latin Grammy.
She married her bandmate Chris Pérez in 1992, initially against her family's wishes. Their relationship was the stuff of telenovelas as initially, they tried to stay away from each other, but to no avail. Selena eventually began recording her first English album and started a clothing line. Everything was going great until the president of her fan club shot and killed her in 1995, to cover up embezzlement. Selena was just 23 years old when she died.
The controversial agreement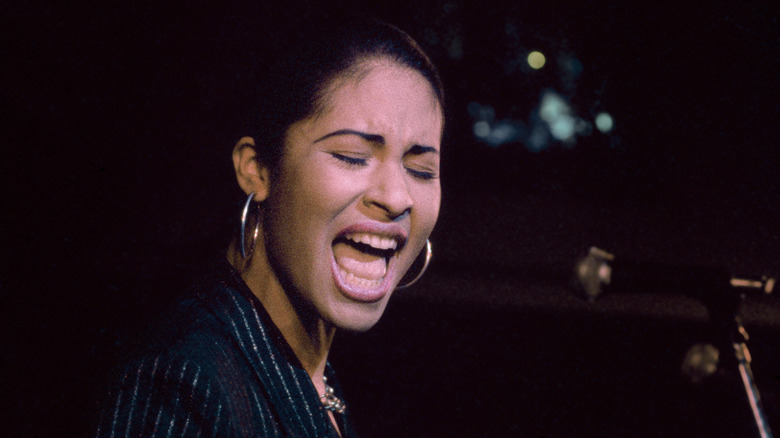 L. Busacca/Getty Images
After Selena's tragic death, things got complicated. Understandably, her unexpected death would make dividing up her assets a little complicated. Her father and brother were deeply involved in her career, and yet she was married, and her husband rightfully had some say in her fortune or her legacy.
And that was exactly what happened. Rolling Stone writes that Selena did not leave a will before she died; after all, she was only 23 when she was murdered. Initially, this meant her husband, Pérez, stood to inherit everything. But Pérez said the days after Selena's death were hard, and the last thing he thought about was worrying about his late wife's estate. Pérez admitted he allowed his father-in-law to take care of everything.
And so Abraham Quintanilla quickly hired a lawyer — Rolling Stone said it was within two months of her death — to set up an entertainment deal to help manage his daughter's legacy. During this time, Pérez did not have any legal representation and trusted his in-laws to do the right thing. Billboard explained that under the deal, Selena's entertainment property, aka profits from the sale of her songs and image, would be divided among the entire family.
Pérez, who would've gotten everything, was granted a 25% share of his wife's wealth. This was the same percentage Selena received when she was alive. This also allowed her family to retain much of the rights to Selena's life story and music, preventing Pérez from even being involved in retelling his and his wife's love story.
Lawsuits abound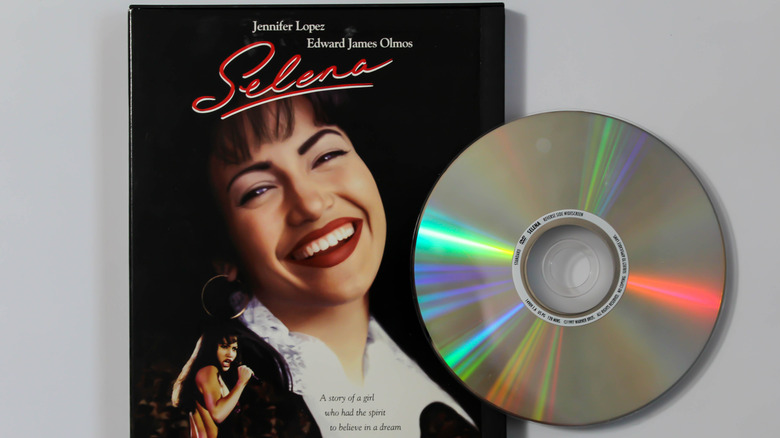 Blueee77/Shutterstock
There was the 1997 biopic "Selena," starring Jennifer Lopez (above). But Forbes reports the Quintanillas, led by Selena's father, filed a lawsuit preventing Pérez from making a TV show based on his book. The book told their love story from his perspective. The lawsuit alleged Pérez violated the estate agreement on Selena's work by attempting to produce a show and write a book without the Quintanillas' involvement. Pérez countersued but lost his appeal in 2017. Pérez claimed that he signed the agreement under duress. But Billboard reports that the Quintanillas had paid Pérez over $3 million in the years since Selena's death, money he continued to accept.
In the years since Selena died, her father gained a reputation for aggressively policing his late daughter's image. He's come after Selena impersonators, sent cease and desist letters to tribute bands, and even once stormed into a radio studio where an author that had written a book on Selena was being interviewed.
The legal battle between Pérez and his in-laws continues. Meanwhile, Netflix premiered "Selena: The Series" in 2020 (trailer on YouTube). Many fans told Rolling Stone they felt the show portrayed Selena in a much different light — the light controlled by her father. Pérez was not involved with the show, but the Quintanillas were consulted.
In other words, even if it was supposed to be handled equally, the bulk of Selena's money is still controlled by her father.