Who Is The Eric Clapton Song Layla Really About?
Michael Tran/Getty Images
Eric Clapton's iconic "Layla" is one of the songsmith's best-known songs. As Society Of Rock reports, it appeared on "Layla And Other Assorted Love Songs," the only album released by Derek and the Dominos. Its famous riff, absolute ear-candy to any aspiring guitar player, was reportedly devised by Duane Allman, who transformed the song from Clapton's original take — a slower, more romantic piece boasting the same lyrics — to the "Layla" fans know today.
Curiously, the titular Layla was inspired by more than one person. Layla was, in part, a woman in Clapton's own life, as well as a character from a historic tale. As Far Out Magazine reports, Clapton became very close with the Beatles, almost joining their ranks at one stage. He developed a great friendship with George Harrison in particular, finding himself enamored with Harrison's then-wife Pattie Boyd. Boyd would ultimately divorce both men, but the feelings Clapton harbored for her early in their relationship led him to cast her as his "Layla."
As he wrote in "Eric Clapton: The Autobiography," she was his muse during this time. "Driven by my obsession with Pattie, I was writing a lot," he confessed, "and all the songs I wrote for the Dominos' first album are really about her and our relationship." This particular track, he went on, "was a conscious attempt to speak to her about the fact that she was holding off, and wouldn't come and move in with me."
Eric Clapton's love for George Harrison's wife inspired 'Layla'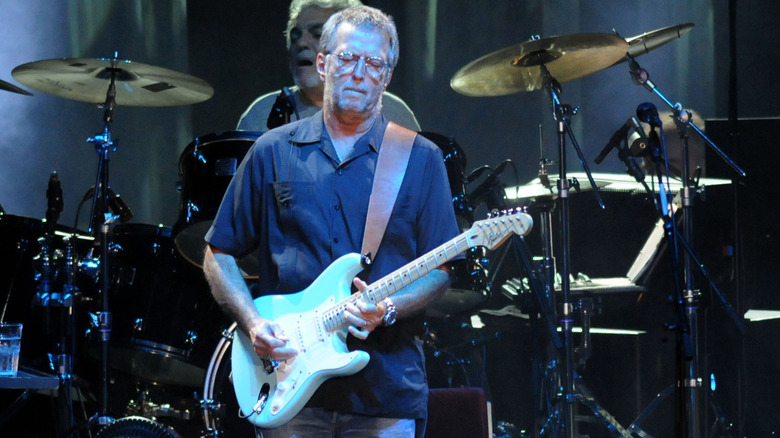 A. Ricardo/Shutterstock
The name Layla itself, it seems, has more of a literary significance. "Layla and Majnun" is a story of tragic, doomed love between the title pair, who had intense feelings for each other throughout their lives but were forbidden from sharing a relationship. Layla is forced to marry somebody else, and Majnun pines for her until his death, never able to be with his beloved. Famed writers such as Nizami Ganjavi have interpreted the sad story, and according to American Songwriter, Eric Clapton did the same in his own way after reading the classic poem.
"Layla," quite plainly, is so much more than a guitar masterclass. There's a raw emotion and pain behind lyrics such as, "Like a fool, I fell in love with you. You've turned my whole world upside down." Clapton poured his painful situation into the song and the album as a whole, per "Eric Clapton: The Autobiography." When Pattie Boyd heard the songs on the record, he hoped, "she would be so overcome by my cry of love that she would finally leave George and come away with me." This did eventually happen, per Metalhead Zone, but Clapton and Boyd divorced in 1989, leading to another tragic chapter in the rocker's life.