How Walt Disney Was Involved In The 1960 Winter Olympics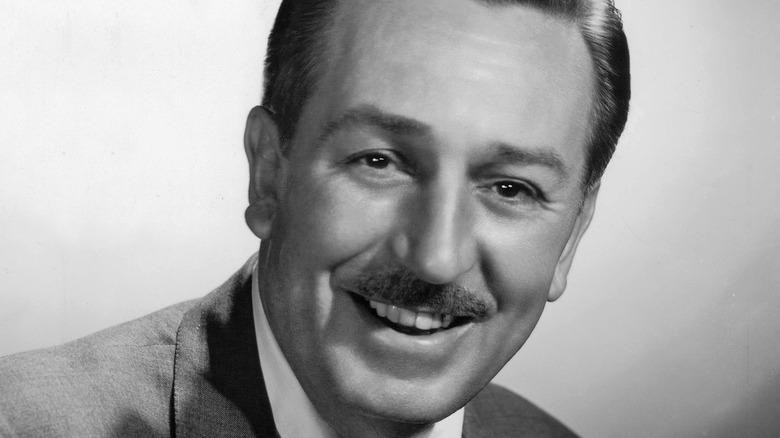 Apic/Getty Images
Five years after Walt Disney opened Disneyland in Anaheim, California (per Designing Disney), the iconic filmmaker was called to help organize another larger-than-life spectacle: the 1960 Olympics.
Held in the California ski resort town of Squaw Valley, in the Lake Tahoe area, the 1960 Winter Olympics would be the first time the competition would be nationally televised in America, according to SFGate. Squaw Valley itself had been an underdog host city for the games — the resort's only lodge had just 50 rooms, and to get up the mountain, skiers relied on either two tow-ropes or a single chairlift, according to the Walt Disney Family Museum. The task couldn't be harder for Disney, who was named chairman of the pageantry committee, while the stakes couldn't be higher.
Luckily, no one was more prepared to make the Games look spectacular than Walt Disney. "It was the first time the Olympics were televised live across the host nation and he understood the need to have that excitement needed for a successful broadcast," said David Antonucci, the author of "Snowball's Chance: The Story of the 1960 Olympic Winter Games," to SFGate. Disney's work on the Olympics would set a standard for years to come.
The pageantry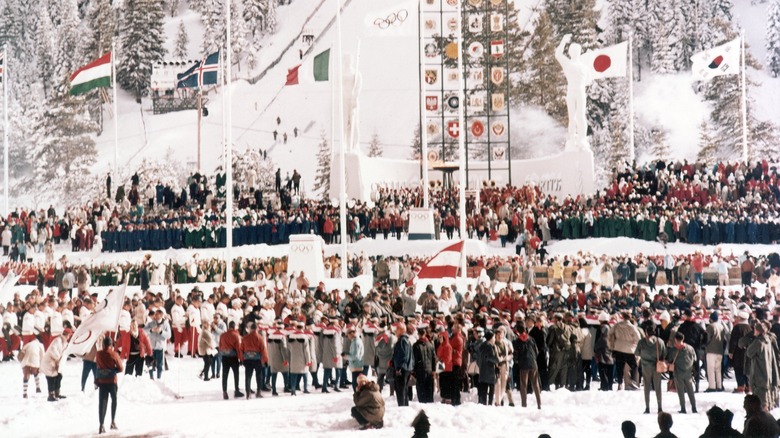 Robert Riger/Getty Images
As head of the pageantry committee, Disney had a monumental role in the 1960 Olympics, more than even his title would suggest. He had to program and design the opening and closing ceremonies, the victory ceremony for each event, and even the torch relay (via the Walt Disney Family Museum). "I didn't know then what I was getting into!" Disney later said.
Disney's vision could be seen in every part of the Games that year. When athletes entered the opening ceremony, they did so through pathways lined with "snow sculptures" (actually, papier-mâché) depicting every sport in the competition (per SFGate). These were designed by Disney "Imagineer" John Hench, who also designed the Olympic torch that year, making it lighter and easier to carry. Every Olympic torch since then is based on his design.
The opening ceremony included colorful fireworks explosions that greeted each national delegation, then reportedly the first-ever public use of daytime fireworks (something still used in Disney parks today). Some 30,000 balloons and 2,000 homing pigeons were released during the ceremony — pigeons were used in place of doves because they were easier to train. Shells were fired, too, bursting open with flags from each nation competing.
The attendees had more than that to look forward to. Each night, stars including Bing Crosby, Marlene Dietrich, and Jack Benny would entertain athletes after a long day of competition, a first for the 1960 games. In fact, Disney's entertainment-focused Olympics would become the model for every Games since.