The Joni Mitchell Song You Didn't Realize Is About James Taylor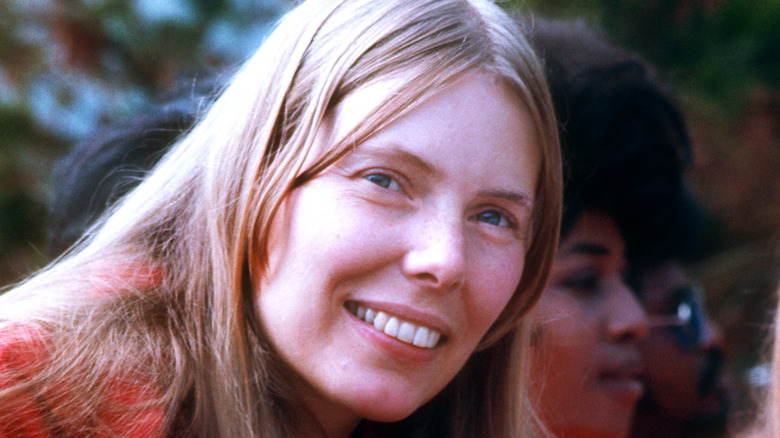 Robert Altman/Getty Images
Folk singer-songwriters Joni Mitchell and James Taylor dated from 1970 to 1971. At the time, both artists were in their prime. Taylor released his breakthrough album "Sweet Baby James" in 1970, and Mitchell released her iconic album "Blue" in 1971. Together, they even recorded vocals for Carole King's transcendent 1971 album "Tapestry," per the New York Post.
Sadly, the artists' romance did not weather their respective publicity storms. Taylor left Mitchell for fellow singer-songwriter Carly Simon, marrying her in 1972, per the Los Angeles Times. Still, the failed romance left both musicians with creative inspiration. A year after their split, Mitchell released a song with clear references to Taylor, the piano ballad "See You Sometime." 
The song appeared on Mitchell's 1972 album "For the Roses," which flew relatively under the radar considering the critical and commercial success and longevity of her album "Blue," which had been released the previous year. Even so, true to form for Mitchell, the song masterfully captures the ache of a love lost.
Joni Mitchell's 'See You Sometime' dropped clues it was about James Taylor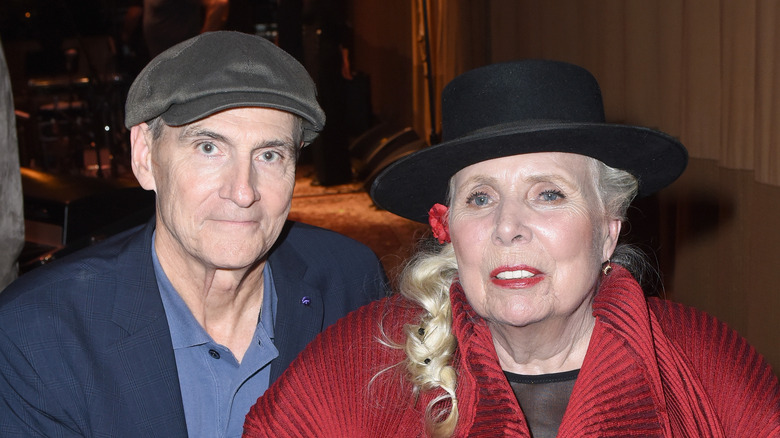 Vivien Killilea/Getty Images
Joni Mitchell's 1972 song "See You Sometime" features the lyric, "But you know I'm not after/A piece of your fortune/And your fame/'Cause I tasted mine/I'd just like to see you sometime" (via Genius). The song also includes a few Easter eggs hinting that Mitchell is singing about James Taylor, such as the lines "pack your suspenders" and "when the hopes get so slim." The previous year, Taylor had released his album "Mud Slide Slim and the Blue Horizon," which featured the singer-songwriter wearing suspenders on the cover.
"I don't want business on the street regarding us," Mitchell told Rolling Stone in 1988 (via Far Out magazine), referring to her husband, fellow musician Larry Klein. "I'm very happily married. With my early songs there was so much gossip concerning it! I wrote a song for James Taylor that mentioned his suspenders. And then on his next album he went and wore his bloody suspenders on the cover! Well, then the cat was completely out of the bag."
Mitchell's timeline creates some confusion, considering "See You Sometime" came out a year after "Mud Slide Slim" did. One can only theorize that either Mitchell is mistaken about the timing, or that she wrote the song and shared it with Taylor before his album came out. Either way, in true singer-songwriter fashion, both artists used their romance to inspire and elevate their art.