What Happened To The House From The Goonies?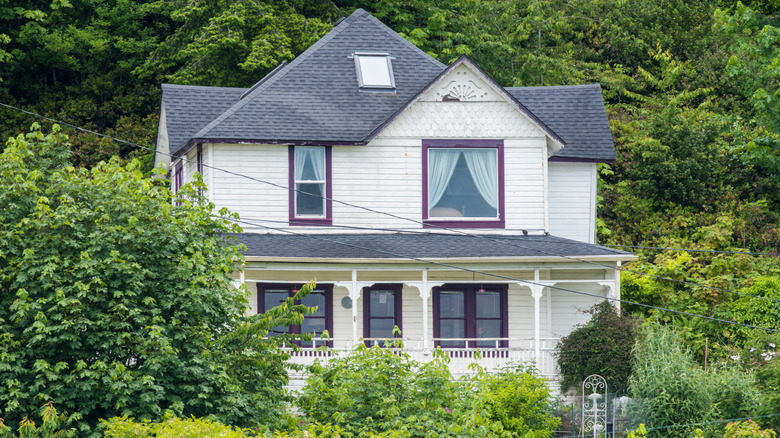 William Downs Photography/Shutterstock
Movies have existed for 100 years or so. Over that time some film locations have become just as iconic as the movies themselves. For example, as The New York Times notes, a staircase in the Bronx, used for a famous scene in the 2019 film "The Joker," has become a tourist attraction, much to the annoyance of residents who have to climb them regularly. Similarly, the scary-looking house featured in the 1979 cult classic "The Amityville Horror" drew so many gawkers that the address had to be legally changed, as All That's Interesting reports.
Another such iconic location that draws film nostalgia-seekers is the Astoria, Oregon home featured in the 1985 classic, "The Goonies." Unfortunately for the woman who lives there, the constant stream of inconsiderate visitors has created traffic and litter problems for both her and the neighborhood. So, she's taken some extreme measures to keep things under control.
Rude fans cause mayhem at the iconic house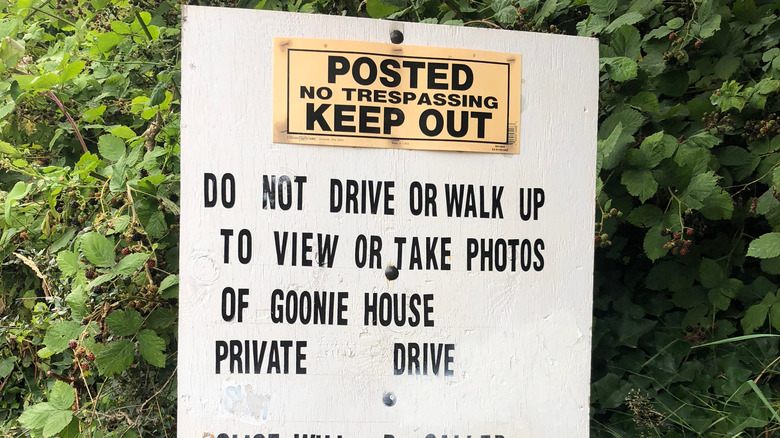 Adam Reck/Shutterstock
The current owner of the house is Sandi Preston who happens to also be a fan of "The Goonies." She told The Telegraph that when she saw the house was up for sale in 2001 she knew she had to buy it. She expected there would be lookie-loos but at the time they were manageable as only a few people per day would come near the house — but those days are long gone. With the advent of social media the house's location became less of a secret, and the number of viewers exploded to over a thousand per day. Not only did that mean litter and traffic issues, but some visitors were downright rude to Preston. "People wouldn't move, got belligerent, and left trash. They would get aggressive and entitled; their mantra is, 'You shouldn't have bought it,'" she said.
Things got so bad that at one point, in 2015, Preston was compelled to put blue tarps all over the house, effectively ruining its use as the background for an Instagram photo, as NBC News reports. The tarps eventually came down, but Preston is still keen to keep strangers off of her property. The town of Astoria has helped, somewhat, by issuing heavier fines for trespassing on the property. It has also opened a film museum featuring "The Goonies" with hopes it will draw visitors away from the house.