This Is Where Slash From Guns N' Roses Got His Nickname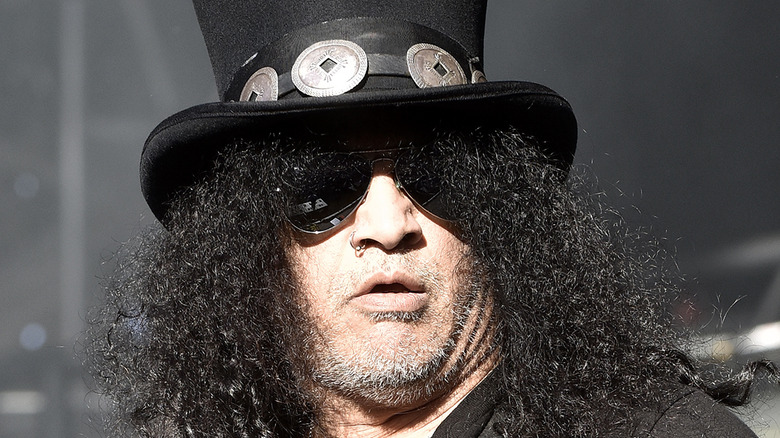 Tim Mosenfelder/Getty Images
It should go without saying that Slash is one of the greatest rock guitarists of all time. While he is best known for his time as the top hat-wearing lead guitarist of Guns N' Roses during their peak commercial years in the late '80s and early '90s, he also had some success in the mid-'90s as the leader of Slash's Snakepit and even more success in the 2000s as part of Velvet Revolver, which also featured Guns alumni Duff McKagan and Matt Sorum. And let's not forget his contributions to songs from other artists, most notably Michael Jackson's "Black or White." Nowadays, he's back with his old bandmates (at least some of them) after years of estrangement from Guns frontman Axl Rose, and while we'll always wonder if and when Guns N' Roses will be releasing a new album, Slash's resume as a guitarist doesn't really need that much updating at this point in his career.
Born on July 23, 1965, as Saul Hudson, the man who would become Slash was exposed to rock 'n' roll from a very young age, as his artist father and fashion designer mother both worked with some of the biggest names in music at the time (via Mental Floss). He did, however, have a troubled existence as a young boy, experiencing difficulty fitting in with most of the kids at school and eventually getting into his fair share of trouble. But it was during this ostensibly rough period in his life that he learned how to play guitar and got the nickname that would define him for the rest of his life.
Slash got the nickname because he was 'always in a hurry'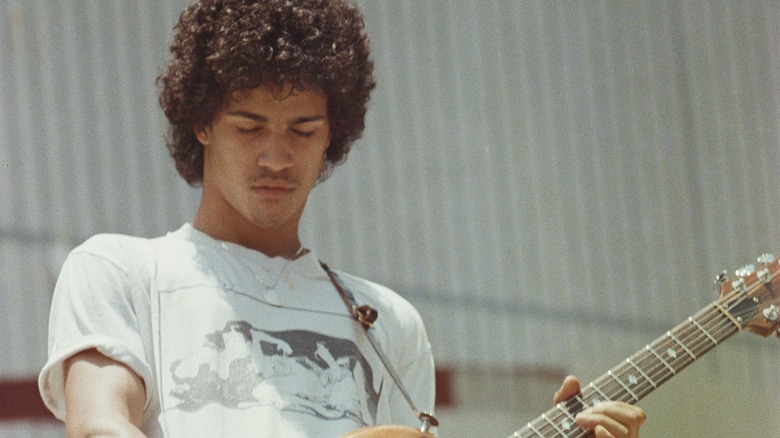 Marc S Canter/Getty Images
Before Saul Hudson became Slash, he was pretty much the definition of a hyperactive teenager. After letting out most of his youthful energy by riding his BMX bike around Hollywood and hanging out with guys like would-be Guns N' Roses drummer Steven Adler, the future rock star started practicing religiously on his guitar, never mind that it had only one string.  "When I started playing, this explosive and progressive part of my personality, which I didn't even know existed, came out," he told Swindle Magazine.
Slash was about 15 years old when he got his now-famous nickname, and it came from veteran character actor Seymour Cassel, whose son Matt was among Slash's closer friends around that time (via Mental Floss). "I was friends with his kids, and he used to call me Slash because I was an aspiring guitar player, always hustling, never stopping to hang out. I was always in a hurry," he told Swindle. "So he started calling me that, and it stuck."
And we should be all thankful that it stuck because much like it doesn't sound too convincing for a lead singer named Bill Bailey to say he has an appetite for destruction, Saul Hudson just doesn't have the same ring to it that Slash has.