Whatever Happened To Papa Roach?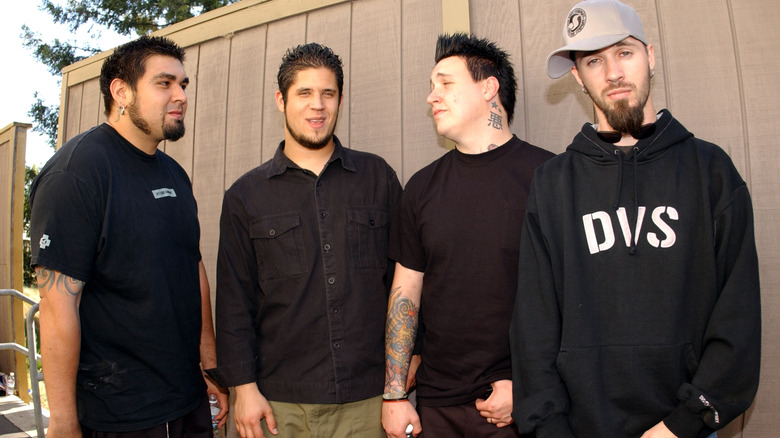 Tim Mosenfelder/Getty Images
Say what you want about the nu-metal explosion of the late '90s and early '00s, but the scene did produce a good number of hook-laden earworms. These included Papa Roach's breakout hit "Last Resort," which, while angsty and serious in its lyrical content, resonates to this day thanks to its catchy opening and the many memes and mondegreens that it has inspired. ("Cut my life into pizzas/this is my plastic fork!") 
Despite only reaching No. 57 on the Billboard Hot 100 in December 2000, "Last Resort" has become a certified nu-metal anthem and the song that helped the Vacaville, California, band become a household name. And it wasn't like Papa Roach were traditional one-hit wonders either — songs like "Broken Home" and "She Loves Me Not" were also rock radio staples, while 2004's "Scars" went all the way to No. 15 on the Hot 100 — an impressive feat for a hard rock/metal band in the 21st century.
Some of Papa Roach's contemporaries, including Korn, Linkin Park, Deftones, and even Kid Rock (if you consider him part of the scene), remained relevant among rock fans several years after nu-metal fell out of fashion. But what became of Jacoby Shaddix and company after the hits dried up? They haven't had a single on the Hot 100 since 2009, and with that in mind, you may be wondering what they've been up to in the years since the commercial success of "Last Resort" and "Scars."
They just kept on releasing albums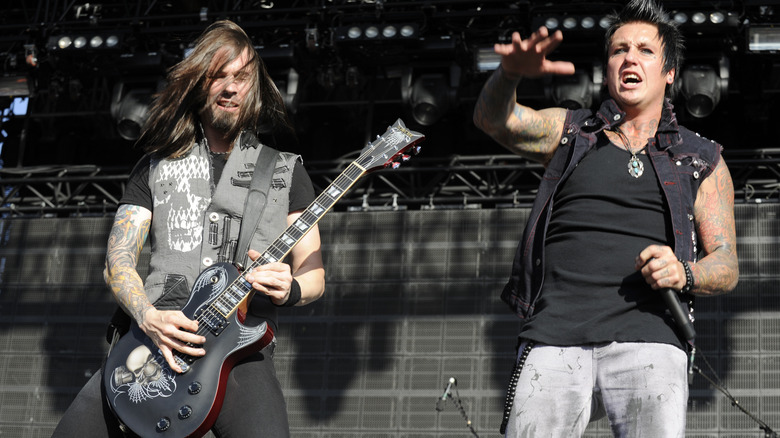 Tim Mosenfelder/Getty Images
Certain nu-metal mainstays such as Limp Bizkit started taking long breaks in between albums after the movement lost steam — case in point, their latest album, 2021's "Still Sucks," was their first in 10 years (via Louder). Papa Roach, however, kept consistently recording and releasing new music despite the diminishing returns, and boy, those returns have diminished, with their most recent album, "Who Do You Trust?," entering the Billboard 200 at No. 73 in February 2019 and dropping off after just one week. They did record a song for the soundtrack of "The Avengers" in 2012, but it wasn't released as a single and didn't do much to boost their profile.
On the other hand, credit needs to be given where it's due, as Papa Roach has made efforts to evolve beyond their origins as a nu-metal act; for one, they eschewed rapping fairly quickly, with frontman Jacoby Shaddix telling the Dallas Music Guide (via Blabbermouth) in 2004 that he became "disenchanted" with mainstream hip-hop and wanted to focus instead on his roots as a "rocker." This was even more evident on their 2009 album "Metamorphosis," as AllMusic observed that Papa Roach had transformed into an updated version of a 1980s Sunset Strip hair metal act. 2015's "F.E.A.R.," meanwhile, seemed to integrate some djent influences, though MetalSucks sarcastically implied that this was a desperate attempt to regain relevance by following what was currently trendy in heavy music.
Jacoby Shaddix is still proud to be one of the 'forefathers' of nu-metal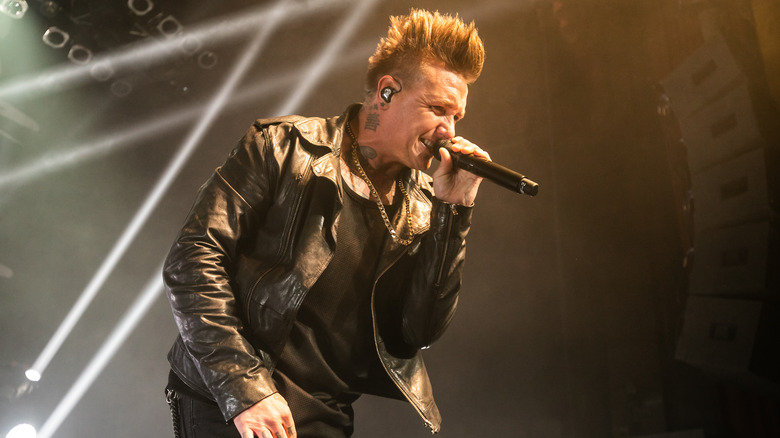 Brandon Nagy/Shutterstock
Your mileage may vary when it comes to the subject of Papa Roach dabbling in other sub-genres of rock and straying far from the sound that worked so well for them early on. But as far as Jacoby Shaddix is concerned, he's proud of his band's status as one of the linchpins of the once-vibrant nu-metal scene, even if they were already feeling the need to move on while making 2002's "Lovehatetragedy," their second major-label release. "It was a necessary record to make to continue to build our identity," Shaddix told Metal Hammer in 2021 (via Louder). "We felt like we were being pigeonholed as a one-trick pony, and we felt there was so much more to our band than the nu-metal tag. I love being one of the forefathers of nu-metal, that's f***ing dope, but we've been able to outlive it and celebrate it at the same time."
In a more recent interview that same year, Shaddix expressed great optimism for Papa Roach's next album, which is expected to arrive sometime in early 2022. "I'm telling you, this time I think we nailed it, man," the frontman told Danny Wimmer Presents in December 2021, as quoted by Blabbermouth. "I'm just over the moon. I'll say it, if we ever made a Grammy-worthy rock album, this is it — straight up."