The Most Controversial Super Bowl Game Ever
Focus On Sport/Getty Images
The Super Bowl is an annual championship football game played between the winners of the National Football League's two conferences — the American Football Conference and the National Football Conference, according to NFL. The game first kicked off on January 15, 1967, between the Kansas City Chiefs and the Green Bay Packers (per History). Though the game is now one of the most-watched television events each year, with viewership in the 100s of millions (per Bleacher Report), an ugly truth is that not all Super Bowls have been compelling games. 
However, Super Bowl XL, in which the Pittsburgh Steelers officially defeated the Seattle Seahawks on February 5, 2006, was definitely not boring. Additionally, the game was marred by accusations of bad officiating. According to Bleacher Report, there exists a sort of parallel universe in which the Seahawks actually won the game but also lost it — to the officiating crew. One man bears the blame: referee Bill Leavy.
Head referee apologizes for terrible calls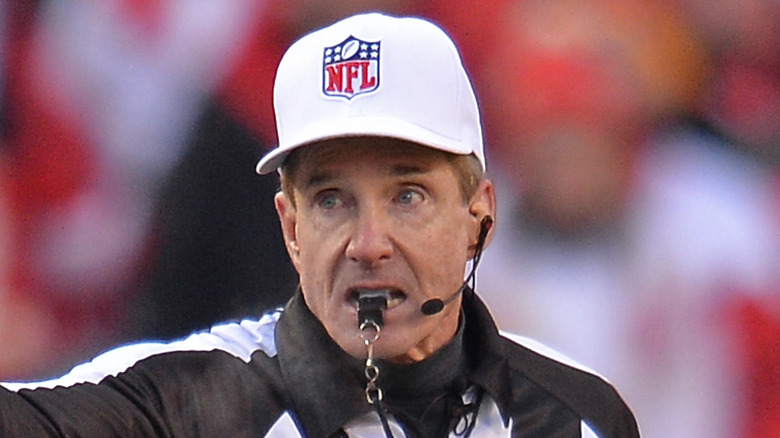 Peter Aiken/Getty Images
Blown calls by the officials are a necessary evil that sports fans must live through. However, some Seattle Seahawks fans will tell you that Super Bowl XL was more than just one blown call. Indeed, some think the officiating crew might have deliberately given the game to the Steelers, on the League's orders (per Bleacher Report).
A companion Bleacher Report piece breaks down a few of the bad calls: a fumble ruled an incomplete pass early in the game, a questionable pass interference call, a suspect "holding call," and many more.
Speaking to NBC Sports the Seahawks' left tackle, Watler Jones, admitted that his team lost the game fair-and-square. However, he conceded that probably 25% of the reason for his team's loss could be attributed to "[getting] robbed."
For whatever it's worth, Leavy himself admitted that he and his crew goofed things up pretty badly that day. Four years after the dust had settled on Super Bowl XL Leavy apologized to the Seahawks and their fans, via Pro Football Talk. "I impacted the game and as an official, you never want to do that. It left me with a lot of sleepless nights and I think about it constantly. I'll go to my grave wishing that I'd been better," he said.