Chuck Taylors Are Over 100 Years Old. Here's What You Should Know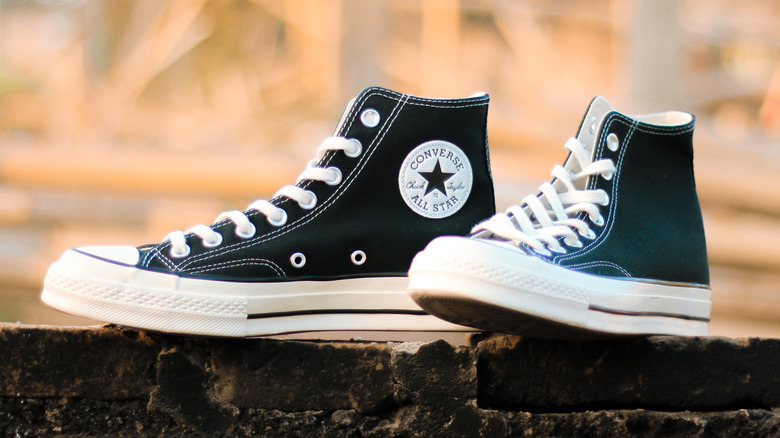 Muhammad Rendra/Shutterstock
When the Converse Rubber Company launched in 1908, no one knew that the company would manufacture one of the most recognizable pairs of shoes more than 100 years later. The business was founded by Marquis Mills Converse and was headquartered in Malden, Massachusetts. It produced just about anything with rubber, such as tires and galoshes. In an article on Mr. Porter, archivist Sam Smallidge said that the business operated through fall, winter, and spring. The employees had nothing to do in the summer months, so Converse came up with a solution to keep the assembly line busy throughout the year.
Around that time, basketball had become a popular sport. Converse then had the idea to manufacture basketball shoes — the All Star — which was released in 1917, per Chucks Connection. The original design came in brown with black trimming. By the 1920s, All Stars were manufactured in other styles, including ones made of leather or black canvas. The shoes had thick rubber soles and only came in high-tops to provide ankle support.
From Converse All Star to Chuck Taylor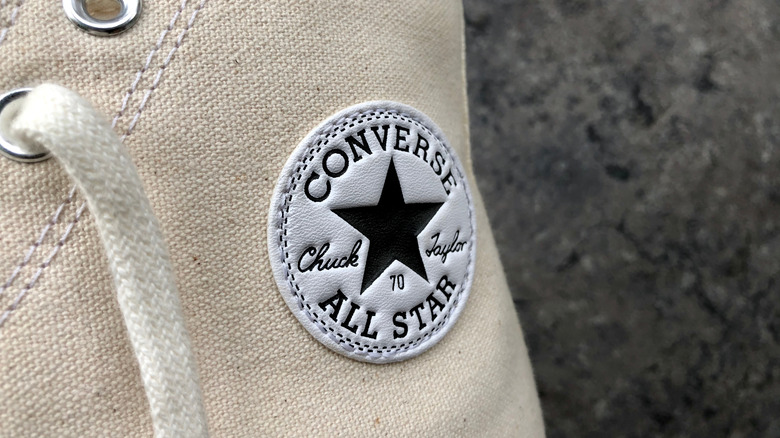 MichaelTan/Shutterstock
Although many people recognize Chuck Taylor sneakers at first glance, only a few know about the man behind the name. Charles "Chuck" Taylor grew up in Indiana and played basketball in high school. He graduated in 1919 and moved to Ohio where he was part of the semi-pro basketball team owned by the Firestone Tire and Rubber Company — the Firestone Non-Skids, per WBUR. In 1922, Taylor was hired as a coach for Converse's basketball team — the All Stars — and he also became a salesman for the company.
Taylor was a great salesman. Shoe museum curator Elizabeth Semmelhack (via Mr. Porter) said, "He wasn't brought into the company because of his success as a sport hero ... Chuck Taylor is seeding interest in basketball. He's going around places and expanding the popularity of the game, he's thereby expanding interest in footwear to be worn for the game. I think that's really where his genius lies." Taylor was a constant presence in basketball clinics and promoted the Converse All Star shoes. People who wanted to buy a pair would refer to them as "Chuck Taylor's shoe" or "Chuck's shoe" instead of "Converse All Star." In 1934, Taylor's name was added to the patch's design with the five-point star logo. Although his name was used by the company, Taylor didn't ask for royalties for the use of his name. Instead, he was given a commission and a full-expense account, and he continued to sell the shoes until he retired in the 1960s.
Chuck Taylors as casual sneakers
MR.Yanukit/Shutterstock
Chuck Taylors became so popular that it was the official shoe of the Olympic Games from 1936 to 1968. Furthermore, the U.S. Armed Forces also used them as their official athletic training shoes during World War II, per Grailed. By the 1970s, however, better basketball shoes were being manufactured and fewer athletes sported Chuck Taylors. Despite no longer being the dominant brand in the sports world, Chuck Taylors remained the popular footwear choice for many.
Many artists and musicians wore Chuck Taylors. Members of the punk rock band The Ramones often wore Chucks. Converse also released the shoes in different colors and in low-top versions, which made them more comfortable for casual wear. "They weren't thinking that far ahead, but having those colors allowed the All Star to become this badge of self-expression for youth," archivist Sam Smallidge stated, per Mr. Porter. Today, Chuck Taylors come in different colors and styles, and they are worn by just about anyone — from babies to adults, male and female. In 2015, Converse Vice President Geoff Cotrill stated in a New York Times article that the company sells approximately 270,000 pairs of Chuck Taylors daily.