Tragic Details Found In Errol Flynn's Autopsy Report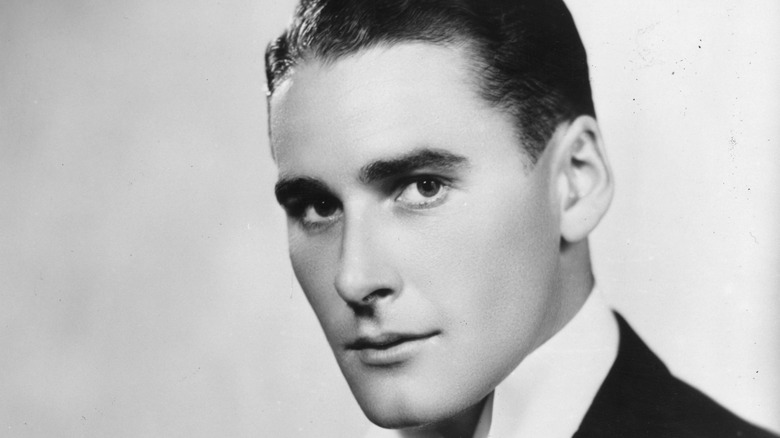 Sasha/Getty Images
American-Australian actor Errol Flynn was one of the most handsome, charming, and debonair leading men to ever grace the silver screen during Hollywood's Golden Age. His good looks captivated audiences, but his physical prowess and natural athletic ability caught the attention of Hollywood movie studios shortly after he made his first film, "In the Wake of the Bounty," in England in 1933.
The dashing actor was born in Tasmania, Australia, on June 20, 1909. According to Britannica, the young Flynn was rowdy and disobedient. He was expelled from several schools and sought to make a living early on in his life (per Best Movies by Farr). After a series of unsuccessful odd jobs that included gold mining and working on a plantation, he took up acting (via IMDb).
Flynn was soon scooped up by Warner Bros. and made his American film debut in "Captain Blood" with "newcomer' Olivia de Havilland in 1935. It wasn't long before his romantic and swashbuckling roles made him an international movie star. He quickly became known as the "undisputed king of adventure films, a title he inherited from Douglas Fairbanks, which remains his to this day, according to IMDb.
Inevitably typecast as a "fearless adventurer," he went on to make a series of action movies, including the original "Adventures of Robin Hood," considered a classic today and probably his most famous. Off screen, however, Flynn developed a reputation for being a womanizer and a drunk. Both of these elements would later catch up with him and ultimately, lead to his demise.
Errol Flynn's slow decline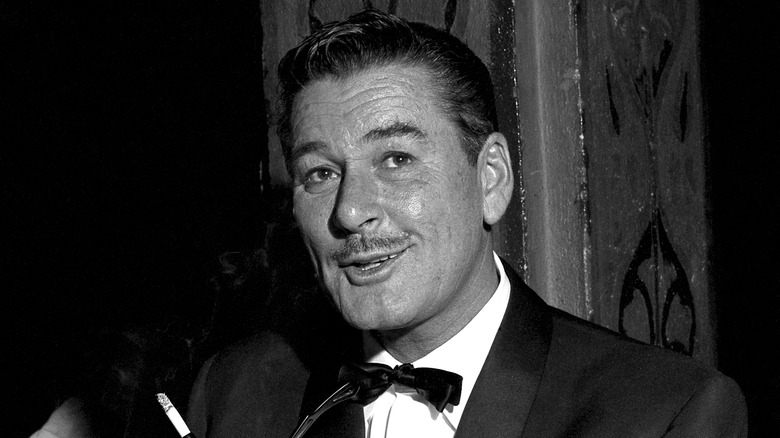 Michael Ochs Archives/Getty Images
Known for his rugged athleticism, Flynn captivated women beyond the silver screen. He was married three times by the time he was 40, to Lili Damita, Nora Eddington, and Patricie Wymore (via Best Movies by Farr). He was so widely known as a ladies' man that his name was forever associated with the term "In Like Flynn." According to Closer Weekly, he was unfaithful to all of his wives. Costars went on to say that women simply threw themselves at him. As for Flynn, he notoriously stated that he liked his "whiskey old and my women young." His philandering ways would come to a head when two underage girls accused him of statutory rape in 1942.
The Hollywood Reporter writes that Betty Hansen and Peggy Satterlee alleged that Flynn seduced them when both teens were 17 years old (per Hollywood's Golden Age). One incident allegedly occurred on a yacht, the other at a Hollywood party. Flynn's response to Hansen's allegations? He said that he had "hardly" touched her. Nonetheless, a scandalous trial ensued that had Flynn facing up to 25 years in prison. Showbiz Cheatsheet reports that he would later be acquitted of all charges and would continue to act.
Despite this, Flynn's career was severely damaged after the fact. He would never regain his status as a leading man. By 1950, his contract with Warner Bros had been terminated. Instead, Flynn plunged himself into drinking and yachting. On the verge of bankruptcy, he would travel to Vancouver to lease his yacht. Flynn would die there in 1959.
Errol Flynn: dead at 50 from a heart attack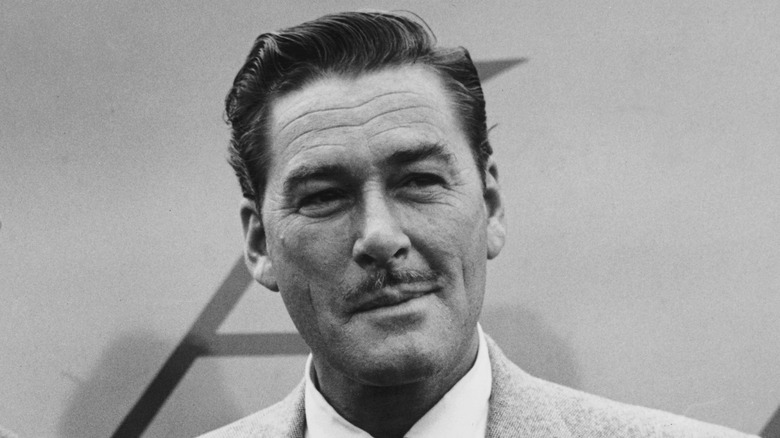 Keystone/Getty Images
According to Best Movies By Farr, Flynn died of a heart attack at the young age of 50. His autopsy report detailed a list of health troubles he might not have known he even had. It listed no fewer than five serious medical issues, including coronary thrombosis, fatty degeneration of the liver, portal cirrhosis of the liver, and diverticulosis of the colon. Even if he had survived the heart attack, the cirrhosis would have killed him within a year. The autopsy also reports that at the time of his death, Flynn had a blood alcohol level of 0.25%. The autopsy also revealed that he was suffering from genital warts.
Even though in the last years of his life he played a number of roles as an aging alcoholic, mirroring his own life, he was on his way to remaking his image as a serious actor. It was too late. The National Post writes that those who encountered Flynn in Vancouver were appalled by his disheveled and "bloated" appearance. The coroner who did his autopsy later recounted that the movie star looked far older than 50.
Furthermore, Flynn had suffered from health issues throughout his life. He had back pain, a "weak heart" and battled recurring bouts of malaria. These conditions would ultimately prevent him from enlisting in World War II, which further worsened his reputation (via Hollywood's Golden Age). It comes as no surprise that Flynn is perhaps remembered more for his hedonistic lifestyle than for his films. Per the Tasmanian Times, his final resting place is Forest Lawn Memorial Park in Glendale, California.