The Dark Inspiration Behind The Boomtown Rats' I Don't Like Mondays
George Wilkes Archive/Getty Images
The Boomtown Rats are best remembered as the band where Bob Geldof first became famous, primarily in his native Ireland and in the United Kingdom, years before he became well-known for his activism and as the organizer of Live Aid. Although not as big in the United States as they were (and still are) back home, the Boomtown Rats were one of the principal figures in the nascent new wave scene in the late 1970s, and at one point, they had nine straight singles chart on the U.K. Top 40 (via AllMusic). They only charted once in the U.S., and while their 1979 single "I Don't Like Mondays" was not at all a huge chart success, peaking at No. 73 on the Billboard Hot 100, it remains one of that year's most recognizable rock hits.
If you aren't familiar with the story behind the song and you're solely focused on the chorus hook, "I Don't Like Mondays" almost sounds like something you'd relate to if you're the type who dreads returning to work or school on the first day of the week. But there's something much darker behind the Boomtown Rats' signature song, and if you come to think of it, the clues are all there in the lyrics.
I Don't Like Mondays was inspired by a real-life school shooting
The Boomtown Rats' "I Don't Like Mondays" was inspired by the real-life school shooting that took place in San Diego on January 29, 1979, when 16-year-old Brenda Ann Spencer, who lived across the street from Grover Cleveland Elementary School, opened fire from her home and targeted students with the rifle her father got for her the previous Christmas. During the attack, Spencer fatally shot two people — principal Burton Wagg and custodian Mike Suchar — and injured eight children and one police officer. 
As quoted by Ultimate Classic Rock, it was Spencer's remarks to a San Diego Tribune reporter that specifically inspired Bob Geldof to name his band's most famous — and controversial — song. "I just did it for the fun of it," said Spencer, who allegedly told classmates that she "wanted to do something big to get on TV" about a week before the shooting. "I don't like Mondays. This livens up the day. I have to go now. I shot a pig, I think, and I want to shoot more. I'm having too much fun." She later claimed she had no recollection of ever making those comments, according to Murderpedia.
Spencer was tried as an adult for the shooting and pleaded guilty to two counts of murder and assault with a deadly weapon. She was sentenced to 25 years to life in prison and has been denied parole multiple times since she first became eligible in 1993.
Bob Geldof's lyrics contain many references to the shooting and the shooter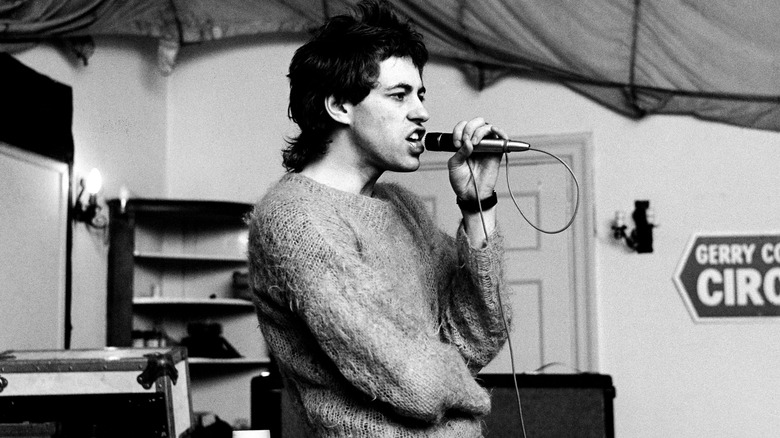 George Wilkes Archive/Getty Images
A closer look at the lyrics of "I Don't Like Mondays" reveals several references to the shooting and its perpetrator, most notably in the verses, which mention Brenda Spencer's age, students getting sent home early, and police officers, the shooter's parents, and the kids at school grappling with the reality of the situation. Of course, there's the chorus, which ends with the line "I wanna shoot the whole day down" — a flippant remark if you aren't aware of the song's inspiration, but a chilling one to anyone who knows its backstory.
While those lyrics remain relevant in this day and age where school shootings are tragically much more commonplace than they were in 1979, there's one dated lyric — "the Telex machine is kept so clean/and it types to a waiting world" — that refers to how Bob Geldof wrote "I Don't Like Mondays." Per Ultimate Classic Rock, the frontman learned about the incident through the Telex machine at Georgia State University's radio station and quickly proceeded to compose the song.
Given its unremarkable performance on the U.S. Billboard charts, it's seemingly a common assumption that the song might have been banned by some radio stations — Ultimate Classic Rock speculated that American stations might have been hesitant to play "I Don't Like Mondays" due to its controversial subject matter. However, Geldof claimed in his autobiography, "Is That It?," that Columbia Records "panicked" and withdrew the single just one week after its release, supposedly because Spencer's parents were threatening legal action against the label.