The Tragic Murder Of Helen Mintiks At The Met Explained
travelview/Shutterstock
On July 23, 1980, summer was in full swing in New York City. That night, the Berlin Ballet was performing at the famed Metropolitan Opera House (via Classic FM). One of the orchestra's musicians was violinist Helen Mintiks, a British Columbia native. According to Inside Edition, she had failed to return from her break during intermission and had left her violin behind. Friends were alarmed but authorities were not called until a few hours later. When she had not returned home after midnight, her husband Janis Mintiks reported her missing.
Oxygen writes that Mintik's street clothes were found in her locker. It was theorized she had never left the opera house and was still inside. As authorities searched The Met's notorious labyrinth-like structure, they would come up empty until the next morning. That's when 31-year-old Helen Mintik was found inside a ventilation shaft, "nude, bloody, and broken."
Furthermore, she had been tied and gagged. An autopsy concluded that Mintik had fallen nearly 40 feet to her death between 9 and 11:30 p.m. The only clues left behind were a palm print on a pipe and the knots that bound her. Police concluded Mintik's killer had to be familiar with the backstage area. They then proceeded to interview every Metropolitan Opera House employee.
Helen Mintiks had rejected her killer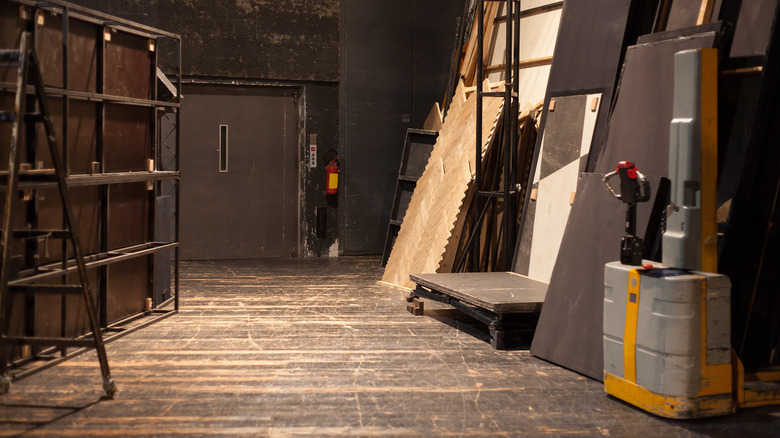 aerogondo2/Shutterstock
According to Oxygen, a witness told police she had seen Mintiks get into an elevator with a man in "workman clothes." The man was later identified as 21-year-old stagehand Craig S. Crimmins. Mintiks had apparently asked Crimmins where he could find a Russian dancer she was interested in meeting. The man had told her the dancer was on the fourth floor. However, Classic FM writes that this was a blatant lie as the dancers were on the ground level. Authorities ultimately believe he had lied to get her alone. When interviewed by the police, Crimmins confessed to killing Mintik.
It was later discovered that he had been missing at the same time as Minktik. Further damming him was his palm print, which matched the one on the pipe near Mintik's body. Per Inside Edition, Crimmins told investigators he "made a pass" at her. When Mintik turned him down, he became enraged and attempted to rape her. Though she fought him off, Crimmins would tie and gag her before throwing her down the shaft.
Later dubbed as the "Phantom of the Opera" murder, Crimmins would be sentenced to 20 years to life for the crime. Although he has continued to apply for parole every two years since 2001, he has been denied each time. Crimmins' lawyer has said that he doubts "this would happen again" because prison has made him a "different person."