How Maria Earned Debbie Harry A Spot In The Guinness Book Of Records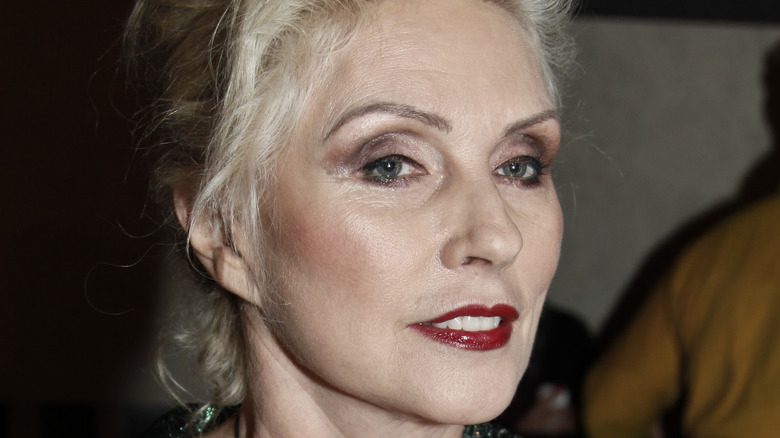 lev radin/Shutterstock
Best known as the lead singer of the '80s new wave band Blondie, Debbie Harry is also the most recognizable face of the iconic band. They became famous for hit songs such as "Call Me" and "The Tide is High," two tracks that earned them No. 1 spots on the Billboard chart. Blondie was founded in New York in 1974 by Harry and her former longtime partner and guitarist Chris Stein. The two would add three more members to the group: bassist Gary Valentine, drummer Clem Burke, and keyboard player Jimmy Destri (via Britannica).
While the band released their first two albums in 1976 and 1977, it would take until their third album in 1978 to earn some commercial success. The band's "Parallel Lines" album solidified their growing fan base in the U.K., and it gained them their very first entry on the Billboard Hot 100 chart in 1979.
Their first No. 1 came with that debut entry with the catchy pop single, "Heart of Glass." That year two additional songs from the junior album made the charts, including the memorable track, "One Way or Another."
Blondie hits a peak and breaks up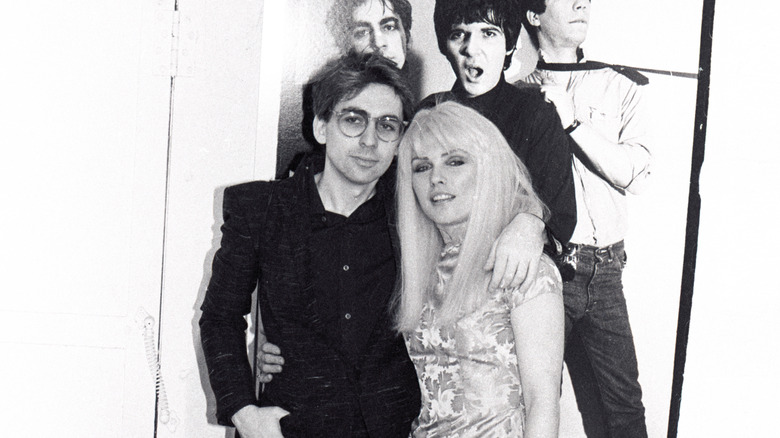 Steve Rapport/Getty Images
Harry and her band were turning a new page in music by combining rock and pop, which resulted in the genre known as new wave. She was also making history. Harry was 31 years old when she entered the music world, which is considered old to hit fame (via The Guardian). And she'd make more history later on in her career due to her age.
After the release of their fifth album "Autoamerican," the band saw two additional songs go No. 1, via Billboard in 1980. So far those have been their last top entries. Afterward, only one more album would come out before they disbanded. In 1982, Blondie — at the peak of their fame — decided to disband due to guitarist Chris Stein suffering from a skin illness, says Biography. As his partner, Harry also decided to leave music to care for him. Stein would recover and the pair ended their relationship and parted ways. It would take another 17 years before the group reunited.
How Blondie's comeback helped Debbie Harry set a record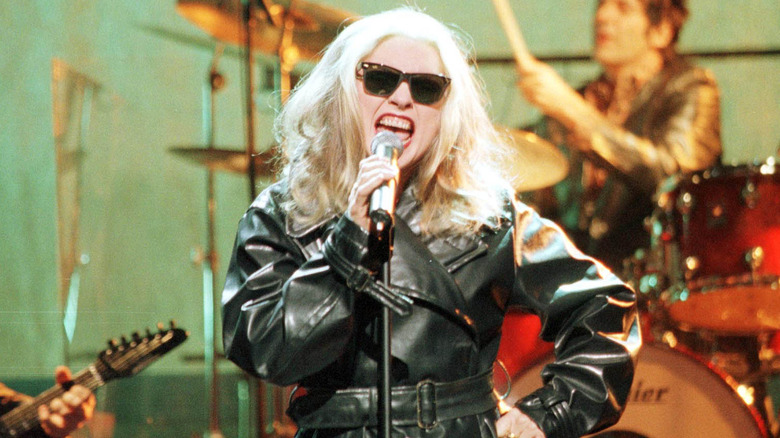 Evan Agostini/Getty Images
In 1999, Blondie released their seventh studio album, "No Exit." One of the lead singles from the album was "Maria." It cracked the top 100 chart in the U.S. at No. 82, where it spent three weeks. But in the U.K., it was a different story. Having originally gained popularity across the pond before they did stateside, it was only natural that longtime British Blondie fans flocked to the band's first single in over a decade and a half. Their support was unwavering and the band's single went No. 1, per Official Charts.
By reaching the top slot, Harry became the oldest woman to earn a No. 1 single in the U.K., says Guinness World Records. She was 53 years old at the time and held that title for a decade. In 2009, she was unseated by British singer Dame Vera Lynn, when she released her compilation album that went No. 1 when she was 92.
Despite successfully fulfilling her dreams of a music career much later than most female pop stars at the time, Harry maintains that when her age was revealed it ruined her career, per a 2019 interview with Los Angeles Times. It's unpredictable how her career could've turned out if her age was never shared, but either way — she's a solid reference for any woman in her 30s hoping to kick off a music career, and a perfect example that age can't stop you from scoring a No. 1 hit.