Why Axl Rose Once Got Into A Fist Fight With David Bowie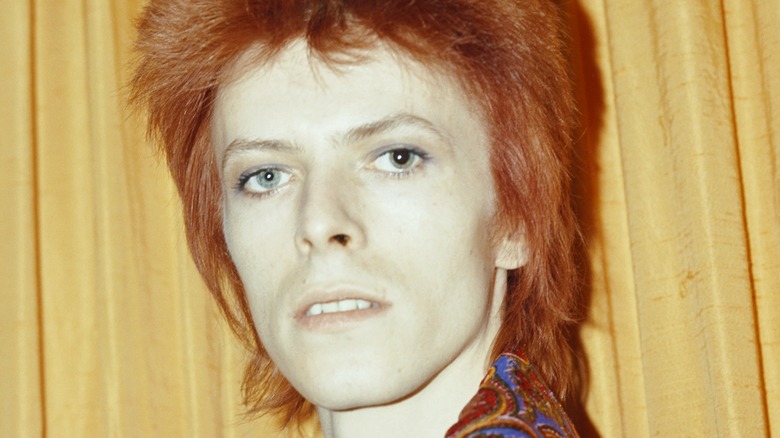 Michael Ochs Archives/Getty Images
Pretty much any story about David Bowie is filled with some pretty wild stuff. But one of the funniest might be when Guns N' Roses frontman Axl Rose got in a fight with David Bowie after the "Life on Mars?" singer supposedly hit on Rose's future wife, Erin Everly. What's more, per Ultimate Classic Rock, this was after David Bowie had already had a fling with Slash's mother, the costume designer Ola Hudson.
The brawl was apparently during the filming of the original music video for Guns N' Roses' "It's So Easy," which would feature Everly in leather bondage gear — complete with a ball gag. Because of Bowie's "friendship" with Slash's mother, he was there at the shoot, and supposedly came on to  Everly. Whether or not this really happened is a matter of interpretation, but Bowie had a reputation in the '80s as a sex god, so it's not too difficult to imagine. Axl was reportedly furious.
'I'm gonna kill you, Tin Man!'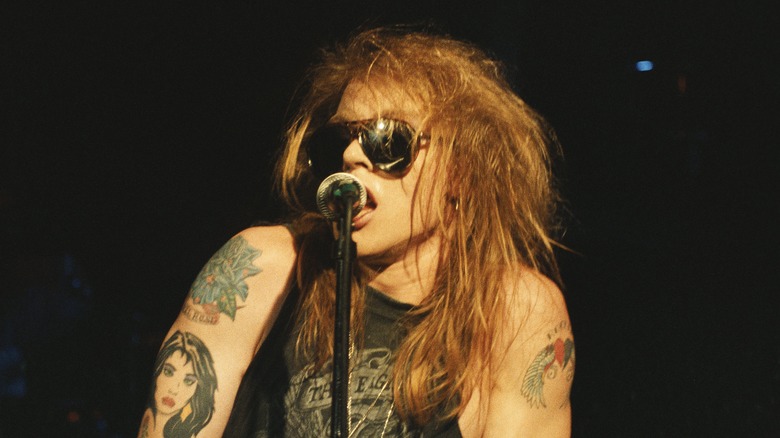 Marc S Canter/Getty Images
At this point, Axl Rose reportedly chased David Bowie out of the video shoot, according to Riki Rachtman, the host of MTV's "Headbangers Ball" and the founder of the Cathouse, a legendary metal club where the music video was being filmed.
"Now, when your security guard comes up to you and says, 'Riki, Axl Rose is chasing David Bowie down the street saying he's gonna kill him, what should I do?' Well, how do you answer something like that?" said Ratchtman, per Yahoo. "You've got one of your better friends, chasing one of your idols down the street? [...] That was when David Bowie was in the band Tin Machine. So Axl was running, yelling, 'I'm gonna kill you, Tin Man!'"
That wasn't the end of Rose's rage either — later that night, Bowie attended the Guns and Roses show and was heckled by Axl from the stage, according to Slash, who wrote about the incident in his memoir. But Rose said the two rockstars later worked out their differences.
"[We] talked and went out to dinner and then went down [to] the China Club and stuff," Rose said in an interview. "And when we left, I was like, 'I wanna thank you for being the first person that's ever come up to me in person and said how sorry they were about the situation and stuff.' It was cool, you know?" When Bowie wasn't trying to steal your girl, he was apparently a pretty nice guy.