The Surprising Connection Between Wilson Phillips And The Beach Boys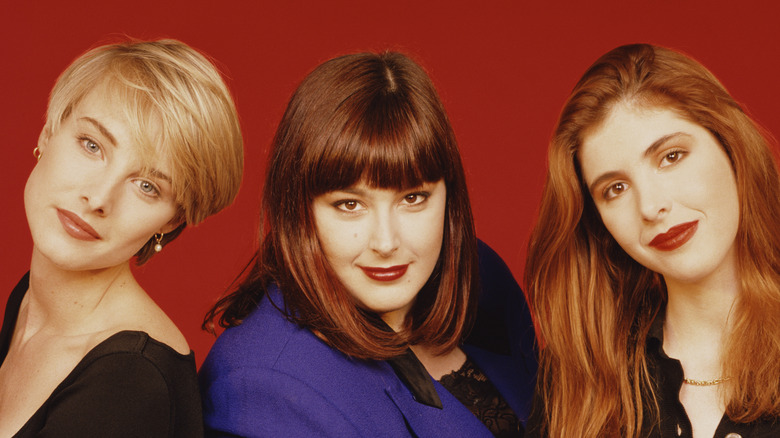 Tim Roney/Getty Images
The story of the '90s pop trio Wilson Phillips all began on a basketball court in 1968. The girls met in childhood when their fathers were shooting hoops, and afterward began singing covers of ABBA, Fleetwood Mac, and the Bee Gees using hairbrushes as microphones (via Rolling Stone). But what not everyone knows about the pop trio is that Carnie and Wendy Wilson are the daughters of Brian Wilson of the Beach Boys, while Chynna Phillips is the daughter of John Phillips of the Mamas and the Papas.
The Phillips and the Wilsons formed a tight bond in the 1970s. As teenagers, the group of girls prepared their first songs cross-legged in Wendy's bedroom, testing out harmonies between their voices, according to Rolling Stone. Although their family ties helped them facilitate meetings with people like producer Richard Perry, who worked with the Pointer Sisters, Wilson Phillips was insistent that their success not hinge on the stardom of their fathers, according to the Los Angeles Times.
Living up to their fathers' reputations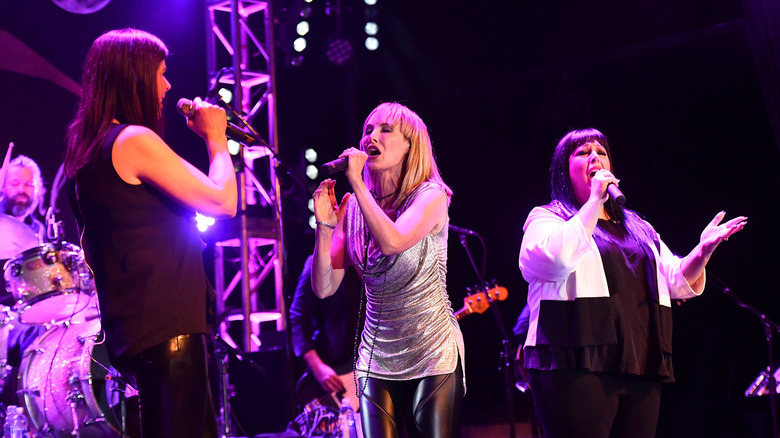 Scott Dudelson/Getty Images
The women struggled at times to escape from the shadow of their celebrity fathers. Their second album, "Shadows and Light," included darker songs about the mental health and addiction issues they watched their fathers go through. Perhaps as a result of this past trauma, Chynna Phillips also struggled through her own drug and alcohol addiction problems in high school, which spurred the writing of the group's hit single, "Hold On." The single would go on to beat out Madonna's "Vogue" to win the No. 1 spot in the U.S. Billboard's Hot 100 chart in 1990 and was later performed by the group in a cameo in the 2011 comedy "Bridesmaids" (via Rolling Stone).
Within the next decade after the release of "Shadows of Light," the trio went their separate ways and began releasing solo records. Over time, as the women started their own families, they reconciled their differences and came together in 2001 to perform the Beach Boys song "You're So Good to Me," at a tribute show to Brian Wilson, according to New Castle News. In 2012, Wilson Phillips came full circle to celebrate the 20th anniversary of their formation with an album of covers by the Beach Boys and the Mamas and Papas called "Dedicated," according to Rolling Stone. Now, Wilson's daughters are getting older, and they have started to sing, dance, and harmonize just as Wilson did with her sister and Phillips as a child (via New Castle News).