The Tragic Truth Behind Soul Asylum's Runaway Train Video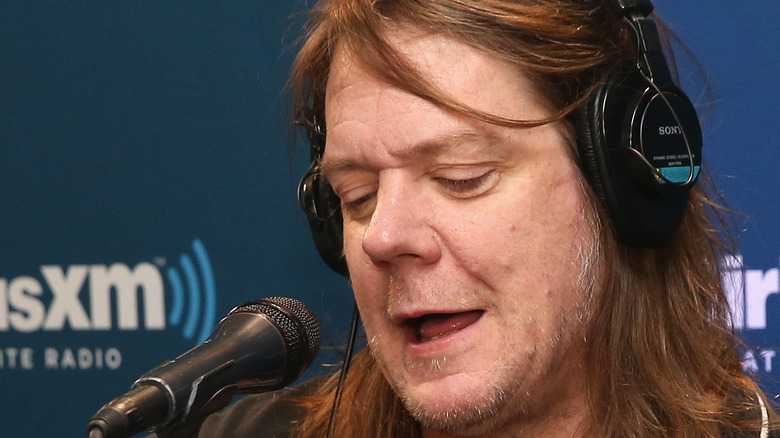 Robin Marchant/Getty Images
The video for Soul Asylum's hit single "Runaway Train," is best known for featuring the images of 36 missing children. However, Soul Asylum's lead singer, Dave Pirner, said the song was not written with missing children in mind. As reported by Fox9, Pirner wrote the song in the midst of a "deep, dark depression."
Enter the Soul Asylum reports the band, which was originally called Loud Fast Rules, was founded by high school friends Karl Mueller, Dan Murphy, and Dave Pirner in 1981. They got their first record deal three years later and released a total of six albums between 1984 and 1991. However, Soul Asylum was not widely known until the release of their seventh album, "Grave Dancers Union," in 1992.
As reported by Fox9, the album had four charted singles, including "Somebody to Shove," "Black Gold," "Without a Trace," and "Runaway Train." Although "Runaway Train" only made it to number five on the Billboard Hot 100 chart, the song's video gained international attention.
The song's title, and the content of the video, conjures images of missing children, but Pirner said the song was inspired by his struggles with depression. When he wrote "Runaway Train," Pirner had recently discovered he was experiencing hearing loss, and subsequently became severely depressed. In an interview with Fox9, Pirner said the song is about realizing "your emotions can get away from you and take you away from what's in front of you." However, the associated music video took on a completely different meaning.
21 children from the 'Runaway Train' video were found
The idea to feature missing children and runaways in Soul Asylum's "Runaway Train" video was proposed by the video's director Tony Kaye. As reported by Louder Sound, he was discussing the video with the band and suggested, "The kids on the milk cartons — we should try to find them." Although Columbia was reluctant to follow through with Kaye's suggestion, they eventually agreed.
Rolling Stone reports 21 of the 36 missing children featured in the original "Runaway Train" video were eventually found or returned home after the video received lots of airtime on MTV. However, the original video was updated several times, per an agreement with Soul Asylum, and there are now several different versions available. As reported by Louder Sound, there are also a number of international adaptations, including Canadian and British versions, which feature missing children from those countries.
Pirner said, "It was a really cool experience to realize that — wow!– there is the potential for entertainment to have a positive effect on the real world." (per Louder Sound)
On the 25th anniversary of the original "Runaway Train" video, musicians Jamie N Commons, Skylar Grey, and Gallant collaborated with the National Center for Missing & Exploited Children to produce a new version of the video. As reported by RunawayTrain25, the new version is "more than just a cover song — it's a dynamic music video, designed not just for watching, but for bringing home real missing and trafficked kids near you."