What Babe Ruth's Last Months Were Really Like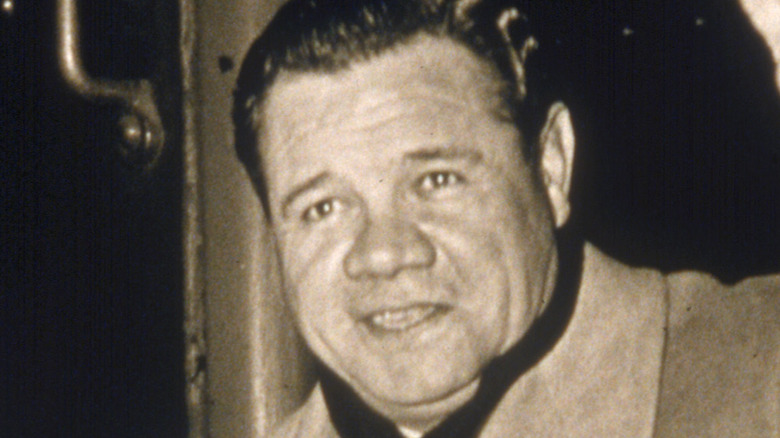 Photo File/Getty Images
There is not a name more synonymous with baseball than Babe Ruth. In fact, there might not be a name more synonymous with the first quarter-century of the 20th century than Ruth. As explained by ESPN's "Sportscentury" (via YouTube), Ruth's emergence into the game of baseball could not have come at a more pressing time. After it was discovered that players on the Chicago White Sox, nicknamed "The Black Sox," took money to throw the 1919 World Series, professional baseball was on the verge of losing countless fans.
Out of the blue and with a mighty bat, Babe Ruth "saved" the sport and transformed baseball into a national pastime. Ruth's power not only enticed fans and wowed his opponents, but his style also changed the way the sport was played. As Baseball-Reference explained, the first decades of the century in baseball were known as the "Dead Ball Era," characterized by low scoring games and an emphasis on defense and pitching. Ruth's home run hitting made the sport adapt to his style, leading to higher scoring games and new fans finding the sport. For context to how dominant Ruth was, in 1920, the New York Yankees slugger broke his own single-season home run record by hitting 54 dingers, per Bleacher Report. That was more than all but one team in the rest of the sport! He would break that record again in 1927.
However, in 1948, Ruth showed he was as mortal as any other person as he sat at death's door.
Babe Ruth says goodbye to his fans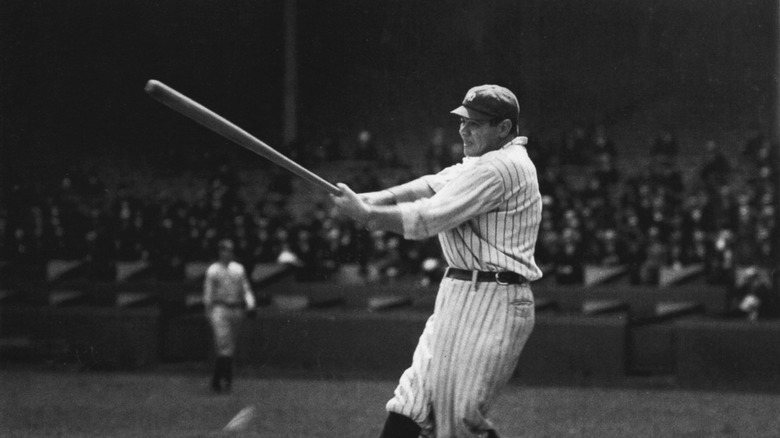 Transcendental Graphics/Getty Images
Julia Ruth Stevens, Babe Ruth's daughter, recalled to "Sportscentury" (via YouTube) that after seeing a picture of her father in the paper and was shocked by his appearance, she immediately called her mother, Claire Ruth, and asked about her father's health. Claire Ruth said her husband was suffering from severe headaches, and multiple doctor visits yielded no new information. In reality, the former baseball hero was dying of cancer.
Fans of Ruth wrote cards and letters to their hero, and in spite of his conditions, Ruth would sign autographs and instruct his nurse to deliver them to the children. Author Robert Creamer recalled a story when legendary baseball manager Connie Mack visited Ruth in the hospital. Ruth said to the manager, "the termites have gotten me, Mr. Mack." In spring 1947, Ruth was honored with a day at Yankee Stadium, nicknamed, "The House that Ruth Built." On June 13, 1948, Ruth made one last appearance, again at Yankee Stadium, according to SABR. It was both the 25th anniversary of Yankee Stadium, and the team was retiring Ruth's jersey number, 3, Time reported (via YouTube). His body had become so weak, it took two men to dress Ruth in his old jersey.
Ruth then walked out to the field, using a bat as a cane. Photographer Nat Fein's picture of Ruth became the first sports photograph to win the Pulitzer Prize. Two months later, Ruth would pass away at 53 years old.
Ruth's cancer led to breakthroughs in treatment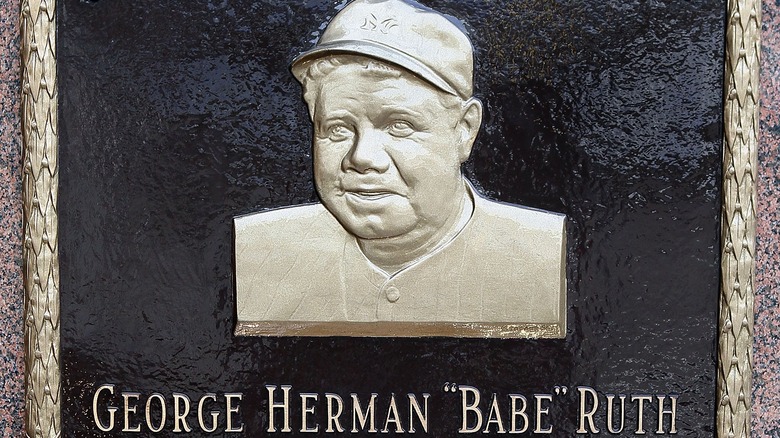 Jim Mcisaac/Getty Images
When Babe Ruth died, it was assumed that the type of cancer that took his life was throat cancer, The Seattle Times reported. With a lack of information about cancer, and the fact that Ruth was a lifelong user of alcohol and tobacco, the conclusion is understandable. However, Dr. William Maloney, a New York dentist who spent a year studying Ruth's death, said that the former baseball star died, not of throat cancer, but of a rare form of cancer called nasopharyngeal carcinoma.
While doctors made have been mistaken about what cancer he had, his treatment became breakthroughs in the scientific community. According to Popular Science, Ruth became the first human to be treated with teropterin. Ruth started his injections on June 29, 1947, and saw immediate improvements. He put on some weight he had previously lost, reported less pain, and was able to eat solid food. While the treatment only postponed the inevitable, Ruth's treatment marked a shift in cancer care. He was one of the first individuals to receive both radiation treatment and chemotherapy, a practice now common.