The Truth About Loretta Lynn's Relationship With Designer Tim Cobb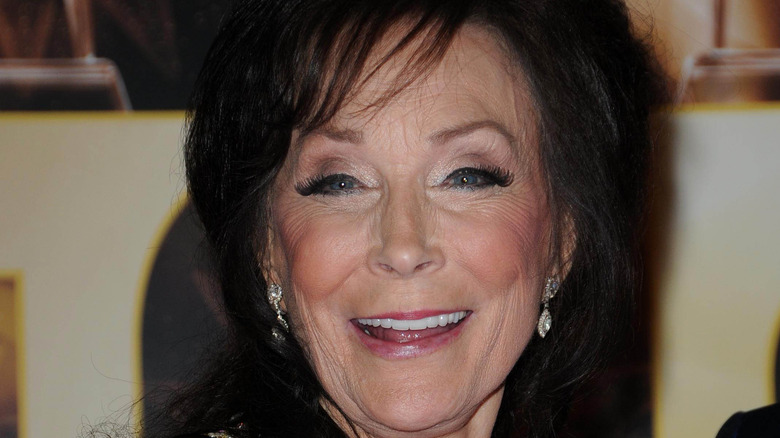 s_bukley/Shutterstock
Country music icon Loretta Lynn is nearly as well known for her ornate, sweeping ballgowns as she is for her iconic songs, including "Coal Miner's Daughter," "The Pill," and "Fist City." She told her cinematic life story in her autobiography, which in turn was made into a movie, 1980's "Coal Miner's Daughter," which starred Sissy Spacek in the Academy Award-winning title role as Lynn herself.
Lynn's signature dresses are custom-designed for her by Tim Cobb, who has also worked as Lynn's personal assistant for over 30 years, carrying on what a 2018 article in OUTvoices Nashville called a "working friendship." Cobb's role goes far beyond that of a regular employee; Lynn described him as "my best friend as for knowing each other after all these years. He is my personal assistant, but he does everything," going on to note that Cobb also does her hair and makeup, and built and serves as conservator of the Coal Miner's Daughter Museum, located at Loretta Lynn's Ranch in Hurricane Mills, Tennessee. 
Cobb grew up in Lake City, Arkansas. His sister participated in beauty pageants, and when Cobb learned how much the specialty gowns used within pageant competitions cost, he saw an opportunity. He designed, sewed, and sold his first dress when he was just 17, and soon went on to study at California's Fashion Institute of Design and Merchandising. Post-college, he returned to Arkansas and opened his own shop, eventually joining the Les Wilk Company as a pageant line designer. 
Tim Cobb and Loretta Lynn are like family
Looking for a change, Tim Cobb (above) made his way to Nashville, Tennessee and began approaching country singers' managers to pitch his custom designs. In a 2017 interview with Country Stars Central, Cobb recalled that he'd designed two dresses with Loretta Lynn in mind and then obtained her management's address from a directory available at the Country Music Association. Cobb took the dresses to Lynn's offices; Lynn's office manager loved them and arranged for Cobb to present them directly to Lynn herself. Said Cobb, "I returned later, met this barefooted little girl with long wavy hair, surprised it was the Loretta Lynn! She loved both gowns and they fit perfectly, so she bought both of them on the spot." 
Within weeks, Cobb was designing more gowns for Lynn's television special "Loretta Lynn in Big Apple Country," and the two have been a team ever since. Per OUTvoices Nashville, Lynn said of their relationship, "He's my companion. We know what's on the other one's mind. We're just like a brother and sister. We might fuss, but that ain't nothing. We say we take care of each other." Cobb even moved in with Lynn after her husband and manager Oliver "Doo" Lynn died in 1996, building a new home behind the historic mansion that's part of the Loretta Lynn's Ranch compound. Said Lynn of the arrangement, "Seems we have been together forever and we always will. He built this house, and I live in one wing, and he lives in the other wing of it — but we always meet in the middle to fuss. Ha!"