How Much Does It Cost To Get A Tattoo From Ink Master's Angel Rose?
Season 11 of "Ink Master" featured some tremendous tattoo artists whose work, like ink on skin, left a permanent impression upon us. Contestant Angel Rose, renowned for her hyperrealistic black/gray ink pieces, made it to the eighth round Grudge Match before leaving the show. Despite being one of the youngest and least experienced artists to pass through the series' roster, she managed to make it longer than other veteran tattooers. Rose went on to achieve some tremendous things after her stint on "Ink Master," opening her own shop in Los Angeles in 2018 and employing a team of artists who looked to her as a leader (via Female Tattooers).
She currently resides in Salt Lake City and works out of Olympus Tattoo. If you're looking to join her list of clientele, it'll certainly be worth the money, but just how much are you liable to drop in the process? Currently, an all-day session with Angel Rose stands at $2,000 (per Angel Rose Tattoos).
Angel Rose style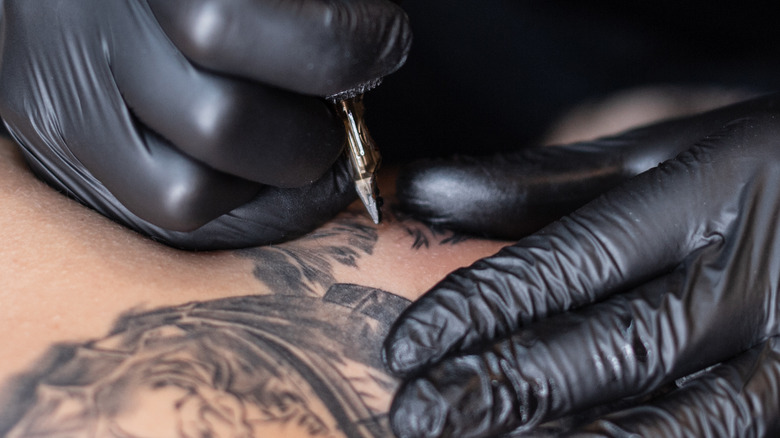 Alones/Shutterstock
As one might expect, portrait pieces/realistic tattoo work is a difficult aesthetic to master. Nailing down the authenticity and making it unique all at the same time is something few artists are really equipped to do, but Angel Rose is one of them, and she prides herself accordingly. "My goal is to create artwork that is thought-provoking. I want to tell stories on people's skin," she says. "Yes, everyone wants a black and gray wolf tattoo, but it's my job to make that wolf tattoo unique to that person. The creation process is arguably my favorite part of being a tattoo artist" (via Female Tattooers).
Most artists charge from $100-200 per hour (per Airtasker), but Rose currently only books in full sessions. It requires major commitment from clients, but that doesn't seem to deter them, seeing how Rose is making a substantial living off of her current schedule.
Angel Rose was invited back to participate in Season 13 of "Ink Master," but she wasn't able to secure the title due to the season finale being canceled (via Angel Rose Tattoos).