The Truth About Pope Francis' Relationship With The Former Pope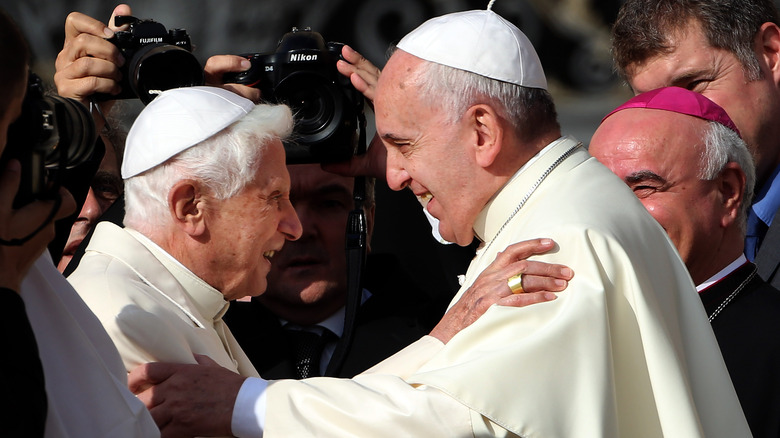 Franco Origlia/Getty Images
During the course of over 2,000 years of Christian history, there have been only three occasions on which a current, living pope could speak to his living predecessor, according to History. That's because the job of the Pope is for life. The only true way to lose it is to die, and on only three occasions has a pope resigned. What's more, 600 years passed between the second, Gregory XII in 1415, and the third, Benedict XVI in 2013.
The man who served as Pope under that name was born Joseph Ratzinger, and as of this writing, is still living. His immediate successor was Francis I, born as Jorge Mario Bergoglio. According to National Catholic Reporter, there are stark differences between the two men, both in their general approach to moving Catholicism forward (Benedict is considerably more of a traditionalist than Francis), and in their approach to the papacy itself (Francis is, shall we say, more low-key in his approach to the job).
their relationship is reportedly strained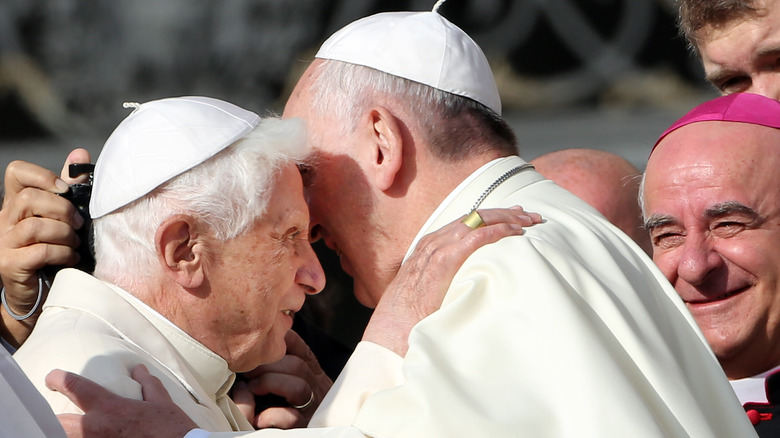 Franco Origlia/Getty Images
That the two men weren't getting along very well became quite apparent in 2019 when, according to The New York Times, Benedict XVI released a sort of diss track aimed squarely at his successor. Specifically, he released a 6,000-word document in which he blamed the Catholic Church's ongoing sexual abuse scandal on liberalization within the institution. And although he didn't name names, it's easy to conclude that he was at least obliquely referencing Francis' papacy, according to Biography, which has taken steps towards liberalization.
For whatever it's worth, Benedict has made it clear that Francis is the pope, and as such, he intends to stand behind his boss for the sake of unity within the Church, as he told an Italian magazine in 2019. "The awareness that the Church is and must remain united has always prevailed," he said.
Meanwhile, it bears noting that what is said privately between the two men, if indeed they're ever in the same room together, remains between them. Along these lines, Mark Shea writes in Patheos that the whole idea of any feud between the two Popes is overblown. "There is no dissing of Benedict going on. There's no quarrel and no feud. It is total fiction," he said.